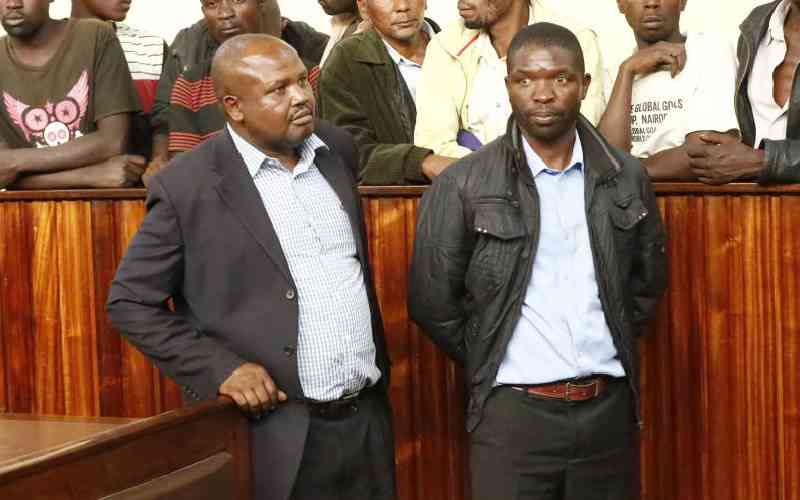 A former ward representative forged his dead father's signature to unlawfully transfer land to himself and his friend, a detective told a Nakuru Court.
Inspector Stephen Ochieng testified that ex-Kapkures MCA Paul Kimutai and Richard Kipngeno forged title deeds for a 6.6-hectare plot of land in Miti Mingi, Mbarut, within Nakuru County, with the intent to defraud the owner, Josiah Njoroge.
The land is estimated to be worth over Sh30 million.
Mr Ochieng testified before Senior Resident Magistrate Priscah Nyotah in a case where Kimutai and Kipngeno have been charged with six counts of forgery, making false documents, fraud, and giving false information.
According to Ochieng, despite the death of Kimutai's father, Chepchilat Rotich, on May 3, 1990, Kimutai claimed that his father had transferred the disputed land to him in 1991.
The detective said that a dead person could not transfer land to anyone, especially Kimutai, without going through a succession process.
He further stated that investigations revealed no record of a succession case, suggesting that Kimutai must have acquired the title deed for the disputed land through forgery.
Additionally, police found that Rotich did not own the disputed land but rather two adjacent parcels.
Ochieng testified that Kimutai and Kipngeno also forged a family agreement dated October 12, 2010, alleging that it had been made and signed by Kimutai's family members.
He revealed that Kimutai had claimed Kipngeno was his brother, but investigations showed they were not related.
"Kimutai's brothers denounced the family agreement for the transfer of land and also claimed they did not know Kipngeno," he testified.
Ochieng said Njoroge was the real owner of the land, after he bought it from Ingobor Farm Company Limited on April 17, 1997, for Sh2.85 million.
"Despite discrepancies and missing documents at the Nakuru Land Office, further investigations validated Njoroge's title deed, issued on December 5, 1997, as genuine," Ochieng said.
He insisted that the title deed obtained by Kimutai and Kipngeno, dated November 14, 2012, and allegedly signed by Land Registrar Daniel Nyantika, was a forgery.
During cross-examination, Ochieng acknowledged receiving Sh3,000 from Njoroge on August 3 last year.
He clarified that the money was not a bribe but a contribution for a relative's burial. "I have never received a bribe to testify in favour of the complainant (Njoroge)," he testified.
The former MCA and his friend also face charges of forging a green card on November 14, 2012, falsely claiming it was opened on June 7, 1990.
Further, the charge sheet states that they fraudulently registered the land in their names on September 14, 2022, with the intent to defraud Njoroge.
Kimutai is said to have lied that he was the owner of the land on April 11, 2017, at Nakuru Police Station through Occurrence Book No. 42/11/4/2017.
That information, the charge sheet reads, led to the arrest and subsequent prosecution of lawyer Sylvester Muhia, who facilitated the land transfer to Njoroge.
The hearing will continue on September 12.
Related Topics