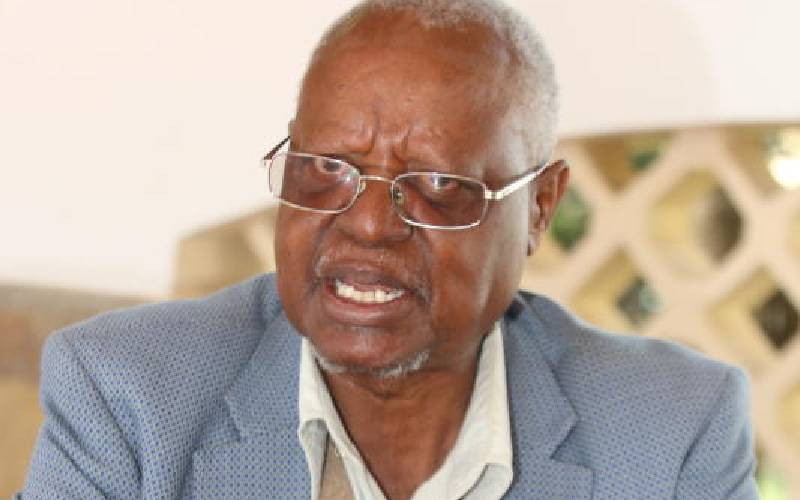 He witnessed Kenya's transition from colonial administration to self-rule, single party system to pluralism and is now glad to see further transformation through devolution under the 2010 Constitution.
Samuel Kipyebei Arap Ng'eny was in the final class at Alliance High School in Kiambu in 1963. He later became among the first at senior levels in various sectors, including education, political platforms, government and private institutions.
As Kenya marks its 60th anniversary, Mzee Ng'eny reflects on the past and present as he enjoys retirement as a church leader and Nandi elder at his home in Aldai constituency, Nandi County.
He grew up in a humble background and began as a shepherd herding his parent's livestock at Kaboi village before being enrolled in school.
"I was born sometime in March 1941 at Kaboi village in Nandi. I grew up as a shepherd until 1949 when my cousin told me my name was read in school, and that is when I decided to join school," recalls Ng'eny.
He was living with his uncles, who became disappointed at his joining school. "They wanted to stop me, but I told them no. On my first day in school, I was inspired by the teacher's dressing and something told me to strive and be like him," he said.
Ng'eny grew into an educationist, a parliamentarian, the National Assembly's deputy speaker, and a commissioner at the defunct Electoral Commission of Kenya (ECK). He was also a director at Kenya Tea Development Agency (KTDA) and an active member of the Anglican Church of Kenya (ACK).
He was the first black Principal of Kapsabet Boys High School following his posting in June 1969, taking over from his predecessor, who was returning home to Britain.
During his tenure, the institution transformed into among top 20 performing schools and has since grown to be a leading academic powerhouse.
Mzee Ng'eny has witnessed the country's growth over the years. He has also experienced political intrigues and even became a victim after he was bungled out from his Aldai parliamentary seat through the infamous 1988 mlolongo vote, which made him quit politics.
"A problem had developed then, through church connections that wanted my opponent to replace me. I was frustrated, and I did not vie because arrangements had been made to lock me out of nominations in Nakuru. I resolved that I would not be locked out of a seat that I did not create, so I left and I have never gone back," said Ng'eny.
After his first election in Aldai, Ng'eny had missed out on former President Danil Moi's first cabinet and decided to apply for the deputy speaker's post, a position he served until 1988. According to the former legislator, he was denied government positions after the mlolongo political power play.
He made another attempt in 1997 but the campaigns demanded a lot of money. "It is a public position and I don't believe you have to buy it. If you are going to provide service, you do not have to pay," he said.
A forthright, firm and honest disciplinarian, Ng'eny says leaders should deliver service and be open in all they do. As a commissioner at the defunct ECK in 2007, he describes then elections as free and fair.
"We had no fault in the mess that happened after the 2007 elections. How could we steal votes as commissioners? We monitored the process well only to be hit with bottles when then chairman Samuel Kivuitu announced the results," said Ngeny, who chaired the security committee.
Ng'eny said they were sacked the following year and they went to court to clear their names.
As the country turns 60, he says although progress has been made, there is still need for policy strengthening in management of the country for future generations.
"When we became independent, we followed the British system of governance. Subsequently, some people sought opportunities in communist countries, including the Soviet Union, China and the US, among others.
When they came back, they had that inclination, and there was a bit of a hazard within Parliament due to differences in ideas, thus creating competition that we see in our systems," he said.
"We had quarterly District Development Committee (DDC) meetings chaired by the District Commissioner and attended by elected MPs, councillors and clergy, among others," said Ngeny.
He followed up on the minutes to ensure national Treasury allocated resources for projects raised. During his tenure as deputy speaker, he served as MP for Aldai in Nandi, alongside Henry Kosgey (Tinderet), Stanley Meto (Mosop) and Ezekiel Barngetuny (nominated). The leaders jointly used the symbol of a key to signify opening of opportunities for Nandi residents.
He regrets that some elected leaders have abdicated their roles and use their positions to enrich themselves. "Some leaders, once elected, their job is to acquire wealth and forget issues affecting ordinary people," he says.
He said it is regrettable that as the country turns 60, there is still an exodus of Kenyans seeking jobs elsewhere. "There are still no jobs, and this requires the leadership to address. Why do we graduate so many students, yet we lack establishments to absorb them? There is a need to develop industries and design a curriculum where learners have knowledge along areas of need," he said.
He said in 1987, when he suggested a review of the 8-4-4 system of education before its implementation, it was received with stiff opposition.
He said they endorsed finance for the Education Ministry to build workshops in schools, yet there were no facilities or trained teachers for the new system. He had recommended that a few schools be considered for the new system, while others continue teaching the usual subjects under the former system.
"The same fate could fall on the new Competency Based Curriculum (CBC) because teachers are not well-prepared," he says.
He says political parties need to stand by the policies they created so that they can advocate implementation of good programmes that can grow the economy, rather than being used as vehicles to win votes.
Ng'eny also said the government should put in place policies to address land use and climate change impact.
"In 1981, I told a taskforce that Uasin Gishu, Trans Nzoia, Bungoma, and Mosop in Nandi were leading regions where Kenyan food was harvested and that there was a need to control subdivision of land below 50 acres," he recalls.
Today, Mzee Ng'eny who is married to Betty Ng'eny, practises dairy and tea farming at his home in Nandi County. Their children and grandchildren serve in various sectors.
Related Topics