When Briton Richard Kay Muir acquired land in Sachang'wan, Nakuru County, he hoped to retire there peacefully in 2001.
He loved everything about the land and its surrounding. The weather was perfect and he could not wait to settle his family there.
But a year after buying the land and occupying it, things turned sour. This marked the beginning of controversies that have dragged on for decades now.
According to Muir, he spent close to Sh20 million to acquire the property from Borop Multi-Purpose Co-operative Society Limited.
Muir and his wife had travelled to Kenya from the UK in the late 90s, intending to buy land and a house ahead of their early retirement in 2001.
In the course of their search for land, they met Tristan Voorspuy near Salgaa. Voorspuy later introduced the Muirs to a local chief, James Langat. They also met representatives of the cooperative society.
During the meeting held in September 1999, Muir and his wife were told that Borop had bought the land in an auction over money owed to Cooperative Bank.
Muir was told the company needed someone to buy a house and the land on which it stood, about ten acres, for Sh5.5 million.
"I agreed to do so, and we returned to the UK," Muir said.
Muir, one of the directors of Doune Farm Limited, said Langat wrote to him, on behalf of Borop, in October 1999, saying Sh14 million was owed to the bank and that it would not release the title deed until its dues are paid.
In the letter, he said he was asked if he would agree to buy a total of 173 acres, including the house, for Sh14 million.
On October 19, 1999, Muir in a letter addressed to the bank and copied to the cooperative society and others, requested a meeting to discuss the intended transactions.
"I returned to Kenya in the last week of November and had a meeting in the offices of Archer and Wilcock (Borop's lawyers), Kaplan and Stratton (Muir's lawyers) and the Cooperative Bank at which I handed Sh14 million to Archer and Wilcock to be passed onto the bank.
"The sum was to be held in trust for Kaplan and Straton and be released fully to the bank once I had the title," said Muir in his court documents seen by The Standard.
On December 17, 1999, both parties executed an undertaking to release a balance of Sh12.698 million to the bank.
In early 2001, Muir said, he was informed by Borop officials that they had met all formalities to be granted the title deed, and steps were to be taken to hive off the agreed 173 acres in the name of Doune Farm Limited.
He said it was agreed that he would take possession of his portion of the land in April 2001, whether the title deed was ready or not.
In a new twist, and what marked the beginning of an over two-decade-long court battle, Muir said he realised that one Richard Soi and some of his friends were occupying about five acres. The land, he said, had been sold to him with vacant possession.
On June 15, 2001, the title deed to the 173 acres was registered in the name of Doune Farms Limited.
In 2002, Borop filed a case at the High Court in Nairobi and sued Muir, alleging he had fraudulently acquired the land and sought to have the title cancelled.
Muir, on his part, filed a suit before the High Court in Nakuru seeking to have Soi and his friends evicted from the property.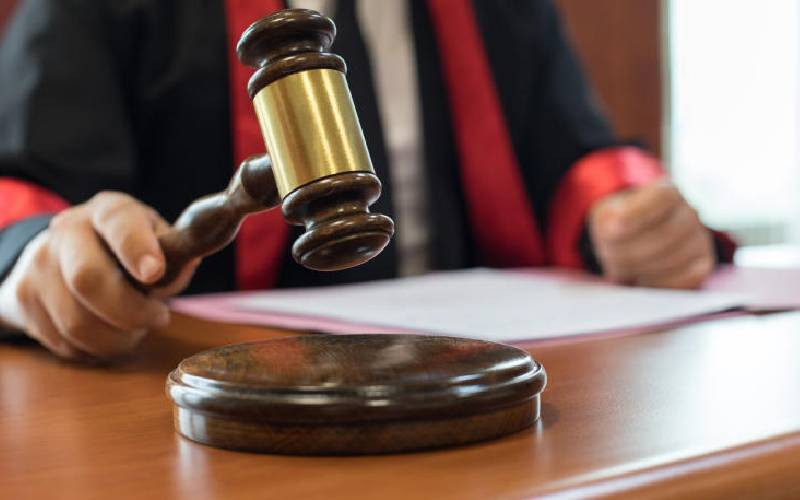 Soi told the court that it would be inappropriate for him to be evicted, while there was a case challenging the legality of the title registered in the name of Doune Farms, where Muir is a director.
The court agreed with Soi, and Muir's case was set aside pending a hearing and determination of a case by Borop.
For 10 years, the case was pending, and on May 17, 2017, the then High Court judge Joyce Khaminwa allowed an application by Muir seeking dismissal of the case.
Muir, through lawyer Gordon Ogola, said Borop had been enjoying an order for status quo granted on July 22, 2003, and no effort had been made to prosecute the main suit.
Delay tactics
Borop's court documents indicate that since September 2009, he had taken no steps to prosecute the matter.
On October 13, 2010, and February 28, 2011, Borop was invited to fix dates for the hearing of the case, but its lawyer did not appear at the registry.
The judge noted that Borop was engaged in delay tactics and showed no interest in proceeding with its prosecution.
On May 29, 2012, Borop by way of a Notice of Motion, sought orders reviewing and setting aside Khaminwa's order dismissing their suit.
On December 13, 2012, Justice George Vincent Odunga dismissed the application for review. The judge said the application by Borop lacked merit. Borop, in yet another suit filed at the Environment and Lands Court in Nakuru on November 17, 2020, claimed they had discovered fraud in the transactions.
Justice John Mutungi, on July 28, 2021, said the suit by Borop is unsustainable as it is statute barred and struck it out.
Several people have since invaded part of the land and are cultivating it. Muir's lawyer Ogola said attempts by his client to evict the invaders have failed.
Muir went back to court to try to stop the invaders, but his application was not deemed urgent, and no orders were issued.
Related Topics