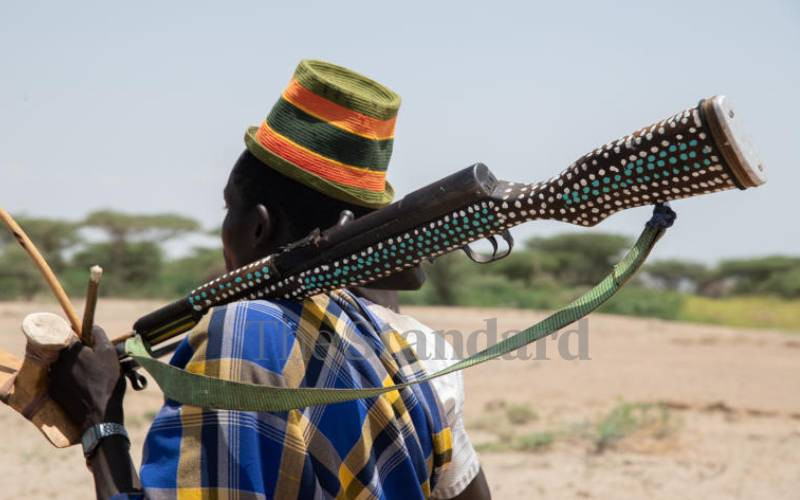 Ugandan authorities have released 11 Turkana herders arrested five months ago for allegedly being in possession of illegal firearms and other related crimes.
The suspects who are typically herders from Turkana County were arrested in Uganda's Karamoja region after they crossed in search of pasture and water for their livestock following a biting drought in the region while armed.
Uganda Defence Force (UPDF) says they intercepted the herders in a sting operation to weed out suspects in possession of illegal firearms in the Country
Uganda is carrying out disarmament in the Karamojong region to rid the region of illegal firearms in the hands of civilians.
A team from the County Government Directorate of Peace Building and a host of elected MCAs were in Moroto for the official reception of the released Turkana herders who were at Three Division Headquarters in Moroto.
Director for Peace Building Geoffrey Apedor who led the delegation expressed gratitude to the Uganda Government for their hospitality and for agreeing to release the herders.
"We appreciate the Uganda authority for accepting to release the Turkana herders. These demonstrate good gesture Kenya and Uganda government commitment to peacebuilding and security in the East African neighbour states," Mr Apedor said.
Mr Apedor said the release of the herders follows an MoU presented by Turkana leaders to President William Ruto at Sugoi's home to secure the release of the Turkana herders.
Senior security officers present included UPDF Representative Maj. Michael Obella and Kenya Liaison Officer Maj. Abdullah Kalicha witnessed the release of the Kenya herders at Division three cells in Moroto.
The director emphasized that the County Government was committed to the cross-border peace programme and highlighted the efforts of Governor Jeremiah Lomorukai in reaching out to the Ugandan Government to promote the peaceful co-existence of border communities.
Mr Apedor also acknowledged the efforts of Maj. Kalicha, the Kenya Liaison Officer, for their contributions to fostering a cordial working relationship between the two governments.
"Turkana County has the plan to promote peaceful co-existence among the neighbouring communities," he said.
Related Topics