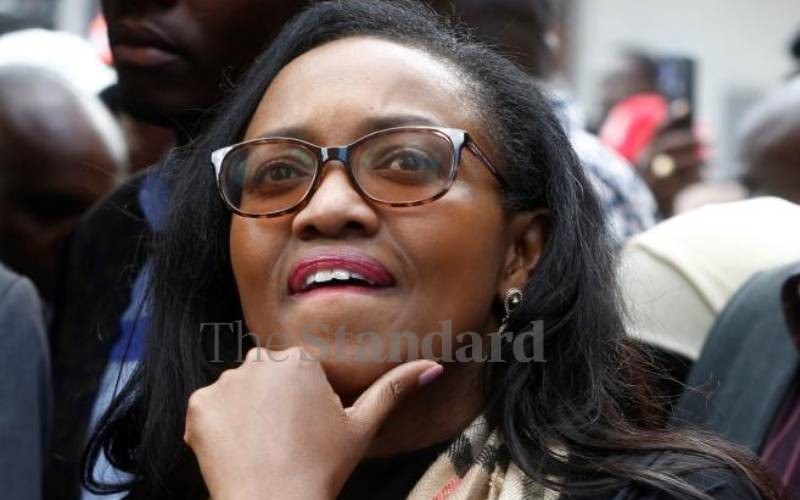 Nakuru Governor Susan Kihika's two-month-old administration is facing legal battles that could derail delivery service in the county.
Kihika's administration started working after she was sworn in on August 25. The administration is already battling three court cases.
Two of the cases are challenging Kihika's appointment of 10 County Executive Committee members (CECs) while 30 former employees are challenging the county's decision to terminate their contracts.
As soon as Kihika took over, her administration started terminating some contracts and sending staff on compulsory leave.
On October 7, the County Public Service Board (PSB) issued a notice to 70 staff, saying their services were no longer required.
However, The Saturday Standard has confirmed that the contracts of some staff were due to expire in December this year while others in January and March next year.
"Please accept this letter as our formal notification that we are terminating your employment in accordance with the Public Service Commission Regulation, effective October 11, 2022," read the termination letter.
According to the letter, staff would be paid one month's salary in lieu of notice, gratuity for the period served and a certificate of service would be issued upon clearance.
The 30 staff axed from the government moved to court on October 19 to challenge the termination of their employment.
They were employed as security wardens, cooks, receptionists, clerical officers, ground and garden assistants, and communication officers, among others.
They want Justice Hellen Wasilwa of Employment and Labour Relations Court to set aside the letter terminating their contracts, pending hearing and determination of their petition.
Justice Wasilwa directed that the case be heard on October 31: "Should the respondents fail to attend court, the matter shall be heard and orders issued in their absence."
Kihika's nomination of 10 CECs on October 13 has also been challenged before the Employment and Labour Relations Court in Nakuru.
On October 19, Justice Wasilwa suspended the vetting of Kihika's CEC nominees, pending the hearing and determination of a petition by Dr Benjamin Magare.
The medical doctor said Kihika's list of nominees did not reflect the ethnic and cultural diversity of the county.
He said the list had seven nominees from one community, and the remaining three from two other communities.
Daniel Kipngetich has also filed a petition against Kihika's appointments.
Related Topics