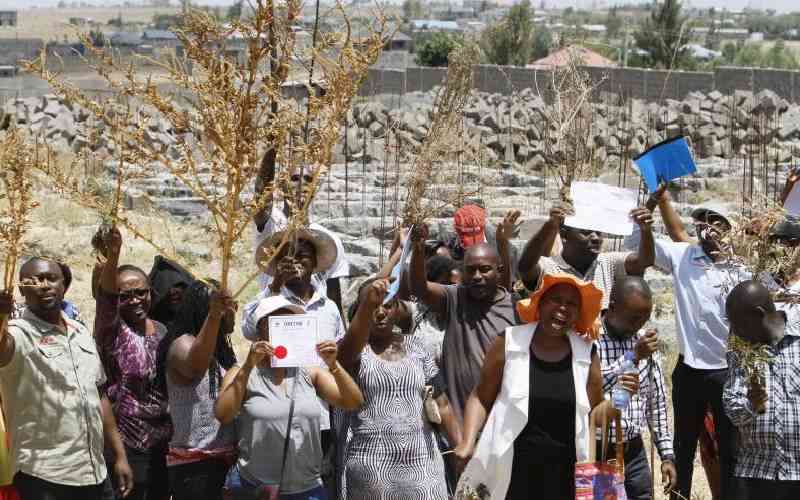 A Facebook user recently lamented the loss of his hard-earned millions of shillings to a land-selling agent in Nairobi, but ultimately blamed himself for swallowing a rather obvious bait.
The land-selling company, one of the many mushrooming in the city, had just seen angry clients revolt and demand accountability for the money they had deposited without any signs of the off-plan houses they were paying for.
The company, which has been in the land-selling business for about two years, fiercely defended the negative publicity, asking for patience.
The regularity with which new companies are appearing and aggressively advertising land for sale in the city raises a few questions.
Just how easy is it to register a land-selling company? How can potential customers distinguish genuine sellers from cons?
Where is all this land coming from now that nearly every market entrant is selling land in the same prime location? Hasn't past fragmentation significantly reduced land available for sale?
Njau Gitu, a governance, policy and strategy advisor, says many of the sellers are in the business due to the bandwagon effect, and so are the buyers.
"People are now being lured with lower land costs than they would expect and they are putting in a deposit, willing to pay the rest of the money in instalments. But many fail to do this and never get their deposits back," says Dr Gitu. Endless court battles then follow.
While cases of rogue sellers gain traction in social discussions and cause unease and uproar, a lot of sellers are genuine, says Jonathan Malombo, the sales manager at Safaricom Investment Cooperative.
Some only fall into disrepute because they are over-ambitious. Unable to fulfil all their goals within their rather short timelines, upset clients raise an alarm and trigger a chain of reactions that paint such a company in a bad light.
Others are met by unforeseen circumstances, says Dr Gitu, such as incensed family members appearing to claim they were not consulted during the sale of the land and therefore initiating legal proceedings that take longer to resolve.
Those who defraud investors are thieves who often have a chequered past, which is one of the reasons anyone willing to buy land should conduct thorough due diligence, including studying the seller's dealings, says Mr Malombo.
Near the city
He says the allure of land is high as it guarantees prestige and, alongside being used as collateral for lending. It can also be preserved in anticipation of appreciation.
"Also, many people want to build. They want to have a home they can call their own. The demand for land is therefore always bound to be very high in such places as near the city," he says.
People who bought vast expanses on the periphery of Nairobi decades ago are now experiencing handsome returns as they subdivide and sell to developers bidding to build to accommodate the city's burgeoning population.
"Some bought tens of acres in Kitengela in the 1990s when it was not as lucrative. Such land is now being divided and sold at very high prices because many people are now settling in such places," he says.
Fragmentation has been rife. In parts of Kiambu, coffee farms have given way to high-rise buildings. Those who had prioritised land banking have made hefty returns in the wake of rampant land subdivision and selling.
Dr Gitu says that many of the owners of the large tracts of land now being subdivided around the city are long dead and their descendants are "not keen to pursue the dreams of their forefathers, mostly farming".
"The current administrators do not anymore derive prestige from ownership of sprawling coffee farms. They want to make money and move on to other ventures. Other holders of the land realised that because of increased population, the value of land rises tremendously and a sale will get them much bigger parcels of land in other areas in the countryside," he says.
The motivation to dispose of land, therefore, creates a niche for sellers who, as the city grows outwards and looks to spill into and devour, bedroom communities - the satellite towns that house workers who make a daily commute to the city - sell, with earnest, the next best destinations for urban dwellers.
Mr Malombo says that the diaspora market has also led to the thriving of these companies.
"These people are looking for companies in which everything is done for them. They want to do armchair buying. In the past, there have been cases of people sending development money to relatives and losing it.
Companies give such people security; they can initiate legal suits if they feel defrauded," he says.
The cons who infiltrate the markets take advantage of people's love for property and their gullibility. Starting such companies is usually easy for them.
"The barrier to entry is low. Forming a real estate development company is just like forming any other company. Anyone can buy land now and sell," says Yvonne Ondego, the general manager, of property development at Spoerry. "Any company can hold land as an asset and decide to offload it. Anyone can decide to build apartments or houses if they have financing. They would only need to involve professionals to do the technical work required for approvals to be obtained."
There are clear regulations they should follow, says Mr Malombo.
"For one to have a license to own a development company, one has to undergo a course after which one faces a government panel," he says.
Some could, however, use others' licenses to register companies and therefore some have dormant directors.
Due diligence
In the face of all these, how can people identify, and avoid cons? How do people get conned in the first place?
"The first and obvious reason is that they don't do due diligence. This is mostly because of a lack of public awareness. Only five out of 10 people that I speak to know that they should do a search on a title to confirm ownership and check for encumbrances before buying. Those are generous figures, I would imagine because data is a bit skewed," says Ms Ondego.
She also says that there is a regulatory gap around buyer deposits.
"This is definitely the most important one. There's no regulation that governs how buyer deposits are handled and where they are directed. There's so much opacity in this area which can be fixed by having the right regulatory framework in place," she says.
Dr Gitu says that public education spearheaded by both national and county governments should be prioritised to save customers from fraudulent land sellers.
"The governments are providing platforms for these people to thrive. They give the approvals. Sectional property, for example, has created a lot of opportunities for making a lot of money. There are a lot of cases of cutting corners for those desiring a quick return and thus the low quality of buildings," he says, citing the many collapsed buildings in the past few years.
Caution also needs to be taken, these experts say, especially as activity around real estate only grows by the day.
County headquarters continue to attract investment with cities such as Kisumu and Nakuru becoming new destinations for many. "The bubble will not burst in Kenya at the moment. People have an appetite for property - land is wealth," says Malombo.
Related Topics