Sports Cabinet Secretary Ababu Namwamba has been trending for the past week after he accused officials in his ministry of favouring joyriders, including their girlfriends and slay queens when travelling to world sports events at the expense of athletes.
The claims arose during a debate on how Kenyan athletes were treated on their trip to Budapest, Hungary, for the World Athletics Championships, which got underway on August 19.
MPs, who sought answers from Sports Cabinet Secretary Ababu Namwamba, over allegations of officials and Athletics Kenya neglecting athletes and their responsibilities on the international stage and going on a holiday in Budapest, said that both the ministry and Sports federations officials are exploiting talents for selfish interests.
However, when Ababu appeared in the House to defend his ministry, no MP, including Majority Leader Kimani Ichungwah, one of his key accusers, raised the issue despite being the one who posed problems they wanted him to address.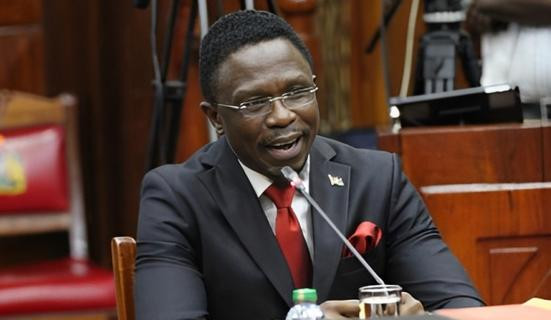 Instead, the questions dwelt on issues such as the flagging off of sports men and women when travelling for international events, their facilitation while abroad and reception at the airport on return as the country's foremost ambassadors as well as their kitting.
Ichung'wah, had fueled the flames of outrage by asserting that Namwamba's overseas excursions were nothing more than joyrides.
He claimed that these so-called "joyriders" joined the minister on his trips abroad, despite their glaring incompetence and lack of relevance to the mission at hand, of competing in Budapest.
"The minister must appear before this house, and I will ensure his appearance. I will explicitly explain to this House and the people of Kenya why he lacks the time to attend to the very individuals representing our country. These athletes represent our nation, win medals, and return home, yet not a single soul from the ministry or the minister himself welcomes them at the airport or acknowledges their accomplishments," Ichung'wah passionately declared.
He minced no words, driving his point home: "You were not appointed as a minister to flaunt flags on the streets and bulldoze through traffic with Subaru escorts. Your role was to serve the sportsmen and women of this nation."
"The best representation we should witness is our ministers actively supporting our athletes, not gallivanting with joyriders on foreign trips. These athletes compete on the global stage, securing medals for us. It's a unifying moment for all Kenyans," Ichung'wa emphasised.
But it was Nandi Senator Samson Cherargei who took to the digital realm, using the platform X (formerly Twitter) to allege that athletes were sharing rooms at the expense of officials who were living in fancy hotels with slay queens and mpango wa kando when athletes couldn't find a place to rest.
Exploit athletes
"It has been a tradition to exploit athletes and reward slay queens and mipango wa kando. We need reforms in sports federations and send the Mugabe's at home," Cherargei said.
"I echo the sentiments of Hon Ichungwa, Majority Leader of the National Assembly, that CS Ababu continues to mismanage into oblivion our beloved sports. How can ministry officials fly first class with their girlfriends to the Olympics in Budapest, Hungary, at the expense of our athletes?"
The claim kicked off a storm entangling content creator and radio presenter Azziad Nasenya, who is alleged to be romantically associated with the CS.
She was trolled even as some such as political analyst Mutahi Ngunyi came to her defence.
"Give this Azziad kid a break. We cannot be a nation that destroys our best because we do not measure up. And she has no obligation to validate her reality to anyone. What's wrong with you people?," he posed on X (formerly Twitter).
National Assembly Deputy Speaker Gladys Boss had also said she has hosted marathoners a number of times and that they are suffering at the hands of the sports ministry.
"I am happy that this was raised. Coming from Uasin Gishu, where most athletes come from, it's very painful. I listen to them. Every time they have landed, they have come to my home here in Kitusuru because the CS is not bothered," she said on a local TV station.
"I've hosted them for breakfast and lunch and talked about their challenges, and they tell me their horror stories. They fly economy; the ministry officials are flying business class and first class; sometimes they have a layover of 14 hours."
Cherargei accused Sports Ministry officials of indulging in luxurious first-class travel with their girlfriends, all at the expense of the nation's pride.
"That Talanta Hela has failed. We can't allow someone to mess up the future of our talents," Cherargei said.
He questioned the decisions that allowed Ministry officials to jet-set to the Olympics in Budapest, Hungary, accompanied by their romantic partners, while athletes back home struggled for support.
Ichung'wah expressed remorse on behalf of the MPs and Kenyans, saying sports CS must be held responsible for the mess in sports.
"On behalf of the government of Kenya, I would like to apologise to the best ambassadors who represent us; they win medals for us, they do a good job, and they represent us. We shall take the minister to account," Ichungwa said.
Related Topics