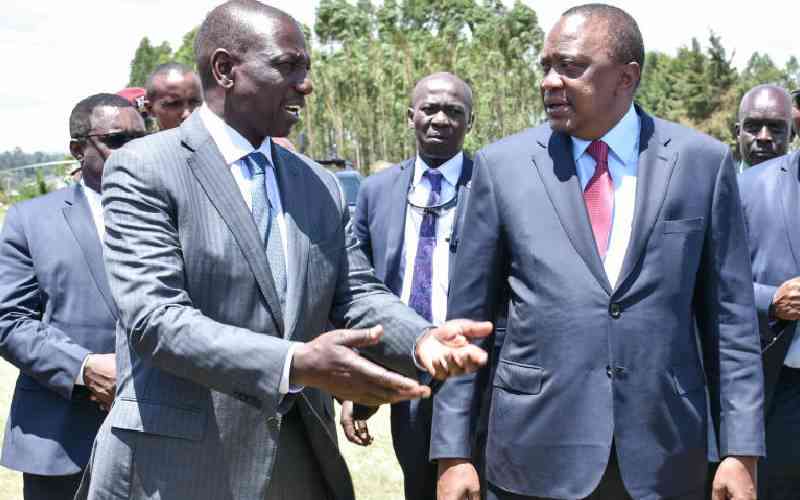 There is no end in sight in the battle of wits pitting President William Ruto against his predecessor Uhuru Kenyatta, which, in recent months, has had Uhuru constantly in the government's crosshairs.
Although President Ruto has toned down his assault on Uhuru, he has stayed mum as his officials go on the offensive. His fight has majorly manifested in his purge of Uhuru's appointees in State agencies and parastatals.
Earlier in his presidency, Ruto immersed himself in fighting his predecessor, alleging that powerful figures in Uhuru's government had secured tax waivers for their businesses to the detriment of an ailing economy.
The latest wave of attack against the former president came through allegations by Deputy President Rigathi Gachagua that officials in his regime had made away with billions of shillings in Uhuru's sunset days.
The DP's allegations and an investigation by Parliament over some Sh55 billion used without parliamentary approval ahead of last August's election have resulted in an all-familiar public clash between current and former government officials.
On Wednesday, former Treasury Cabinet Secretary Ukur Yatani responded to claims by Controller of Budget Margaret Nyakang'o that he had pressured her to approve billions of shillings worth of payments that seemed irregular.
"Now that the Controller of Budget works under a new administration, has she weaponised her office to get back at those seen as a stumbling block to her?" Yatani posed in a press statement.
And he would rope in Gachagua, who he said had requested Sh1.59 billion to facilitate his office and that of his spouse, stating that Nyakang'o's remarks were "politically choreographed".
"...and designed to hurt public servants due to change of regime, which, unfortunately, will have long-term unhealthy effects of precipitating fear and inactions in future," Yatani added.
His response prompted other officials such as Defence Cabinet Secretary Aden Duale to wade into the matter.
"You were used and abused by the Handshake brothers to loot and now you bear economic and criminal culpability individually," Duale tweeted in the wake of Yatani's bombshell. The exchange between Yatani and Nyakang'o sparked questions on how governments should operate in transition, even as they both acknowledged things must stay running and government will keep spending on its programmes.
"Governments are perpetual entities and respect and full protection of public servants while undertaking lawful discharge of their mandates remains the hallmark of a decent society," Yatani said.
Since he assumed the office of DP, Gachagua has constantly accused Uhuru of overseeing alleged running down of the economy and pursuing selfish goals at the expense of the nation.
Like other current officials, he has blamed the current economic hardship on the former regime, with observers seeing his moves as aimed at asserting dominance in Mt Kenya politics.
Rarely has Uhuru fought back, only responding in January by asking the government to end endless politicking. "They are talking too much because they are idle," the former President said in January as he commiserated with the family of the late Education Cabinet Secretary George Magoha.
For months, there have been frequent calls for an end to tensions eating up the current and previous regimes from within and outside the government.
Business interests
Prime Cabinet Secretary Musalia Mudavadi has been vocal criticising the endless blame game.
"Elections are behind us and the blame games won't help, now we must put that behind us," Mudavadi said in November. During last year's campaigns, Ruto had promised a commission of inquiry into "state capture", which was to investigate how government officials allegedly used their influence to further business interests.
In an interview with The Saturday Standard, Mandera Governor Mohamed Khalif termed the fights between Ruto and Uhuru's regimes unfortunate and unhealthy.
"The most unfortunate thing as a leader is always looking back. You'll lose track of what you should be doing. The more we talk about the past we lose time to solve the many issues affecting Kenyans," he said, calling for talks between the two as well as opposition Raila Odinga.
Khalif attributes the firm foundation from his predecessor Ali Roba to "a smooth transition".
In recent weeks, there have been assertions that the government would target businesses operated by Kenyattas' and Odingas' with Gachagua saying the State would seek to end the influence they enjoy in milk and gas cylinder industries, respectively. The opposition Azimio la Umoja-One Kenya coalition party has used their rallies to criticise Ruto's administration for waging a personal vendetta against Uhuru and his officials, attributing former Interior CS Fred Matiang'i's woes to an alleged witch hunt.
"When the National Rainbow Coalition (Narc) took power in December 2002, the economy was at its lowest... But Narc did not set about writing a book of lamentations about how bad the situation was... Instead, the new regime set about programmes to ensure that the people started benefiting from their electoral victory," Nairobi Senator Edwin Sifuna read a statement on Wednesday. "There is no doubt that the economy is in bad shape. But there is also no doubt that it is not worse than what the Rainbow Coalition inherited in 2002 and turned around in a matter of months," he added.
"Today, months after Kenya Kwanza came to power, day in, day out, we are bombarded with how bad things were when they took over. William Ruto never tires of telling us how President Uhuru Kenyatta ruined the country. It does not seem to matter that Ruto was Deputy President that entire period," Sifuna added.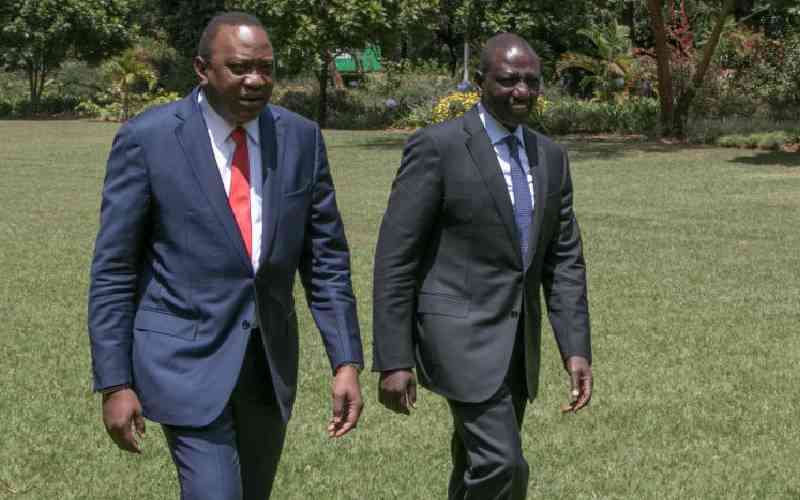 Vihiga Senator Godfrey Osotsi on Friday termed Ruto vindictive. "He is acting contrary to his pledge not to weaponise State institutions to fight political wars. He should learn from former President Kibaki who did not revenge against Daniel Moi," he said.
But for Ruto allies, the issue is not whether or not Uhuru is being targeted but holding the former government to account.
"Ukur Yatani, his masters and accomplices must account for every dubious deal during his tenure at the National Treasury," Duale had tweeted on Thursday. Molo MP Kimani Kuria does not believe the president is settling scores. "Kenya is governed by the rule of law," said Kuria, who chairs the National Assembly Finance committee.
His committee is set to investigate one of the expenditures Nyakang'o said Yatani had pressured her to approve - the Sh6 billion disbursement to Telkom Kenya to buy out Helios Investment Partners.
"The inquiry on Telkom is to also give the adversely mentioned officials a public opportunity, within the laws of the land, to shed light on the matter," Kuria added of investigations that are likely to rope in Yatani.
Bad blood
The bad blood between Ruto and Uhuru has existed since Uhuru and Raila's handshake in 2018, which eventually led the former president into endorsing Raila for president.
So nasty has the fight been that the two have had bitter public spats over the years. No previous president has consistently attacked their predecessor's legacy. When he took over as president, Moi vowed to emulate founding father Jomo Kenyatta. On his part, Kibaki promised his presidency would depart from the bad policies that had destroyed Kenya's economy in his inauguration speech. But he never publicly criticised Moi thereafter.
Uhuru followed the same unwritten tradition. In his exit speech a day before he quit as president, Uhuru praised his predecessors for laying a foundation upon which he would build.
"The work of building a nation is a continuous endeavour passed from one generation to another, as one Administration hands over to the next, in an unbroken chain that seeks to progressively build a more united, equitable, and prosperous Kenya," the former President said.
Related Topics