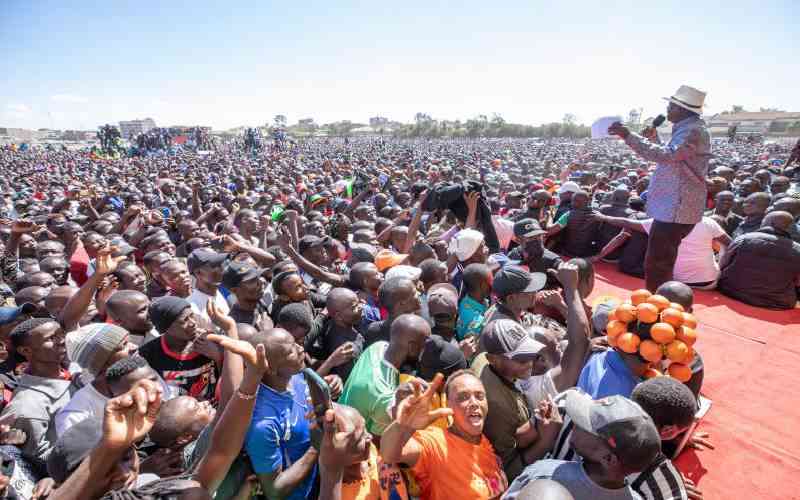 Azimio leader Raila Odinga is not letting up in his renewed pressure against President William Ruto's administration.
Yesterday, he announced "public barazas" set for this Sunday and next week Friday at Kamkunji in Kibra and Mavoko in Machakos County, respectively.
In a statement, National Assembly Minority Leader Opiyo Wandayi said the forums would "deliberate on the critical challenges facing our country".
"The cost of living is rising but the government is doing nothing about it. The Independent Electoral and Boundaries Commission (IEBC) is down and out, destroyed by Wafula Chebukati. But the government wants to populate it with more Wafula Chebukatis of its own choice," Wandayi said.
"Kenyans will recall that our electoral body has taken this country to war in the past. We survived by a whisker. The IEBC, with the support of the UDA regime, is keen to take us to war again. We have to find a way of stopping them," the Ugunja MP added, signing off: "Come, let us reason together on our own future and that of our country before it is too late."
The upcoming engagements are part of a series of rallies the opposition has planned, whose intention Raila has said is to push for electoral reforms to safeguard Kenya's electoral democracy.
Narok Senator Ledama ole Kina said the rallies were important in letting Kenyans know the things going wrong and "protecting the future".
"In Parliament, it's what Kenya Kwanza wants or the highway. The majority will always have their way and the minority their say. It's time for us to have our say," he said.
In the wake of an alleged whistle-blower dossier that allegedly shows the 2022 General Election was rigged, Raila has widened the scope of his demands to include immediate resignation of Kenya Kwanza government, saying his party does not recognise Ruto's legitimacy.
That is in addition to calls for an audit of the presidential election, which the former prime minister wants conducted by international bodies. On Sunday, he gave the United Nations and the Commonwealth a two-week ultimatum to send investigators, saying Kenyans would take matters into their hands.
And the Azimio leader has followed up his calls for external interventions through his continental engagements. On Tuesday, he urged African nations to jointly push for electoral reforms.
"If the continent's democrats, together with the international community of democracies, do not come together and defend the vote - elections and democracy, will be delegitimised in Africa, with devastating consequences. We, as Africans, must stand up and defend democracy," he tweeted after a conference in Nigeria, where he spread his message of electoral reform.
University don Gitile Naituli said Raila must maintain an equal pressure externally as his rallies are doing internally.
"You must keep external players from interfering with your affairs," Prof Naituli said. "You do that by making them comfortable that you are only interested in removing Ruto from power or make him work better and not disorganising the country," he added.
Ruto and his allies have dismissed the opposition rallies as proxy wars advanced by former President Uhuru Kenyatta, who they accuse, without evidence, of attempting to destabilise the country for personal gains.
Before the crosshairs were turned to Uhuru, Ruto had suggested that Raila was only interested in a "handshake". That narrative shifted when the target moved to Uhuru.
Despite Ruto's insistence that the rallies would not cow him into submission, they have rubbed his allies the wrong way, with some former MPs from Nyanza urging Raila to cancel them.
"While acknowledging political rallies as a tool for democracy as inscribed in our Constitution, we are dismayed that a section of politicians has chosen the path of political intolerance, which threatens prevailing stability," former Kisumu Senator Fred Outa told a press briefing in Nairobi.
"If he (Raila) believes in democracy, then it is important that he respects the people's decision," former Nyatike MP Edick Anyanga said.
Related Topics