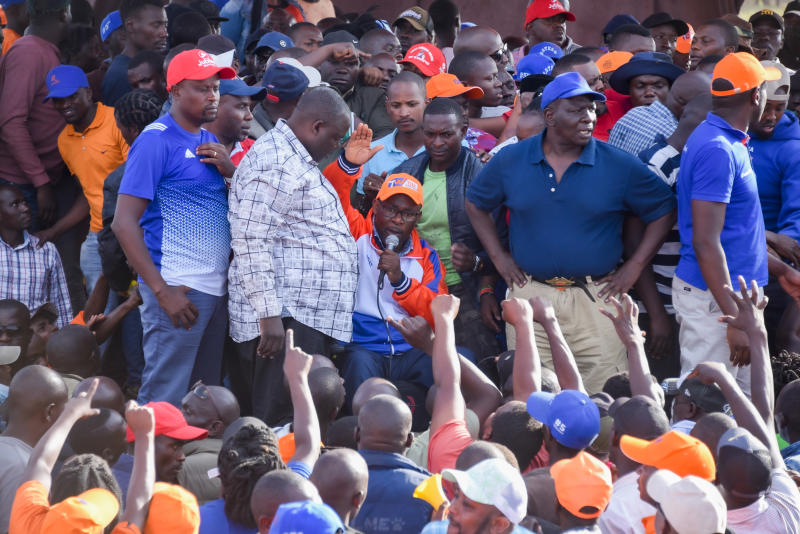 The Azimio la Umoja-One Kenya coalition is walking a tight rope as it grapples with the challenge of nominating its flag bearer for Nairobi governor as Kenya Kwanza moves on after making a quick decision on who to pick for the race.
The Raila Odinga-led coalition that has more than 20 parties, also faces similar challenges in Mombasa where aspirants are ready to go for a vicious battle. Apart from political party interests, the grand coalition party also faces the conundrum of satisfying egos and ethnic interests in the cosmopolitan city.
Sources within Azimio say attempts to pick flag bearers for Nairobi and Mombasa governor seats through consensus has created tension and division among supporters.
But the debate is generating heat because of strong allegations that President Uhuru Kenyatta wants the seat reserved for the Jubilee Party.
The Jubilee Party, like several other parties in Azimio la Umoja apart from ODM, in current circumstances is largely a regional party.
Wiper leader Kalonzo Musyoka has already declared the position of deputy governor in Nairobi should be reserved for his party.
But ODM supporters in some parts of the city who have been campaigning for Westlands MP Tim Wanyonyi since he launched his campaign early last year are becoming restless out of fear that he could be locked out in favour of Uhuru's choice.
"We have seen Tim campaigning on the ODM ticket and nobody else has come here in Westlands to challenge him, so we expect him to be the candidate," says Nishit Amrit Shah, a businessman in Parklands.
The fight over the Nairobi County seat will complicate matters for Azimio, because of the likely backlash from Wanyonyi's supporters should he be locked out of the race.
Kalonzo's take
On Thursday last week, a few hours after Raila met the Azimio affiliates, Kalonzo released a tweet saying: "As @The Wiper Party we shall present a party candidate for negotiations in the Nairobi gubernatorial elections under Azimio la Umoja-One Kenya#hakika tutaweza."
Debate is raging in Azimio because some sources in ODM claim Wanyonyi has been asked to settle for the position of deputy governor. Others say he will be asked to wait for an appointment in the Cabinet if Azimio wins elections in August.
Reached for comment, Wanyonyi maintained he will not step aside for anyone because he knows he is the only one who can deliver the seat otherwise it will go to the opposition.
He added that so far nobody has contacted him, let alone asking him leave the race for the Jubilee candidate. He urged his supporters to ignore the rumours.
"I'm the only one who can deliver the seat for Azimio but if they joke around we will lose it and that will be very sad for the party leader and Azimio," said the Westlands MP. Wanyonyi's supporters have also joined the chorus, demanding that he be given the ODM ticket because they believe he is capable.
Media personality David Makali argues that any attempts by ODM or Azimio to short-change Wanyonyi will boomerang and hand an easy victory to UDA's Johnson Sakaja.
"The governor of Nairobi from August is going to be Luhya, now that the second most populous community is excluded from President and Deputy President by the two leading coalitions. That is the bare minimum and it is @Tim Wanyonyi. Tusisumbuane," says Makali.
Kenya National Chamber of Commerce President Richard Ngatia, former Deputy Governor Polycarp Igathe, Governor Ann Kananu and now Peter Kenneth are lined up on the Jubilee ticket.
It has emerged that powerful forces are pushing for the Azimio ticket to be surrendered to a Jubilee aspirant. They are allegedly demanding that the Senate seat be given to ODM but the proposal has raised objections from ODM and Jubilee hopefuls. Analyst Martin Andati argues that Wiper should not sit pretty thinking they the position of Deputy governor is reserved for the party.
"As of now you cannot say whether kalonzo has successfully negotiated for that position because nobody seems to be clear on that and the situation remains very fluid," says Andati.
He thinks the deal could have been mooted to lock him in Azimio before the party hoping deadline because he cannot walk out now.
"Wanyonyi has done a good job in Westlands and is popular but Jubilee will argue that Raila is from ODM and therefore they should get the seat," says Andati.
"Kenneth is also being talked to although he does not want but it is not about you wanting this positions, it is about what the owners of power tell you what to do," he says.
In Nakuru, incumbent Lee Kinyanjui will be seeking to retain his seat but now faces tough competition for the nomination ticket from Dr Stanley Karanja.
Former Kenya Airports Authority Yatich Kangugo, a resident of Nakuru who has been involved in local politics for many years, says whoever wins will have to face the UDA wave in the area.
"The vibe in the county, mostly from the youth is UDA but although the party's aspirant Susan Kihika is strong, it will depend on how nominations are conducted," said Kangugo.
He added that Kinyanjui will most likely get the Azimio ticket and he may benefit from any fallout in the UDA nominations.
Mombasa headache
In Mombasa, the nomination headache for ODM is far from being resolved as Mvita MP Abdulswamad Nassir and Sulieman Shabal fight for the ticket.
The party was last week forced to postpone nominations after some officials announce that the feud was to resolved through consensus.
Reports that Nassir had been given the ticket after a scientific poll were quickly rebutted by party officials at Chungwa House in Nairobi.
The party allegedly summoned the aspirants to the headquarters last week for discussions where they were told Nassir was way ahead in popularity rating.
Shahbal rejected the poll, forcing the party to withdraw the poll and commission a new one.
Sources in ODM say a consultant has been commissioned to conduct a third poll but Shabal and his supporters want an open contest for voters to decide.
The ODM primaries in Mombasa had been scheduled for April 6, but were postponed to allow the two aspirants to agree.
Shahbal has warned they risk losing the seat because disgruntled supporter will vote for other parties if the exercise is not conducted fairly.
Related Topics