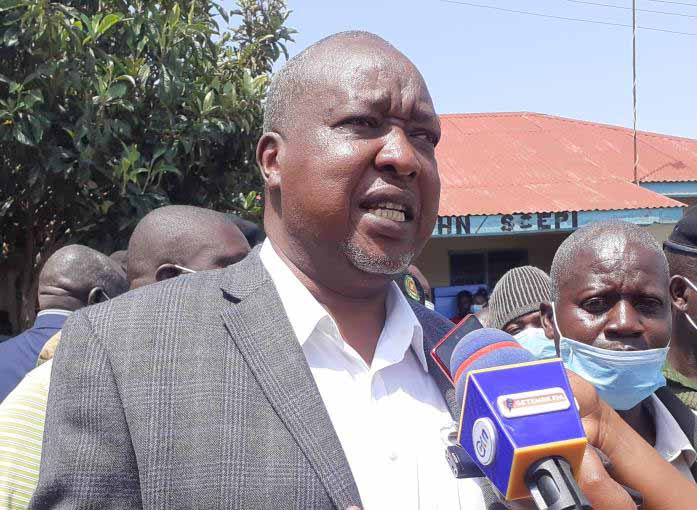 Nyamira Governor Amos Nyaribo will have been in office for only 18 months by the next General Election, where he will be seeking the electorate's mandate to complete pending projects.
Mr Nyaribo, who is facing stiff competition from 11 aspirants eyeing the seat, took over the county reins following the death of Governor John Nyagarama in December 2020.
He assumed office with a promise to reduce the wage bill to 35 per cent of revenues collected. This decision was met with a legal battle that derailed his plan to shore up the county's finances.
In 2019, Mr Nyaribo had questioned the alleged illegal recruitment of county staff and presence of ghost workers on the payroll, claims the late Nyagarama dismissed.
But as the scramble for the top county job enters a critical stage, clan dynamics are also likely to play a key role in deciding who becomes the next governor. Mr Nyaribo, however, believes clannism will not propel anyone to leadership without the requisite virtues.
"Clan politics are bad and no leader perpetuating the same should be entertained. I have heard some people are salivating for my seat. It will not be as easy as they think. I'm keen to start a fresh five-year term in 2022."
With Mr Nyaribo and his deputy James Gesami working together to continue serving the residents of Nyamira, Dr Gesami's decision to work as a medical consultant at the county's main medical facility is seen as a plus for the duo given that he has been able to interact closely with the community.
Clad in his white coat, Dr Gesami has been doing ward rounds at the hospital since September last year, as a way of assuring patients that the facility can offer quality services.
Borabu MP Ben Momanyi (Wiper), former MPs Mwancha Okioma, Walter Nyambati and Timothy Bosire are also in the race for governor.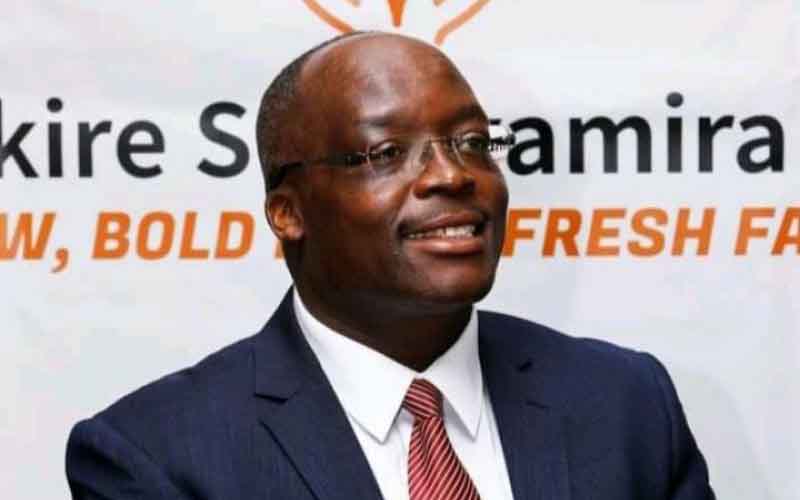 US-based advocate Henry Ongeri, Nairobi-based gynaecologist Erneo Nyakiba, former Kenya National Innovation Agency chairman Reuben Marwanga, businessman James Kemoni, US-based health specialist Gedion Moseti, and economists Julius Mokogi and Daniel Osiemo have also shown interest.
Mr Bosire has also served as ODM party treasurer and trustee for over 17 years. Okioma and Nyambati were on the ballot in 2017 but fell to Mr Nyagarama, who was deputised by Mr Nyaribo. The pair won the seat with 63,900 votes ahead of Nyambati who garnered 57,432 votes.
Mr Okioma got 29,000 votes in the hotly contested elections that featured Mr Nyakiba, Kisii-based physician John Kumenda, Mr Gesami, retired justice David Anasi Onyancha, Prof Evans Nyatigo and former Senator Kennedy Okong'o Mong'are.
The county is dominated by the Abagirango and Abagetutu clans whose rivalry has been at the centre of political campaign since 2013. The Abagirango clan are mainly in West Mugirango and North Mugirango constituencies with a voter base of around 130,000. Kitutu Masaba constituency, which is home to the Abagetutu clan, is estimated to have about 94,000 voters. Borabu constituency which is home to more than 10 settlement schemes is largely cosmopolitan.
But even as the clan factor is expected to play a part in the elections, many of the contestants insist that it may not have a major impact on the voting patterns. According to Bosire, the clan factor resulted in poor leadership.
"Clans cannot do us any good but to gift us with bad leaders like the ones whose work we cannot see for 10 years."
Nyambati also says the previous two elections have served as lessons to Nyamira residents on the importance of choosing the right leaders. "The county has suffered for the last 10 years because of clan-based politics," he said during the launch of his manifesto two weeks ago.
Nyakiba feels that leaders are playing up clannism for the wrong reasons. "The wrong precedent has been set by our predecessors who have continually divided the county into clan cocoons."
Okioma says he'll be banking on a 'track record of performance', in reference to his tenure as MP between 2007 and 2013. "Everybody should be scrutinised and their performance record put in the public court where every voter can judge their performance." Prof Ongeri also agrees that voters should be free to evaluate their potential leaders and make informed decisions at the ballot.
Related Topics