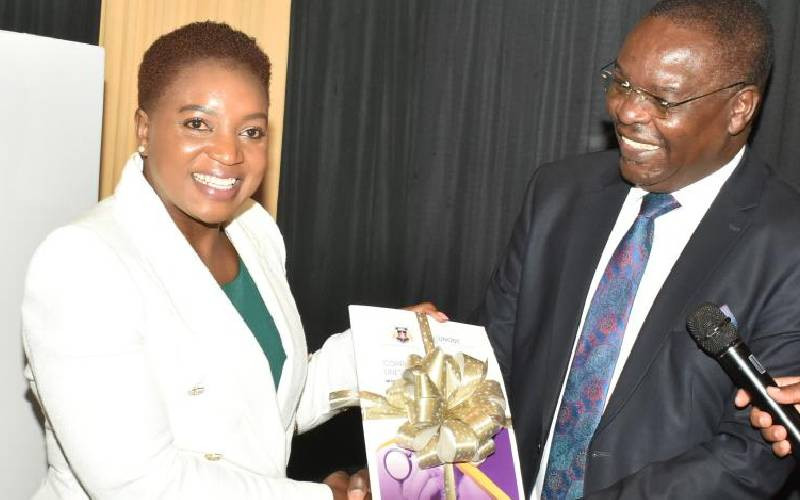 As debate over the Finance Bill rages on, one recurring assertion is that the government is between a rock and a hard place.
That the government has to choose between borrowing more and taxing more. It may seem cliché when we mention corruption as the first culprit in a government's inability to fund its budget.
But that is 'truth' for you. You can never run away from it. It will keep sticking out of every corner. Former Auditor General Edward Ouko introduced to us a new term: budgeted corruption.
As he explained it, budgeted corruption occurs when budgets are intentionally inflated with monies that are due to be stolen. Now, you know this is not a new thing, only that we never found the right word for it. Details of the SGR tender documents leaked by some dailies in the past could probably offer an inkling of how this happens.
In the contract, the lead engineer had Sh5 million budgeted for his airtime over the duration of the project, three years. Digital voice recorders that cost less than Sh10,000 were acquired for Sh300,000.
A3 laser printers were acquired for close to Sh500,000. This is a norm perfected in procurement departments across all agencies, public and private.
Budgetary figures can be mind-boggling, and the common Kenyan rarely has a chance to question the details. In the 2021–2022 cycle, Sh182.5 billion was apportioned for infrastructure. As that cycle ends, can we confidently say all that money went into infrastructural projects and at expenditures consistent with economically sound projections? The oversight role belongs to Parliament. Does it play its role satisfactorily?
The new government seemed aware of this reality and collectively defined corruption as 'state capture'. However, that term seems to have fizzled out. We no longer hear of it, nor of the "state capture commission" that was to unravel the intricate web around Kenya's coffers. However, the government embarked on something commendable: trying to cut Sh300 billion from the expenditure.
That was a significant statement. It meant that in the 2021–2022 cycle, Kenya would do with less Sh300 billion in its Sh3.03 trillion budget, with most of the Sh300 billion apportioned to luxuries we can do without.
The budget for the 2021–2022 cycle was Sh3.03 trillion, with a fiscal deficit of Sh929 billion. If Sh300 billion could be cut from that budget, and with a target revenue collection of 2.1 trillion, then the deficit would reduce to Sh629 billion.
Consequently, there is no need for increasing taxes and levies or borrowing more. Finally, has KRA collected every coin due to it? Obviously no. So, before we increase taxes and levies, KRA must seal all revenue loopholes. More people paying a lower tax is better than fewer people paying a higher tax.
Related Topics