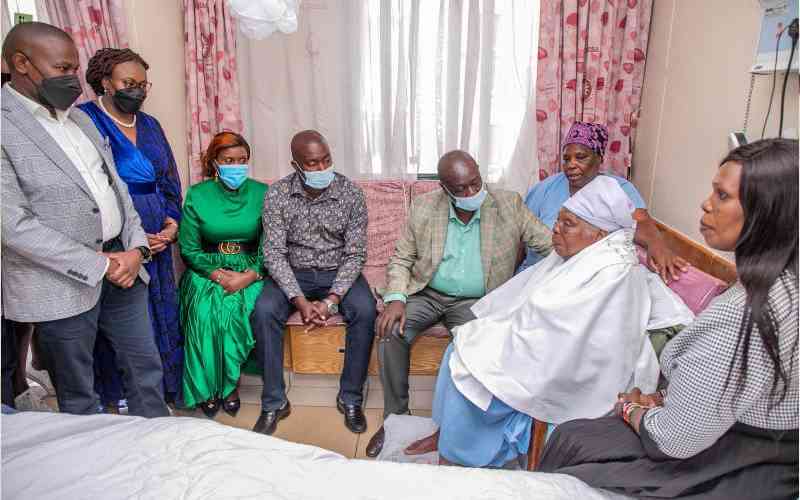 In 2009, I tracked down the man who was suspected of hanging Field Marshal Dedan Kimathi. We picked the rumour in Nyeri, that the man who hang Kimathi was still alive, and that, he alone knew where the famous liberation hero was buried. With photographer Joseph Kanyi, I set out for Kahigaini village in Tetu on a chilly August morning.
There, we found him. Then 85, he was a pale shadow of the man who once struck terror in death row convicts in the '60s.
The retired hangman wore a dirty cream trench coat over a thick pullover and stained white shirt, and a colonial felt hat that he carefully adjusted before announcing, in a voice of a man who had resigned to his fate: "I am the one you are looking for. I am Michael Kirugumi wa Njoka".
It was not easy interviewing Mr Kirugumi. He kept veering off the subject, speaking on and on about how he used to serve the last meal to his 'clients' before carefully slipping the hangman's noose on their necks and pulling the lever the next day.
The noose would tighten, often snapping the prisoner's neck in a flash. On monthly salary of Sh99, Kirugumi did his work, as he said, with enthusiasm and passion for 11 years with no speck of remorse.
Did he hang Kimathi? We asked.
No he did not, he told us, but he would not have hesitated to hang anyone brought before him.
We were disappointed that we did not succeed to make our 'prisoner' confess to hanging Kimathi. But then, facts are facts, and numbers do not lie - if indeed Kirugumi retired in 1974 as he told us, after diligently hanging death row prisoners at King'ong'o Maximum Security Prison, Nyeri, for 11 years, it meant he reported for his first hanging duty in 1963.
Kimathi, they say, was hang earlier, in 1957. As such, Kirugumi missed hanging Kenya's "most wanted terrorist" back then, by six years. If he had been hang later than that, Kirugumi would have known where Kimathi was buried. Nobody knows this to date or may maybe someone doesn't want to tell us the truth, for as certain as death, someone hang Kimathi, someone took his body away, and someone buried him.
And with the passing on of Kimathi's wife, Mukami, last week, the Agikuyu community now faces one of the worst nightmares in the community's culture - a curse. For Mukami, before she died, directed that she be buried either with her husband's bones or next to his grave.
And, according to the Agikuyu, a dying man's or woman's last wishes must be fulfilled or else…
And herein lies the spectre of a curse: Unless someone looks for some old bones - any bones, to convince Mukami's spirit that her husband's body has finally been found, the community and the country will be haunted by, not one, but two restless spirits - the spirit of Kimathi and now that of his wife, Mukami.
"If she said that she wants to be buried alongside her husband, we must do anything possible -including getting some old bones somewhere to convince Mukami's spirit that we have found her husband's body," says lawyer Duncan Mindo.
This, he opines, is what we should have done as soon as Mukami said she wanted to be buried alongside her husband.
It might have been playing a trick on the old lady but it would have had a placebo effect - a healing based on a lie. It would have saved us the trouble of telling Mukami the truth - that her husband's grave and bones - like the bones of many other heroes and heroines, gods and goddesses - from Christ to Caesar - might never be found.
We should have told Mukami this truth before she died. Now we must tell it to her in her grave or live with her curse forever.
Mr Karanja is a journalist. [email protected]
Related Topics