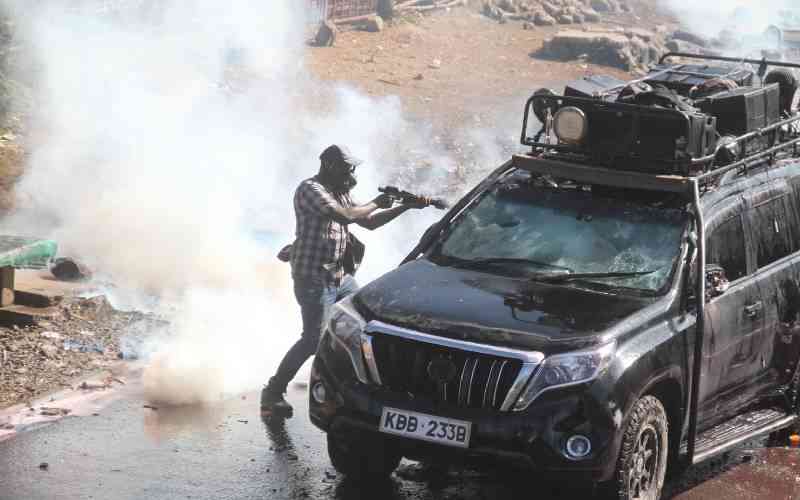 It has been a tough and bloody week for journalists covering anti-government protests over high cost of living and alleged electoral fraud.
They have been harangued, tear-gashed, clobbered, robbed and their equipment destroyed as they struggle to inform the world about the ongoing demonstrations that seem to be turning uglier, costly and violent. A senior pro-government politician was on a TV talk show on Tuesday, accusing the same media house hosting him of being an opposition mouthpiece.
At first, I thought the attack on the media was sporadic, when the demonstrations started. However, I disregarded this notion after events of Thursday when journalists escaped death with broken limbs and bloodied faces.
They had been viciously attacked while braving the chocking tear gas to tell Kenyans and the universe about the sad situation.
In Nairobi, a dozen journalists were attacked by what seemed a well-organised platoon of goons. I bit my lips in anger when I saw a journalist with a blood-socked shirt, his face swollen with a deep wound.
A plain clothes policeman was seen breaking a car window and spraying tear gas inside it, seriously injuring journalists. The officer then casually walked away.
In my journalism career spanning more than two decades, I have covered violent riots, including the deadly 2007/2008 post-election violence that left over 1,000 dead.
While covering these riots, journalists put their lives on the line. I remember my team and I holding prayer meetings every morning. Through the grace of God, the team safely returned to base. There were no major reports of journalists being targeted for an organised physical attack like the ones we are witnessing. The media is under siege. The messengers are under attack. What is happening, all of a sudden? Is there a plot to stop the media from covering the Azimio protests?
Is someone trying to instill fear in journalists and stop them from going to the frontline to deliver real-time and live coverage about the protests? Was the attack and robbery of local and international journalists in Kibra last Monday planned or was it spontaneous? Never before have journalists been attacked in this fashion. At this rate, Kenya may soon join the list of countries with the worst record of journalists' safety. A report by a media watch and safety barometer – Reporters without Borders (RSF) says 1,668 journalists have been killed worldwide in the last two decades (2003-2022).
The report says the number peaked at 58 in 2022 alone. RSF says this was 13.7 per cent higher than in 2021, when 51 journalists died in line of duty. It is worth noting that 80 per cent of the media fatalities have occurred in 15 countries, with the war torn Iraq and Syria leading. In Africa, Somalia has reported the highest number.
Kenya must not join this list, but only if something is done to stop the rising cases of assault against journalists. The Media Council of Kenya, Kenya Union of Journalists and Kenya Correspondents Association have been spearheading the campaigns on safety of journalists. They have conducted workshops on how journalists can remain safe while covering conflicts. However, it is now time for more action.
We must take the war to the doorsteps of politicians who always want to gag the media. The emerging attacks suggest some of them were planned.
Then comes the police question. Why is it that the goons who have been attacking journalists have never been arrested? In some cases, assaults have occurred in the full glare of security officers.
Have the goons who attacked and robbed journalists in Kibra on Monday and those and in Pipeline on Thursday been arrested?
How about the thugs who robbed and injured a Kisumu TV journalist who is fighting for his life in hospital? The journalist would have been saved had the police intervened.
As the protests continue, the police must protect lives and property. More poignantly, they must protect journalists. Do not kill the Messenger.
The writer is a former editor and media consultant
Related Topics