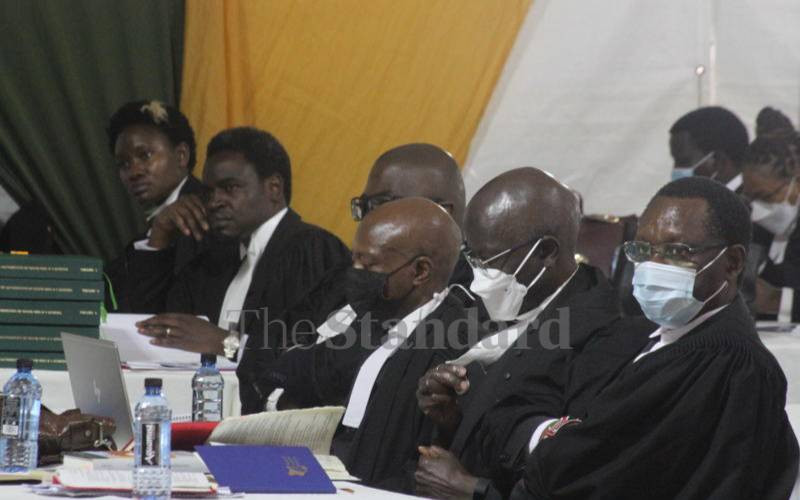 A Ugandan ex-schoolmate once commented on our WhatsApp group that Kenya's superior and unfulfilled economic leadership is hampered by the "badness" of our politics. I have said recently that we are a Sh30 trillion economy that is happy to cruise at our current level of Sh10-15 trillion.
And Sh30 trillion is an understatement. Yet, before we know it, Ethiopia will have left us way behind as well as Tanzania that may or may not be giggling at our current dollar troubles. Indeed, in the long-term, that sleeping giant we know as DRC could one day be the centre of our universe.
Our self-serving politics does not get this picture. On the face of it, we are celebrated much more for a paper democracy that designs itself to stifle actual development. Look at your typical politico today. For them politics is a business, and production is hard work. That's why our easiest economic policy choices prefer buying to making stuff; or importing to growing things. Look at wealth in Kenya today. It is huge multiples of GDP tied down in dead and unproductive capital. It's no secret that the real estate part of our GDP is a criminality and money laundering outcome.
And, for those of us who think public money is not eaten, consider that our most recent political leadership (the Jubilee administration) spent more than Sh20 trillion growing our economy from Sh4 trillion to Sh13 trillion in ten years. Talk about return on investment, either economic or social!
At this point, some will argue that politics is everything we do. It sets policy. It allocates social and economic outcomes. It is the reality that we see in human outcomes. Let's look at ours today.
What we have right now is a zero-sum game. On the one side, we have a ruling Kenya Kwanza coalition that seems unwilling to garner any sort of buy-in into the short-term socio-economic pain that it has designed in order to transform Kenya for the long-term. So the quick solution is to offer Kenyans a verbal overdose in social occasions of unsubstantiated bleats about the faults of its predecessors. It is not to explain that Kenya's socio-economic trauma is structural and long-term.
On the other side, the Azimio coalition is asking difficult questions of this administration in a very public way. This is not incorrect. But it gets frightening when there is a fast-growing clamour to view Kenya Kwanza as legal according to the Supreme Court but illegitimate to the actual people. Which is not to say that Kenya Kwanza is showering itself in glory. To the naked eye, there is a carefree adhocracy to its governance. To the third eye, it looks like our nepotist, tribalist 1980s.
We are past the 2022 election, but we cannot get past it. Like other Kenyans, I follow the points and counter-points made about who won our presidential election. Six months before the vote, I offered that IEBC was incompetent for the test before them. It still isn't and maybe our politics will never allow it. But in those pre-election days I saw a contest between Raila as an idea and President Ruto with ideas. A short 2022 conclusion is the ideas slightly outperformed the idea.
Current twist
The tragedy here is Kenya needs both. The public, not private, record shows that Raila as an idea was at the core of the progressive constitution we gave ourselves in 2010; a constitution that Ruto opposed, but in a current twist, now offers as the basis for the legalistic succour of his Presidency.
Now, a 100 per cent constitution might have Raila as ceremonial president and Ruto as a brilliant PM. The skills and experience these two leaders offer are gifts for Kenya, and all Kenyans. A Sh30 trillion economy would not have been today's but yesterday's news. That's our zero-sum politics.
We also have a tough reality here. Kenya has only one President, Dr Ruto. The constitution does not give us a real opposition leader. Once Azimio steps away from dangerous statements about presidential illegitimacy and Kenya Kwanza ditches its irritating verbose on what they inherited, we have a moment that gets us to fix the structural faults that deny us the idea of Kenya as a nation.
Let's be really controversial today and consider this moment. It is, cannot and should never be, about a "handshake". That elites doing "high-fives" with other elites, as peasants ululate in joy, before misery trails as night follows day. Think about our last two political compromises.
The four-part settlement that followed our 2007/8 pogrom fixed three quick issues – stop violence, rehabilitate displaced, do a handshake. Its fourth part, popularly known as Agenda Four (for our noisy, youthful leaders, this is not the same as Uhuru's Big Four), identified ten long term issues to address (yes, the world did not begin and end with Jubilee and Uhuru). To wit; constitutional, police, judiciary, parliamentary, electoral, public service and land reform; plus measures to address youth unemployment and inequality, social exclusion (national integration) and corruption (transparency, integrity and accountability). Once Kofi Annan's team left we closed this down.
Then we had the handshake in 2018. As I have written before, the March 9 statement of the time did not envisage constitutional reform, at least publicly. Let's recall the nine issues it started with before every level of our court system slapped its untidy focus on constitutional change into outer space. National ethos. Divisive politics. Ethnic antagonism and competition. Inclusivity. Shared prosperity. Rights with responsibilities. Corruption as a way of life. Devolution's viability. Public safety and security. It isn't rocket science to see these as another view of Agenda Four.
But we know what happened to an effort that wanted to change almost 70 parts of our constitution and forgot to mention in court that this Building Bridges Initiative (BBI) also offered great ideas on policy change, normal statutory initiative and institutional and administrative innovation. The actual genius – basic structure discussions aside as a game-changer - in what the Judiciary threw back at the BBI promoters was in wondering why we needed to do new to complete old.
Miss the point
Of course, Kenya Kwanza has been accused of reviving BBI through the back door with its proposals around an office of the official opposition leader and calling ministers to report to Parliament. This accusation is not incorrect in light of Kenya Kwanza' push towards parliamentary majorities as a precursor for more dramatic constitutional change.
All of this is to miss the point. Kenya truly needs to build bridges. There is post-independence legacy history to be addressed. There is tomorrow's visioning. There is an international eye on Kenya increasingly exhausted by our incessantly investor confidence-reducing political terrain.
In cutting this long story short, what might the answer look like? BBI has a soiled name, and Agenda Four was never completed, but these are at the hidden core of our current cacophony. We also have a constitution that defines neither handshakes nor an official opposition. It is fair to assume that the notion that Kenya is a developmental state was in the minds of its crafters. Equally fairly, they probably did not envisage the post-2010 political calculus that Kenya now endures.
So let's break the answer apart. To repeat, Kenya cannot afford another handshake if we wish for a truly democratic and accountable state. But if, as I like to say, we think about the "what" before the "whom" there is an unfinished Agenda Four/BBI that is looking for true political leadership.
For Ruto and Raila, this is not about power-sharing akin to 2008 and 2018. But when we look at, to repeat, the Kenya that voted, both are minority leaders if we add voters who didn't vote, and potential voters who didn't bother to register. Think 14 million out of 29-30 million vote-eligible Kenyans. As a crude observation, Raila is probably thinking harder about this than Ruto.
OK, here's the truly mad answer. A political settlement that puts Agenda Four/BBI back on the table as the forum to address our long-term issues. Here's the innovation in this madness. Whether this is designed as a programme or project is not the question. But a long-term forum that inclusively calls in perspectives from both sides of our real political divide would seriously help. In a proper country, Parliament would do this, but there's too much "hire-purchase" activity going on.
The current divide does not represent our long-term aspirations to be a true and proper nation. Indeed, a longer view might speak to a more citizen-led bipartisan and multi-stakeholder space that speaks to our long-term issues better than our current Kenya Kwanza vs Azimio tragi-comedy. In this way, Dr Ruto implements his ideas, and Raila as an idea matters.
I said I would be controversial today, but can't we do Agenda Four/BBI without a handshake? It's difficult to see another way to get to the inclusive Sh50 trillion, not 30 trillion, economy we deserve!
Related Topics