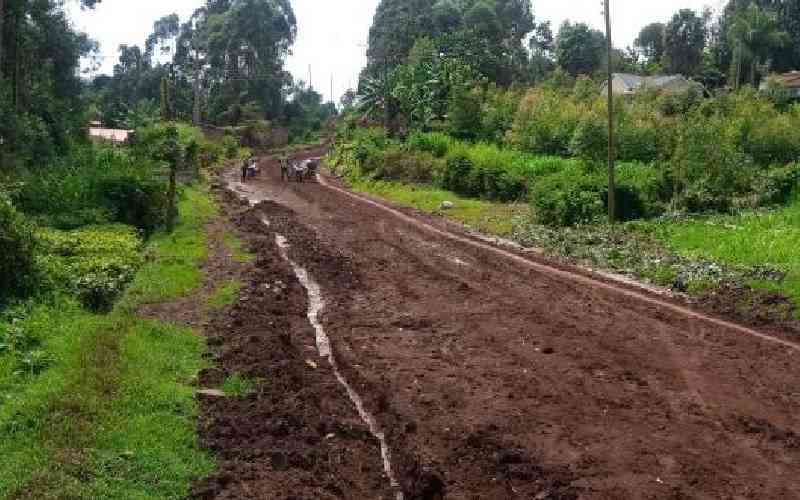 Residents of Mochengo in Bobasi, Kisii, are protesting against the delay in the improvement of a 17km road that has remained impassable for over 15 years.
The locals claim that the Igare-Mochengo-Nyachki road was designated for tarmacking over 10 years ago, but they allege that the project was redirected to the neighboring ward.
On Wednesday, residents staged a protest against what they referred to as false promises from their leaders, accusing them of neglecting a section of the constituents' area. John Onsumo said the road, which passes through Basi Central, is crucial for the traders operating at Nyachekia and Igare markets to reach their homes before it starts raining.
"Promises are made during campaigns, but after that, they disappear. The contractors assigned to improve this road have done a poor job. We stand united against this kind of leadership."
Most of the locals engage in tea and banana farming, but their produce takes days to reach the market.
"Tea has been sitting in collection centres for days, resulting in losses for farmers. No one has stepped forward to explain why we cannot have this road improved," said Sospeter Ombuya. Boda boda riders operating along the road express their inability to repay loans due to limited working hours.
"We used to work nearly 14 hours a day. However, due to the heavy rainfall in this region over the past month, we have reduced our working hours to less than six. We cannot earn enough money to repay the loans we obtained to purchase our motorcycles," said rider Vincent Aburi.
Yesterday, the local MP, Innocent Obiri, said: "In order to improve transportation within Bobasi and to various destinations outside the constituency, we are regularly maintaining our roads to ensure they are in a motorable condition as we strive for tarmacking."
He said contractors are present on the Igare-Matierio-Borangi, Nyamache-Mogonga, and Mogonga-Emenwa roads, and construction work has already begun.
"We are working towards securing additional tarmac mileage during this term as a long-term solution."
Following the demonstrations in the area on Wednesday, contractors have started construction work along the disputed road.
Related Topics