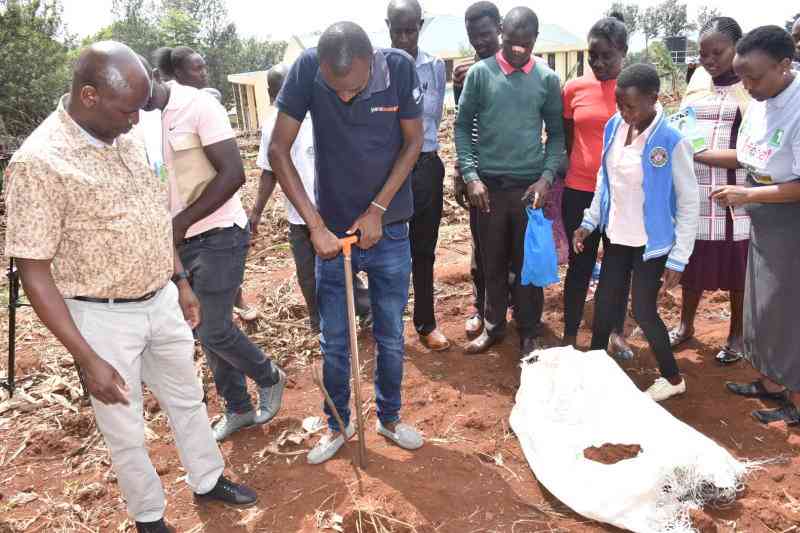 Alarmed by the declining agricultural production, Kisii County has now embarked on an ambitious soil testing drive to guide farmers on fertiliser usage.
The development comes as experts claim poor agricultural practices and land fragmentation have led to the decline in agricultural production in the region. The initiative involves testing the soil PH of farms across the 10 sub-counties. This will help decide the type of fertilizer each farmer should use.
The exercise was launched at Kisii Agricultural Training College ahead of the planting season as farmers begin to prepare their farms and rains begin to pound the region.
Governor Simba Arati's administration has also planned a soil testing day on March 22 as part of the efforts to improve soil fertility.
According to Emmanuel Momanyi, the Agriculture Chief Officer, the county is keen on ensuring acidity levels of farms are reduced.
He said most farmers have reported reduced production in the last couple of years but continue to use fertilizers with minimal success. Agricultural experts say crops do well in soils with PH levels of between 5.5 and 7.
"Increasing soil acidity is grossly affecting production and that is why we have embarked on a mission to test soil PH for farmers with an aim of finding a solution," he said.
According to the official, technical officers will advise farmers on how to improve the fertility of their farms after conducting soil tests.
The programme which is being funded by the United States Agency for International Development (USAID) through Kenya Crops and Dairy Market Systems, is also targeting to promote safe and viable agricultural practices.
During the launch of the exercise, sample tests from two farms at Kisii Agricultural Training College indicated that their acidity levels measure below a PH of 5. The results indicated that the farms were highly acidic and required fertilisers that increase alkalinity.
"The technical team that is supporting this exercise are going to meet at least 4,000 farmers from across the county. They will give us the data from their exercise so that as a county we can know where we need to focus," said Momanyi.
Seth Yake, the technical officer overseeing the exercise said: "Our goal is to help farmers test their soil and make informed choices on fertilizer usage." Farmers told The Standard that they have been using fertilizers without knowing the exact state of their farms.
Maurice Okembo, a farmer in Kitutu Chache, said production from his farms has drastically dropped over the years despite using fertilizers every planting season.
"I have never tested the soil PH of my farm. It explains productivity has gone down," he said. The soil testing exercise comes at a time when farmers have started purchasing fertilizers in preparation for the planting season.
A survey in Kisii, Keroka and Nyamira revealed that farmers were flocking to shops to buy inputs. The cost of fertilizers ranges between Sh6,000 and Sh6,500 for 50kgs.
Related Topics