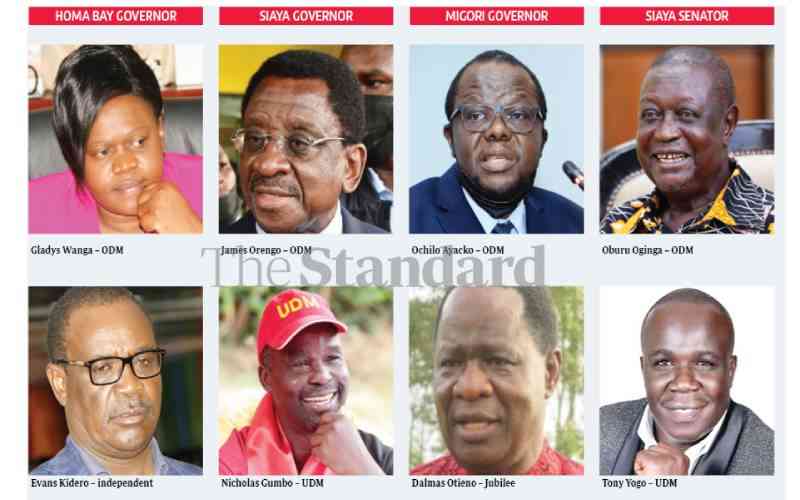 In the 2013 and 2017 elections, a majority of ODM candidates wound up their campaigns after getting the coveted party ticket in the nominations.
They knew they were guaranteed clean sweeps against their opponents in the General Election.
For others, an endorsement by party leader Raila Odinga in his mega rallies as he moved to consolidate his support base was enough to clear any pints of doubt about his foot soldiers clinching seats, and several political careers that were hanging by a thread were swept aside by the six-piece voting calls.
This was the expectation of several ODM candidates in the upcoming elections, as Raila and his allies traversed Nyanza last week and endorsed them for various seats in Migori, Homa Bay and Siaya counties.
In the entire region, Raila made the symbolic gesture of raising the hands of his troops as the chosen ones and urged the electorate to back them overwhelmingly to strengthen his presidency.
Despite the endorsements, however, ODM candidates are still not sitting pretty as opponents contesting as independents and in other parties step up their campaigns to upset them in the August 9 General Election.
The candidates have defied calls to step down for Raila's ODM candidates and have promised to embarrass them in the polls.
The six-piece calls appear to rub some residents the wrong way too and has pushed the candidates to an intense campaign trail. In the last two days, the region has been a hive of political activity, as each candidate intensifies their efforts to make a case for their candidature and push against the ODM agenda.
Barely two days after Raila endorsed his elder brother Oburu Oginga for Siaya Senate seat and his long-term ally James Orengo for the governorship, the duo met a hostile crowd in Gem who opposed the calls for six-piece voting.
They were in the constituency to make amends over the controversial party primaries where a number of speakers claimed they had a hand in the failure by some aspirants to clinch the coveted ticket.
Residents and a number of opinion shapers told the duo that they will not support the six-piece voting pattern being pushed by the ODM fraternity and asked them to restrict themselves to their own individual campaigns.
The meeting took place at former aspirant for Gem parliamentary seat Jalang'o Midiwo, where a section of residents said they will only back the duo but not six-piece calls.
Both Orengo and Oburu are facing stiff competition from candidates who are contesting as independents and in parties affiliated to Azimio la Umoja-One Kenya coalition.
Orengo is facing the fight of his political life against United Democratic Movement (UDM) candidate Nicholas Gumbo, while Oburu is facing off with James Wamban of Movement for Democracy and Growth (MDG) and Tony Yogo of UDM. The other governor candidate is Millicent Oduor of UDA.
During the meeting, Orengo admitted that they have a huge problem in some parts of the county.
The duo pleaded with voters to consider them as individuals and distanced themselves from the nomination controversies.
"There is a unanimous decision by the people of Gem to support my candidature and that of Oburu. We only talked about our candidature. The meeting was not about six-piece," Orengo told journalists after the meeting.
He, however, said they are still committed to strengthen ODM, arguing that it is the best bet to transform the country.
In Homa Bay, ODM governor candidate Gladys Wanga is in a tough battle as former Nairobi Governor Evans Kidero intensifies his quest for the seat. Kidero is among the leaders who took to social media to reaffirm to his supporters that he is in the race for the long haul and will not shelve his ambition to transform Homa Bay.
Yesterday, he pitched tent in Lambwe Ward, where he criticised the ODM primaries and urged residents to reject its nominees.
"Our people were not given a chance to elect the people we want. We have a chance to make amends in the August 9 General Election. I am an independent candidate because of the flawed nomination exercise. Let no one lie to you to vote six-piece," said Kidero.
The endorsement of ODM candidates has caused jitters in the county, as a number of candidates said it was discriminatory and vowed to stage intense campaigns against them.
Senate candidate Tom Ojanga of Kanu poked holes on Raila's tour, saying it was discriminatory. He vowed to teach ODM's Moses Kajwang a political lesson at the ballot.
DAP-K's Rangwe parliamentary candidate Achuodho Kachuodho castigated the six-piece narrative, saying it had contributed to underdevelopment in Homa Bay County. "We expected Raila's tour of Homa Bay County to be inclusive. But we were surprised that it was a pure ODM affair," said Kachuodho.
In Migori, the battle between governor candidates Ochilo Ayacko of ODM and Jubilee's Dalmas Otieno has also intensified.
Migori has gone against the ODM wave before when they voted for Governor Okoth Obado of People's Democratic Party (PDP) in 2013.
Divergent views
Among residents, however, the debate on six-piece voting elicits divergent views. While some say they will stick to voting Raila's party candidates, others believe the performance of current ODM leaders in the counties have pushed them to think otherwise.
According to Chris Budo, a resident of Ugunja in Siaya County, six-piece voting has non-performers to rise up the leadership ladder and win seats easily.
"The region has been hoodwinked to vote political deadwood who have failed to deliver the much desired development in Luo land in the name of party loyalty. This has led to stagnation of socioeconomic development indicators in the region," he said.
Budo said most of the candidates contesting on alternative parties and as independents are also die-hard supporters of Raila but are not contesting on ODM because of "shambolic party primaries".
Phillip Ochieng, a political pundit and resident, said the quest to make six-piece a reality will be a Herculean task for ODM because of changing political dynamics.
"Other parties have come out strongly and fielded formidable candidates with strong grassroots networks, which will influence voters to disregard the six-piece calls," he said.
ODM diehard supporters, however, insist the party will carry the day and will sweep 90 per cent of the seats in the region.
Kenneth Otieno, a Kisumu resident, said he was certain the region will back only ODM candidates to give Raila control in Parliament.
Andrew Oluga, a resident of Rarieda Sub-county in Siaya County, also said ODM candidates will carry the day on August 9.
"Six-piece voting pattern is quite important in the forthcoming elections due to the nature of our politics and governance. Kenya is a multi-party democracy in which political parties compete for political power at every electoral opportunity," he said.
[Isaiah Gwengi, Olivia Odhiambo, James Omoro]
Related Topics