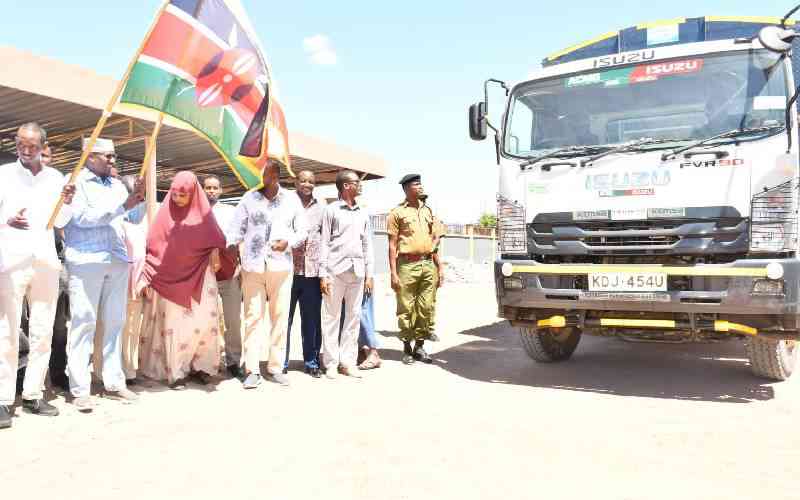 Wajir Governor Ahmed Abdullahi has vowed to take stern action against staff who will be guilty of theft of public resources.
While affirming his administration will not fall for the trap of out of court settlement, Abddullahi said those suspected will be taken to court of law to face trial and subsequent jailing.
His remarks come after allegations that hospital equipment belonging to Giriftu Hospital was stolen and some of medical supplies unaccounted for.
The county boss said when grave issues like theft occur, elders throng at his office in defense of the culprits, curtailing justice's course.
"We don't want theft of medicines at all, the clan elders better tell their boys to stop the vices because they will deal with the police and courts", said Abdullahi.
He instructed the County Executive Committee member for Health Habiba Ali Maalim to undertake an audit of all hospitals to ascertain if all equipment supplied by the county government, the World Bank, Managed Equipment Services (MES), and non-governmental organizations is there and that medical superintendents should account for it.
Abdullahi said when he assumed office in his second tenure, Wajir General Hospital didn't even have drip stands, and the nurses were using windows instead, despite procuring hundreds of them.
"We want to motivate our healthcare workers by paying their salary on time, at the latest on the 25th of every month, despite late disbursements of funds from the treasury", Ahmed said.
He said in three weeks' time his administration will do a ground breaking ceremony for the construction of a three-story building that will house a new accident and emergency unit, intensive care unit, high dependency unit, three theaters, and a new ward with 44 bed capacity to offset referrals to Nairobi.
The governor said he remains committed to the pledge to restore hope in the county's health sector.
"I have today flagged off medical supplies that we purchased from KEMSA for use at our Wajir County referral hospital. Within the course of the week, we shall receive the remaining batch for our other 131 health facilities as part of our Sh94 million order for medical products," he said.
Abdullahi said it is worth noting that the county has cleared all KEMSA's pending bill totaling Sh65 million.
Related Topics