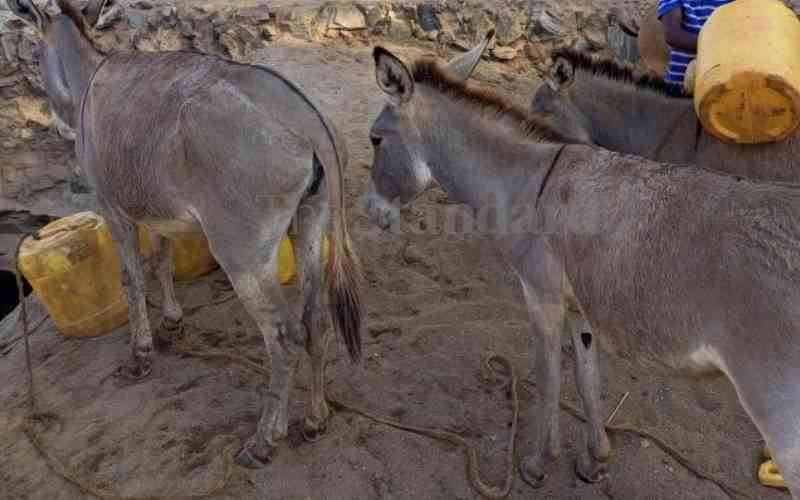 The Association of Donkey Owners Kenya (ADOK) Turkana chapter has decried the drastic decline of the donkey population in the region, which they attribute to rampant theft.
Association chairman Albert Naida warned that the donkey population has dwindled due to the flourishing donkey skin business feeding the Chinese market.
He claimed that a Chinese factory located at Napetet - Nakwalele village on the outskirts of Lodwar town that buys donkey skins has encouraged illegal slaughter and rampant theft of donkeys in the area.
Naida said the factory was operating illegally, even after former Agriculture Cabinet Secretary Peter Munya ordered it shut down.
"We have noted the factory was operating from the backdoor even after the government closed it. The Chinese use local traders to steal and sell to the skin storage facility. This vice has encouraged theft of donkeys in the region," said Naida.
He raised alarm that some locals were colluding with Chinese traders to slaughter donkeys at night and ferry skins to Nairobi for export to China, where there is demand for donkey skin for medicinal purposes.
"As donkey owners we have raised our concerns with relevant authorities on rampant theft of donkeys but nothing has been done to address the matter. We use donkeys for domestic purposes like ferrying water and transport. If we lose a large population of donkeys, the community will be left in disarray," Naida warned.
He claimed the unscrupulous traders were colluding with local boda boda operators to steal and transport donkey skins to a slaughterhouse cum storage facility in Lodwar, adding that they intercepted a truck loaded with more than 3,000 donkey skins destined for Nairobi.
Naida said they were collaborating with local administrators to deal with the vice.
Meanwhile, Turkana Council of Elders have now called on the government to stamp out theft of donkeys in the region, saying the vice has impoverished the community who depend on donkeys as a source of livelihoods.
Turkana South Council of Elders chairman Benjamin Ebenyo warned that culturally, it was a curse to slaughter a donkey as the community consider the animals a source of blessings and a historical preserve of Turkana cultural heritage.
Turkana Council of Elders Chairman Abraham Lokuwom demanded the Chinese-owned storage facility in Lodwar closed and government to impose a ban on sale of donkey skins.
"I ask the government to apprehend the suspects linked to the theft of donkeys. We are aware that some of these suspects are well connected to security officers," said Lokuwom.
Related Topics