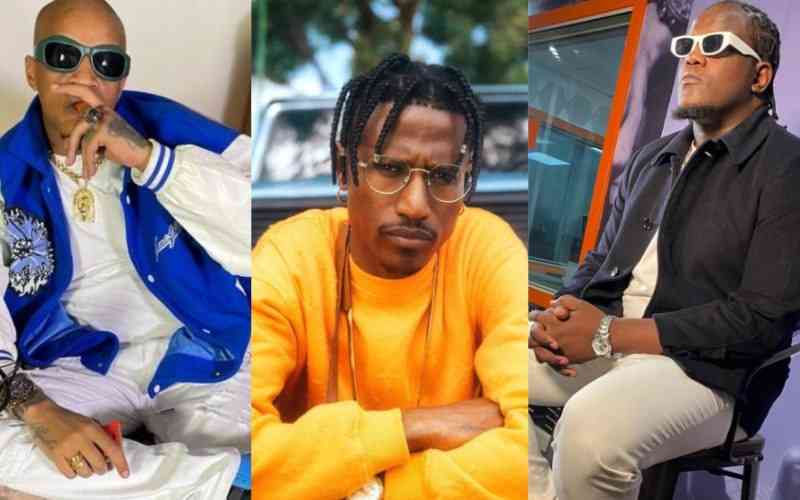 NBA superstar Ja Morant, of the Memphis Grizzlies, is facing a lengthy ban or a hefty fine, for posing with a gun on Instagram Live while 'bumping' to Young NBA's rap song.
It follows a similar incident in March, when the NBA suspended him for eight games after he flashed a gun while in a Colorado strip club.
"Ja's conduct was irresponsible, reckless and potentially very dangerous," NBA commissioner Adam Silver said then, which followed another incident where he pulled up at a supermarket with his friends to harass an employee.
"Like many people in the US, Morant connects being armed with being tough. Especially when you haven't seen the effects of what guns can do in person, towards friends and even enemies; it becomes merely a symbol rather than a weapon," said Lee Ecobedo, co-host on The Knick of Time podcast, Writing for The Guardian, on the NBA star's latest drama. But nowhere is the tough look, or rather the need to look tough, more visible than in hip-hop, and Kenyan artistes are also in this bandwagon.
Octopizzo 'kidnaps' Breeder LW
A petty man by any standards, Kibera's finest Octopizzo once 'kidnapped' Breeder LW and took him around town threatening to finish him.
"Today morning #Octopizzo raided my residence, accompanied by 3 armed men purporting to be officers of the law and questioned me on claims of assassination of character," Breeder LW said on Instagram.
He said the purported kidnapping party took his phone and deleted posts, then wrote an 'apology' to Octopizzo, before dumping him at popular mall Adams Arcade.
The ordeal, that Octo alluded to while speaking to the Iko Nini podcast, was a low point for Breeder LW, some questioning why he'd let the skinny 'Noma Ni' rapper bully him.
"I fear for my life," Breeder LW wrote.
'Mazishi ya polisi'
A big percentage of the lyrics from Ukoo Flani Mau Mau talk about crime, the hard life in the ghetto, and most importantly, ways to beat cops up.
Life in the ghetto is about making the most of it while trying to stay away from cops, who statistically, the world over, bully men from underprivileged neighbourhoods, where the exemplary emcees came from.
In Mau Mau Warfare, by Juliani, Wenyeji and Kamah, the latter raps; "Ndani ya hoody, nina kidungi, ki-biggy biggy ndani ya kabuti, Ukileta upuzi, geuzwa kichungi, ki-biggy biggy ndani ya kabuti, ndani ya kabuti."
Which loosely translates to I have a big gun in my hoody, and you will be shot if you act up.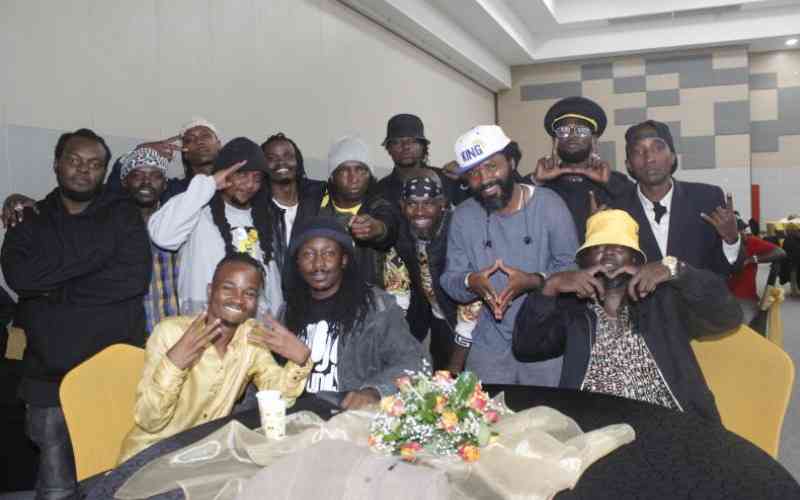 Kidungi and Mbogi Genje
One of Kenya's most unique rap groups is all about guns and violence.
From the first line of Kidungi, one of their first jams, they introduced their fans to an intricate rhyme style and lingo, but it was obvious what they were talking about, saying, "Utageuzwa kichungi, kila zing amejidaisha kidungi, ground nare, utageuzwa kichungi.'"
Throughout the song, a mirror of the messaging matrix that was to bear their DNA, they threaten gun violence to non-existent enemies.
"Siwezi mind uki-choose kuwa rival, Juu Militan amekuja na ki-rifle," Smady Tingz raps.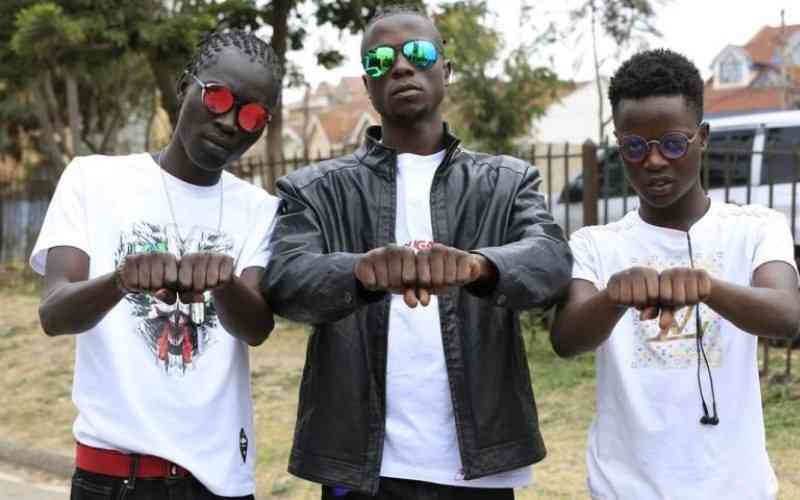 J Fam, Mathare and gang violence
According to gospel dancehall artiste J Fam, masculinity and rap and dancehall music is not important, though it seems necessary to the genres.
"In many cases, hip hop and dancehall artistes are the only ones who look tough. You can't expect some lover boy to look tough," said the Groove Awards winner.
"Halafu pia it's because of where we come from, our backgrounds manze."
He goes on to explain the correlation. "I was born in Mathare where guns, crime and drugs are the order of the day. I took part in one way or the other when I was young and naive, but I thank God for Salvation, although my past followed me throughout my career."
As an upcoming gospel artiste, J Fam was shunned by churches in the Mathare valley, because of his criminal background.
"I took my Groove award back to Mathare for my homeboys but this move raised some eyebrows among the "then gospel gatekeepers " because the pictures were not beautiful."
Prezzo and guns
El Presidente has twice caused drama, once at KTN studios, for brandishing his purported licensed firearm, and another time when he allegedly threatened to shoot a motorist in Embakasi.
The first instance, in January 2016, happened when he refused to exit his car for a security check up, pulling out his gun and threatening the security guards.
In the second instance, in the same year, he threatened the motorist, with the residents' Facebook page speculating that the Let's Get Down rapper was high on drugs.
"Prezzo high on hard drugs tried to hijack a resident of Nyayo Estate. Now arrested and booked into Embakasi police station," read the post.
Octo pulls up to Kayvo KForce
Not a man to take it lying low, Octopizzo has been reported to have gone to a studio in Kibera looking for the lanky Kayvo KForce, brandishing baseball bats with his crew.
The two, on a never-ending beef in regards to who truly represents the sprawling Kibera slum, faced off when Kayvo went to the studio, but no violence took place.
"Octo threatened me, trying to stop me from releasing some video, but it didn't get to that," Kayvo KForce said on a popular podcast. "Tuna beef juu ya ngoma? Huku si America!"
Fortunately for us, the glorification of gun violence has not been a fatal statistic, but across the world, especially the home of the genre, rappers including Takeoff, Nipsey Hussle, Pop Smoke, Tupac, and Notorious Big, have met their death from the peace of metal that, to many, distinguishes boys from men.
To Dead Prez' Stic, the violence is a product of the society rappers live in.
"Hip-hop is culture. Hip-hop is BBoying breaking, emceeing, graffiti, knowledge of self, peace, love, joy, unity, having fun. That's what hip-hop actually is. The violence we see in society is a product of society. So I think hip hop is the scapegoat for a lot of things."
Barak drowned in Jacuzzi
Well, almost. The Radio rapper, then also a radio show host at NRG, was said to have been 'jumped', and beaten, by rappers who turned out to have been the talented duo that make up TNT. Timmy Blanco and Twenny Eights. And their crew.
"Its beef, I'm popular and they are not," Jacuzzi said then. "I had just left from an interview on radio, they heard the interview. they went looking for me (at the studio), when they didn't find me and they came into my house."
Said to have been just rich-kids' drama that was possibly just hype, Jacuzzi explained the background in a video rejoinder, to a video of him being beaten up.
"In the radio interview, I denied knowing who they were and they got pissed. They wanted me to acknowledge them. They are just some underground gangster rappers. Not really gangster, but whatever they claim to be. They are guys looking for clout."
View this post on Instagram
A post shared by Barak Jacuzzi (@barakjacuzzi)
Related Topics