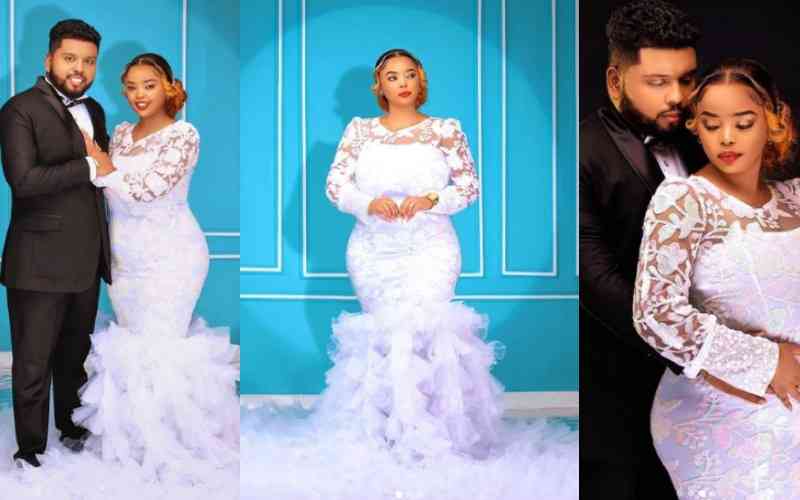 Empowerment Christian Church preacher Reverend Lucy Natasha and her husband Stanley Carmel celebrated their first wedding anniversary on Tuesday, January 31, 2023.
Through a series of posts on social media, the two gushed over each other as they vowed to remain steadfast in their love, highlighting what makes them a perfect pair.
Natasha took the opportunity to advise single women that all hope is not lost and that there is someone for everyone.
"On my first wedding anniversary I want to encourage single ladies, God has a husband for you that will complement the call on your life not complicate or compromise the call," she wrote.
Natasha described her husband as her source of joy, lauding him for always supporting her during difficult moments.
"You are kind, compassionate, and understanding. You are my soulmate who brings joy to my life.
"My love you have been my pavilion, my haven in a storm, my amazing lover and friend, my calm and stable place!"
Carmel, on his part, was thankful to the preacher for bringing laughter to his life, saying she is God's greatest blessing in his life.
"My heart beats for you, my soul belongs to you, and my love for you will never fade. You are the greatest blessing God has ever bestowed upon me my Queen.
"Forever grateful for the love and laughter you bring into my life my Queen," he wrote.
How they met
Prophet Carmel is originally from India while Rev Natasha is Kenyan. The two met on social media and graduated from friends to lovers, perhaps a ray of hope to all those trying to find love on the internet.
In a previous interview, Carmel revealed how he was gobsmacked by Natasha's beauty and passion for Christ that he had to risk it all.
"I was invited to preach at a certain place and the lady of the house showed me a video of Natasha preaching about a royal wedding.
"I felt a spark and I had to slide into her DM. It was like talking to myself but I never lost hope," said Carmel, suggesting that he never got replies but he kept trying.
Natasha, on her part, stated that Carmel's persistence grabbed her attention and despite the numerous DMs she would get, the preacher's messages had something different.
"One thing I liked about him was his persistence. He kept encouraging me and I never thought it would lead to a relationship. After some time I started replying to his messages
"We first became friends before lovers. Later on we were both in the US at the same time in Dallas and as they say, the rest is history," said a blushing Natasha.
The couple stated that it was easy to connect because of their mutual interests and the fact that they both come from strong Christian backgrounds.
Related Topics