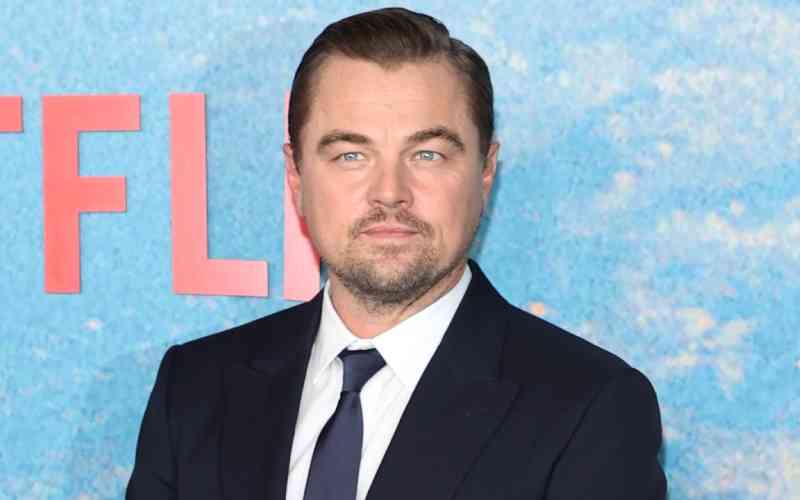 American actor and film producer Leonard DiCaprio is expected in Kenya for a film project. The production budget has been estimated at Sh2.4 billion.
The multiple award winner, whose illustrious movie career has seen him play lead roles in some of Hollywood biggest productions such as Titanic, Once Upon a Time, Total Eclipse, Blood Diamond, The Revenant, The Wolf of Wall Street and Inception, will lead a mega cast into the country in what could be a game changer in Kenya's positioning as a filming tourist destination.
The Ministry for Youth Affairs, Sports and The Arts Cabinet Secretary Ababu Namwamba said the film's production will be done through a collaborative effort between a Kenyan and American production stables.
He said some scenes will be filmed filmed in Kisumu, Kakamega and Migori counties.
This follows discussions between the Hollywood producers and the Kenyan government, which is now offering incentives to creatives to make their productions here as a way of boosting the film sector.
It comes barely a month after the government agreed on a partnership program with South Africa that will see the two countries work together when it comes to co-production of films.
It is projected that the filming of the DiCaprio fronted project will run for weeks, creating jobs for locals and raising Kenya's profile as one of the best filming destinations in the world.
"There are certain things we have put on the table for them. As part of the asks was a tax rebate of upto 20 percent of the total film budget or in the alternative 30 percent of the total Kenyan spend. We have calculated the figures. If it's the 10 percent of the total film budget that will be about Sh280 million in terms of rebate. We have placed that before treasury.
"They have also asked for easier entry of the shooting equipment. You realise that in the past it has been difficult for you to even clear the equipment to come here for shooting. We have made arrangements with custom tax to waive those taxes on the equipment. We have also asked the department of immigration to have a better regime in terms of visa issuance to the crew coming for the shoot," Namwamba said.
DiCaprio is a recipient of numerous accolades, including an Academy Award, a British Academy Film Award, and three Golden Globes Awards. He is ranked as one of the world's highest paid actors.
Born in Los Angeles, DiCaprio began his career in the late 1980s by appearing in television commercials. In the early 1990s, he had recurring roles in various television shows, such as the sitcom Parenthood, and had his first major film part as author Tobias Wolff in This Boy's Life (1993). At age 19, he received critical acclaim and his first Academy Award and Golden Globe Award nominations for his performance as a developmentally disabled boy in What's Eating Gilbert Grape (1993).
The star is the founder of Appian Way Productions, a production company that has produced some of his films and the documentary series Greensburg (2008-2010), and the Leonardo DiCaprio Foundation, a nonprofit organization devoted to promoting environmental awareness.
Related Topics