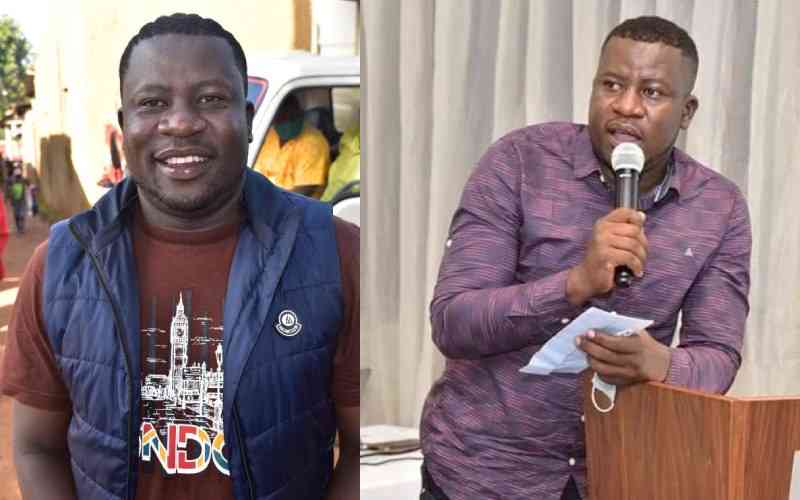 Joel Okwako, 33, the last born in a family of nine children has seen it all. First, he lost his father Daniel Opete in 2006 after he succumbed to liver cancer and later his mother in 2011 who succumbed to throat cancer. This was after he had completed his secondary education at Chebuyusi Boys High School in Navakholo Constituency.
"My mother was a strong woman and was the remaining pillar of our family. Even at her deathbed, she encouraged me to have hope and be strong. After her burial, I relocated to Mombasa in search of greener pastures after realising that time had come for me to be self-reliant," Okwako told The Nairobian.
"I had gone to live with my uncle who by then was an employee at Mombasa municipal council. He enrolled me at a local Technical Training Institute (TTI) but my stay was short-lived after I was excommunicated from his home over a 'petty disagreement.'"
According to the Democratic Alliance Party of Kenya (DAP-K) nominated MCA representing the youth, he would spend countless nights on the streets of Mombasa. He was arrested many times for roaming at night.
The police would have mercy on him and release him unconditionally since there was no one coming to bail him out.
"I had to look for ways to survive. I secured a job as a grave digger at Mbaraki cemetery. One grave was dug by three people and each of us was paid Sh300. On a good day, we could be paid Sh400 but you could wait for up to a week before you get another contract of digging a grave," said Okwako.
"In order to make ends meet, when I was not digging graves, I would be roasting maize and groundnuts which I used to hawk in the streets of Mombasa."
He would later get employed by a commercial sex worker who gave him shelter for a few months in exchange for babysitting services. He used to be paid a paltry Sh50 per day.
However, Okwako said that the new boss provided him with sufficient food, unlike his initial host, his uncle, who kicked him out for 'eating too much.'
"Even though I had been given shelter, the work I was doing was horrible. Besides babysitting, I used to wash her dirty underwear," said Okwako.
Given that he was well built, the commercial sex worker introduced the MCA to boxing, only for him to end up breaking a rib, which forced him to quit.
Upon recovery, he worked as a casual labourer at the Kenya Ports Authority as a loader.
"I had severe backaches forcing the management to transfer me to storekeeping. When my health deteriorated, I went back home for specialised treatment.
"I then worked as a painter at One Acre Fund, Kakamega and later served at ASK - Kakamega Western Branch for over three years in the Arena and Protocol Committees," said Okwako.
In the run-up to the 2017 General Election, he ventured into politics and became a blogger for Lurambi MP Bishop Titus Khamala.
When Khamala won the seat, he made him his personal assistant.
In 2019, he was elected as the youth league secretary-general of Kakamega County in the Musalia Mudavadi-led ANC party. He owes exposure to the world of politics to this party position.
A year later, he survived a near-death experience after undergoing laparoscopic appendectomy surgery. He went into a coma for five days following complications from the operation.
He was airlifted to Nairobi Hospital for advanced medical attention and his health was restored.
In the run-up to the 2022 General Election, he ditched ANC and joined DAP-K party where he was made the executive director for Kakamega County and after the polls, he was nominated as an MCA.
Related Topics