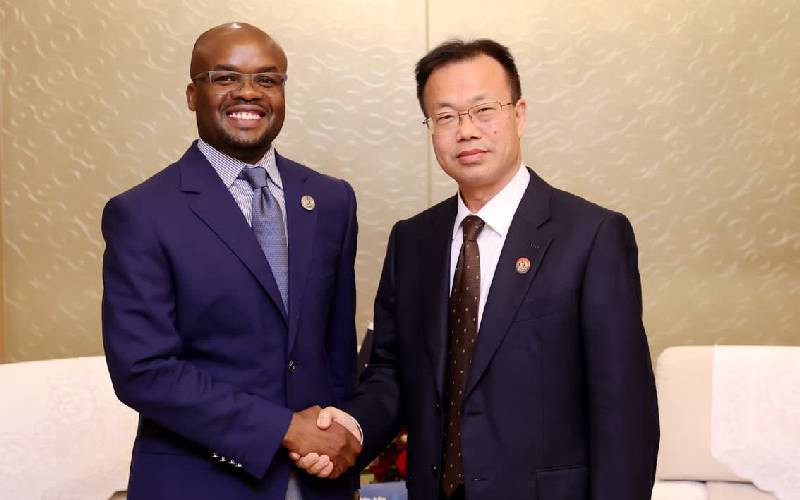 Kenya is actively pursuing strengthened cooperation with China in the realm of intelligence sharing, a move that precedes President William Ruto's forthcoming visit in October.
Interior Principal Secretary Raymond Omollo articulated this stance during the Ministerial Round Table at the Global Public Security Cooperation Forum held in Lianyungang, China, last week.
The objective behind this initiative is to foster joint security operations and security management, strategically enhancing Kenya's security capabilities amidst escalating global threats.
Omollo emphasised that this collaborative effort is pivotal in enabling Kenya to effectively address emerging security challenges, which encompass terrorism, cyberattacks, transnational crime, regional conflicts, and climate change.
He highlighted the universal vulnerability of nations to these threats, underscoring the need for cooperative measures.
The forum, according to Omollo, provides an invaluable platform for Kenya and China to engage in candid dialogues and solidify the strategic bonds between the two nations.
He stated, "In light of these shared risks, we must also collectively fortify global resilience. Kenya and China view each other as equal partners, each contributing uniquely to the realization of mutual interests."
Additionally, Omollo said Kenya is seeking technical assistance, training, and capacity building for its border personnel and law enforcement agencies including Kenya Coast Guard Service to bolster border and maritime security.
Moreover, Kenya is actively exploring further bilateral and multilateral security agreements with China and other international partners to bolster its security apparatus.
he PS held talks with Sun Maoli, the Deputy Minister of Public Security for the People's Republic of China with discussions focusing on a wide range of emerging security concerns as well as potential areas of partnerships for mutual benefit.
"The Kenya-China partnership primarily focuses on mega-infrastructure projects. Nevertheless, within the Global Public Security Framework, we aim to deepen our cooperation in peace and security initiatives as well as law enforcement programs," the Interior Ministry posted on its Twitter.
Beijing released a concept paper in February on its Global Security Initiative, a plan announced by President Xi Jinping in April last year as China tries to take a bigger role in global governance and security.
In the paper, Beijing reiterates its call for countries to strengthen strategic dialogue to improve mutual trust and manage differences.
The annual forum in Lianyungang – which was first held in 2015 – is included in the paper as a platformhat can contribute to "deepening exchanges and cooperation on security".
The paper also calls for more such global security forums to provide new platforms for governments, international organisations, think tanks and social organisations to "leverage their advantages and participate in global security governance".
President Ruto will head to China for his maiden visit to the country since he took over as Kenyan leader in mid-October, and this is expected to reinvigorate the historical relationship Nairobi shares with Beijing.
Related Topics