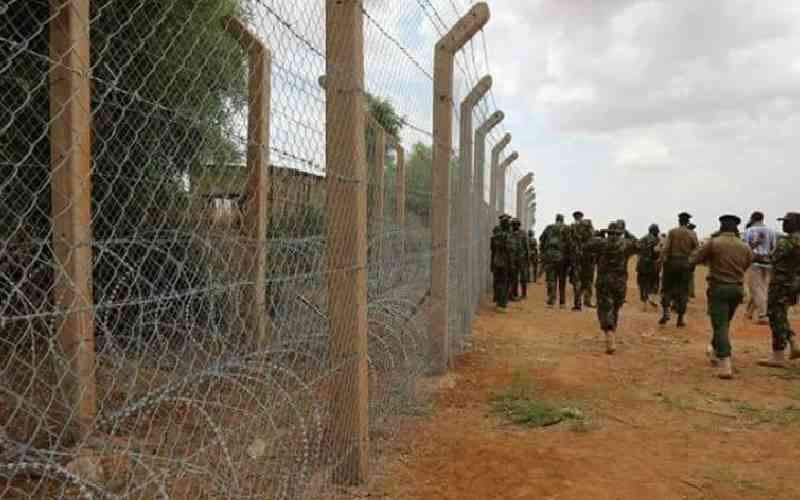 The National Police Service Border Patrol Unit has told the Senate that the lack of security roads along international boundaries in the country is hampering patrols.
The Commandant of the Border Patrol Unit (BPU) Gitiba Mwita told the Senate Committee on National Security, Defence and Foreign Relations that the existence of some ungoverned spaces, occupation by Kenyans, lack of demarcations and delimitation of boundaries are some of the challenges the unit faced.
Appearing before the Committee Chaired by Baringo Senator William Cheptumo at the Turkana County Assembly during the Senate Mashinani sitting yesterday, Mwita said that lack of communication network by the mobile phone service providers in the county was making some areas inhabitable.
"Slow diplomatic engagement on the relocation of Nadapal to Nakodok which is the designated crossing border point to South Sudan, lack of motorable infrastructure and accommodation, rampant cattle rustling between the Turkana and neighbouring communities are some of the challenges," he said.
The BPU Commandant said that the resource constraints in terms of technical vehicles, technology for surveillance and response, and reserved local communities who do not provide information affect efforts to prevent security lapses in Kenyan borders with other communities.
Mwita recommended the hastening of the diplomatic engagement between Kenya and South Sudan, the encouragement of Kenyans to occupy areas along the Kenya-Sudan border by the national and county governments and the acquisition of modern equipment to enable the security units to operate and sensitize local communities.
He further told the lawmakers that there is a need for the Communication Authority of Kenya to be engaged to erect communication masts along the Kenya-South Sudan border.
"We would like to call for the relevant national and county government departments to create more awareness among communities living along the borders of Kenya and neighbouring countries to ensure information sharing," said Mwita.
Cheptumo assured the Commandant that the committee and Senate at large will support the BPU by putting in place measures that will strengthen and empower it to serve Kenyans effectively so as to ensure that the country is safe from external aggression and other illegal activities along the border areas.
The Baringo Senator said the committee will engage the Ministry of Interior to establish the measures put in place to support the National Police Service Border Patrol Unit in achieving its mandate since it has a crucial role in maintaining security along international borders.
Senators Karen Nyamu (Nominated), George Mbugua (Nominated) Lenku Seki (Kajiado) and Joseph Githuku (Lamu) said that the committee will work with the relevant government agencies to ensure that the areas bordering neighbouring countries are safe for citizens.
Members of the County Assembly led by the Turkana County Assembly Security Committee Chairperson Samuel Aliwo appealed to the Senate to come up with policies to ensure security across the country.
Related Topics