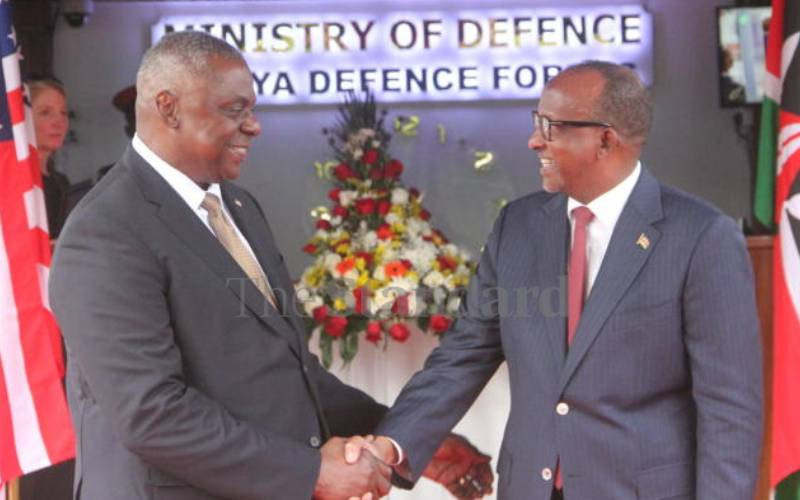 The United States has pledged Sh14.7 billion (100milliona US dollars) towards the proposed Kenyan-led multinational force to restore security in conflict-ravaged Haiti
This was revealed during the signing of a cooperation agreement between the US and Kenya in Nairobi on Monday.
Defence Cabinet Secretary Aden Duale, who hosted US Secretary of Defence Lloyd J Austine III at the Defence headquarters, said the government is ready to cooperate in peacekeeping and is awaiting the approval of the UN Security Council.
"We are waiting for the United Nations Security Council to give approval for us to take our troops to Haiti," Duale said.
The CS said the shared values, commitment, democracy and desire for a safe and prosperous world affirm the partnership between Kenya and the USA.
"The framework places special emphasis by enhancing military and our ability between our two militaries in an increasingly complex and interconnected world, our ability to work seamlessly together is paramount," he said
Duale noted that the signed framework for defence cooperation will run for a period of five years between 2023 and 2028.
"The framework will have a significant milestone in our relationship to underscore and share commitment to peace, security, stability to the region and globally," he said.
Austine III explained that the cooperation will enable the two countries to respond effectively to the ever-evolving security challenges in the region and beyond.
"The United States will give 100 million dollars in support of Kenya in Haiti. I urge other countries to join the Kenyan government in supporting Haiti," he said.
The US Secretary of Defence said that although Somali people are being assisted by the military for security, it is high time for the nations to give economic empowerment.
"Progress is never on a straight line. It requires economic development and what we have to give to the Somali is economic support," he said.
Duale expressed confidence that the partnership will also help Kenya Defence Forces to enhance their skills in peacekeeping.
"We believe this framework will not only enhance our defence capabilities but also economic growth," he said.
The CS said security threats are no respecter of borders urging for a collective and concerted front to address.
"Kenya has been on an international peacekeeping effort and we endeavour to keep to the tradition and framework ensures and to receive the support and resources necessary for our operations," he said.
Related Topics