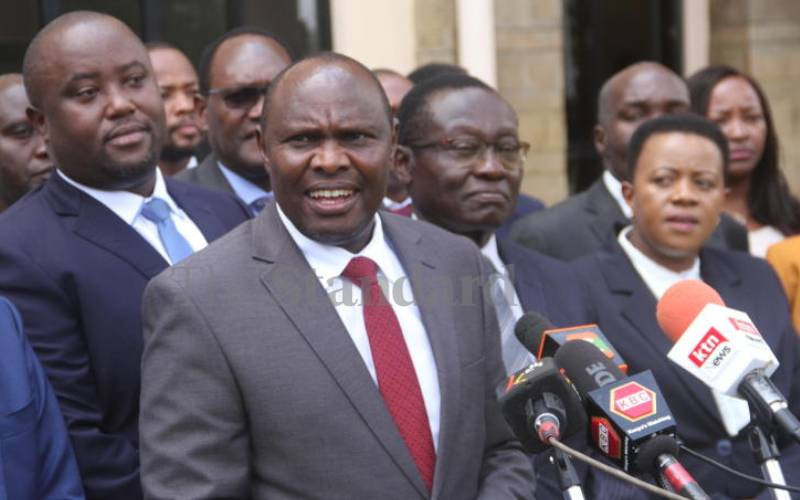 Government officials who have accumulated many pending leave days have been directed to exhaust them.
Head of Public Service and Chief of Staff Felix Koskei said some government employees have been cunningly avoiding going on leave to cut deals in public offices on days they are supposed to rest.
He said it has been established that this is giving room for corruption in public offices. "Why would someone have 200 leave days not taken. If you tell that person to go on leave now they will go for two years, others for six months and even up to four months," said Mr Koskei.
"Why are you sticking in that office? Even senior people in government including the Head of State go on leave. What is it that you don't want to happen in your office?" the Chief of Staff posed.
Koskei was addressing chief executive officers from state corporations, their chairmen and head of audits from several parastatals, Thursday.
He revealed that civil servants who refuse to take a break claim there is nobody to take over the department or there is too much work.
"Annual leave is mandatory you need to rest, each and every officer with accumulated leave days has to take them from today. Let us attempt to be professionals," he noted.
He said the days will not be paid. "The policy of the government is that you can only carry forward half of your leave days in a year. From this financial year it is only 15 days that can be carried forward," he said.
For those who accumulate leave days so that they can be converted into cash, Koskei said the government will not honour that.
He said every institution has officers equally qualified to take care of the office. The Chief of Staff said going on leave is one way of allowing other people to be mentored and experience management.
Koskie said all representatives from Ministries, Department and Agencies resolved going forward, there will be no audit report that will be qualified.
At the same time, Koskie spoke on how to weed out corruption stating that one way that the vice has flourished is due to audit queries.
He said the audit queries that arise because many government officials have not taken keen interest to look at the issues around operations of respective offices.
He said this has led to perennial challenges in Parliament and the Auditor General has been raising questions as has been witnessed for years.
"We have seen it as an opportunity to ensure that for the efficiency in terms of spending the scarce resources that we have must get to know to know how the money that we collect from the citizens of the country is spent," he explained.
He added: "All audit queries pending for several years have to be sorted by October 2, 2023."
The senior government official also deliberated governance in a daylong summit at the Kenya School of Government.
"This time round we are not going to allow anybody with issues to do with public funds; every officer will carry their own cross," said Koskei.
He added: "The President has given clear direction that no shilling of taxpayer's money will be stolen or misused."
Related Topics