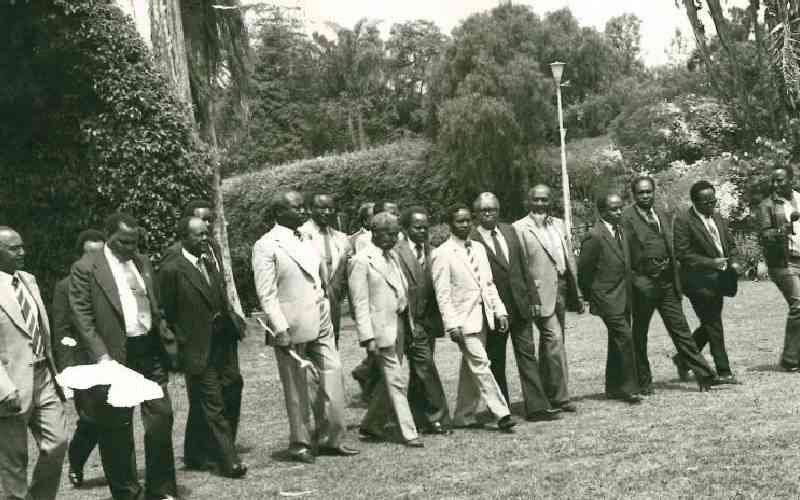 Despite the beautiful sunshine, it was frighteningly cold. My legs shook violently. I was in a pool of sweat. I struggled to breath as the policeman squeezed the barrel of his gun further into my mouth.
I closed my eyes waiting for him to pull the trigger. Even as I mentally recited my prayers, I quietly cursed the wretched smell of stale cigarette and cheap alcohol spewing from his mouth.
"Mutua usipige hii kijana risasi. Utajiletea tu shida," his partner pleaded with him. My friend Kim, who had accompanied me to the police estate, was on the ground shivering. I have no idea how other estate mates vanished. Eventually, Corporal Korir, managed to help his drunken friend ease his pistol from my mouth and led him away.
It was a Sunday, August 1 1982. We had gathered in the playground ready for our weekend sporting events in Nakuru's Kivumbini estate when, Kamze, came running with his father's Phillips radio handset. There was developing news of a coup.
The Kenya Airforce had overthrown the government of President Daniel arap Moi. What caught our attention were the instructions given to our arch enemies, the police that; Wakae Kama Raia. Without thinking through, we took off to the neighbouring police estate, to teach them a lesson. All estate boxers and martial artists joined me in the mad dash for vengeance.
Some Non-Commissioned Officers of Kenya Air Force (KAF), calling themselves the 'People's Redemption Council' ('PRC') organised the coup. But their heinous actions were short-lived. The coup attempt was swiftly quelled by loyalist soldiers of the Kenya Armed Forces who restored the civilian government and constitutional order.
However, few hours after the announcement on national radio that the army had taken over, Kenya, plunged into darkness. There was massive looting, especially in Nairobi and other urban centers. Thousands were gunned down as the army tried to restore order around the country. Businesses were destroyed. Women and girls, especially from the Asian community were brutalized and raped. As the coup died, the vengeful chapter of witch-hunting ensued.
KAF was disbanded and renamed the '82 Air Force. Maj Gen Mohamoud Mohamed, the Deputy Army Commander was promoted to the rank of Lt Gen and appointed the Commander KAF on August 12th 1982.
The KAF Bases at Eastleigh, Nairobi and Nanyuki were renamed. Eastleigh Air Base became Moi Air Base (MAB), while Nanyuki Air Base was renamed Laikipia Air Base (LAB). The Ground Air Defence Unit (GADU), was disbanded. The KAF Uniforms and the Service Flag were changed. The motto of the KAF Service was also changed from "Twatumika Tukiwa Angani" to "Tuko Imara Angani".
The coup had badly tainted KAF's image and reputation. Then the trial by a Court Martial of the Commander of KAF; Maj Gen Peter Kariuki started. On January 18 1983, he was sentenced to four years imprisonment for failure to prevent the coup attempt.
Retired Maj Gen Dedan Gichuru, says in his upcoming memoir: "Kenya's darkest moment had suddenly descended upon us. Within hours, our lives had been turned upside down. From a respectable military officer who commanded respect, I became a suspected criminal alleged to have committed a treasonable offence."
Gichuru had nothing to do with the coup and its planning. In fact, on the morning of the coup, his daughter rushed into his bedroom to tell him that she had received a call from her friend, that the Air Force has been in the streets the whole night harassing people.
He called his office and was advised to stay indoors. The following day he put on his uniform and left for the office.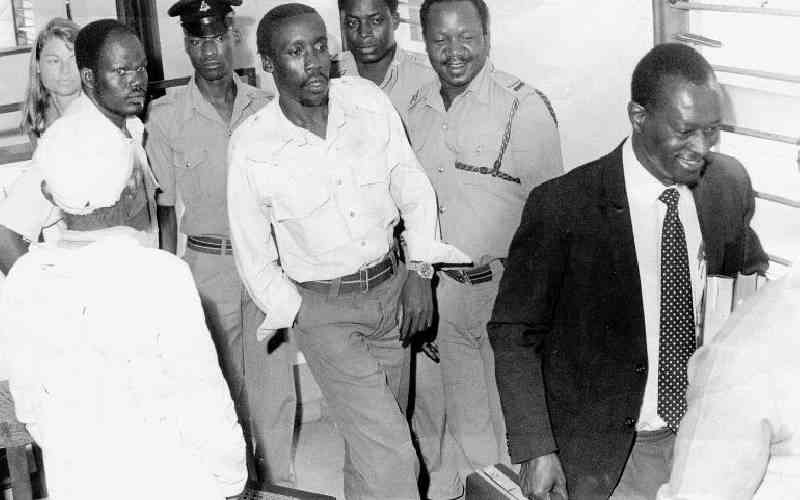 He got to the Department of Defence (DoD), through a panya root, and went to his office. "I found General Sawe holding a meeting. All the service commanders and branch officers were present. The eye I got from General Sawe made me just take a seat. His first question was; "How did you come? Where were you? How did you come with that uniform?" I said I was from home and I just drove. He then assigned people what to do. They got me some outfit and a gun because in uniform I was regarded as a dangerous man." says Gichuru
When he was still adjusting to the shock and chaos occasioned by the attempted coup, he was summoned to Eastleigh Airbase.
"When I reached the Airbase, I was isolated, interrogated and incarcerated. I was placed inside a small room with no bed. All I had was an extremely cold floor where you sit with your buttocks or stand. It was a saddening and lowest moment of my life and career. The food too was bad. My friend did not want to eat because he was not used to that kind of food. On the fourth day however, he was asking for more food. We were each given either red or green cards and then segregated in a room. If you had the same card colour you would all, be kept under one roof."
Gichuru was detained for two weeks after which he was taken to DoD for more interrogation. "They asked me where I was on the night of the coup and if there were witnesses. They asked what time I first learned about the coup. I said at 11am I was released. The following morning, I was called back again. They claimed I was not telling the truth. "You knew about the coup at 11 at night!" I said; "No, 11am not pm." So, I was released again."
The retired military boss says: "Despite what happened, I have maintained my respect for Moi. He loved flying and as a passenger, we enjoyed flying with him. I do not think Moi as a person ever had any suspicions about me. He is the only president who visited my house. He was so fatherly," says Gichuru
Gichuru was among the many innocent men and women who suffered because of a coup they knew nothing about.
The coup completely changed Moi. Former Cabinet minister Julius Gikonyo Kiano once told me that the coup attempt turned Moi into a man no one had expected. He became suspicious of every person. He launched a cleanup of the government and the ruling party Kanu.
The coup had a devastating effect on Kenya. Thousands lost their lives. Thousands of others lost their livelihoods. Billions of shillings went up in smoke. Hundreds of careers, military and civilian were destroyed. The saddest part is that many of those who were implicated in the coup knew nothing about it. Senseless coup had destroyed the optimism that had enveloped Africa in the 1960s and 70s.
Martin Meredith in The State of Africa says that: "By the 1980s much of Africa was facing 'de-industrialization'. Foreign investors looked to more promising markets in Asia and Latin America. The only segment of industry that continued to attract investment was mining and oil"
However, there was purely no historical or logical reason for the coup in Kenya. Moi had been in power for less than four years. He took over in August 1978 following the demise of Kenya's first president Mzee Jomo Kenyatta. Moi had released all political prisoners. He was busy traversing the country, planting trees, fighting soil erosion and popularizing his new government.
That coup attempt, remains one of Kenya's darkest hours. Thousands of people, civilians, soldiers and police officers suffered as a result of one mindless historical moment driven by stupidity. The plotters were simply spiteful and greedy men seeking power for powers sake. Their thoughtless and selfish actions threw Kenya on a dangerous trajectory of ethnic and tribal divisions, and fight for power that we as a country, are yet to recover from.
The surviving 1982 coup plotters and their sponsors owe Kenyans an apology.
Related Topics