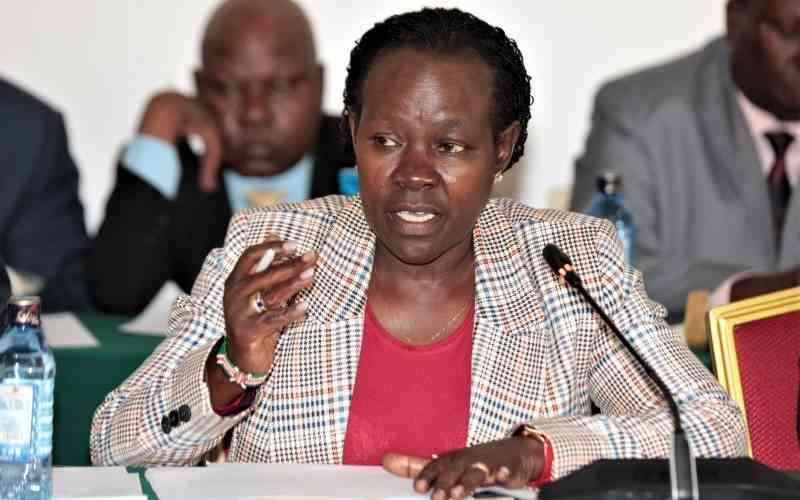 Plans are underway to review the Technical and Vocational Training (TVET) curriculum to align with the country's bottom-up economic agenda.
Principal Secretary Dr Esther Muoria said the state department has kick-started curriculum reforms shifting from theory-based training to higher industry-based training.
She said this will enhance hands-on skills where students will be exposed to 70 per cent practical and 30 per cent theory work.
"I am confident that this will give our graduates hands-on experience and will increase their employability because employers are not looking for your certificates but rather what you can do," said Muoria.
The PS said the curriculum reform will be done through the implementation of the Competency Based Education and Training (CBET) curricula.
"This will ensure that TVET institutions train in, with and for the industry and in turn increase our human capital supply which is fundamental to a country's socio-economic development.
Muoria noted that the Kenya Kwanza government is banking on the TVET Sub-sector to spur industrialization in Kenya.
"This explains the reason we have invested heavily in the sector so as to initiate socio-economic revolution. The new funding model in TVET institutions will ensure equity and access to the TVET courses by all learners leaving no one behind," said Muoria.
In the just released 2023/2024 budget, TVET institutions were allocated Sh28.3 billion.
Muoria spoke during the official launch of the 3rd International Research Conference at Kiambu Institute of Science of Technology (KIST).
The PS noted that the department has identified the Affordable Housing Programme in the implementation of the Recognition of Prior Learning (RPL) in collaboration with Juakali Associations.
Recognition of Prior Learning (RPL) refers to the process used to identify, assess and certify a candidate's knowledge, skills and competencies acquired in non-formal or informal learning against prescribed standards.
Already three National Polytechnics have been granted the Qualification Awarding Institution (QAI) accreditation by the Kenya National Qualifications Authority (KNQA)to enable the Polytechnics to proceed and implement the RPL programmes.
In effort to ensure TVET institutions in Kenya train in, with and for the industry, Muoria said they are in agreement with development partners to implement dual training in TVET institutions to equip students with hands-on industry required skills.
"We are exploring collaborations with different international partners for employment of our graduates to expand the scope of the job market and provide a regulated global work exposure to the youths," said Muoria.
She added; There is no need of graduating so many students in colourful ceremonies and we do not know where they are going to after school.
KIST is among the universities implementing dual training in teaching Industrial Mechatronics under the German Model of dual training where the industry selects the trainees.
In the German dual training model, training takes place in the institutions and in the industrial premises as part of curriculum coverage and two sets of examinations are administered including one by the German Chamber of Commerce.
"As a TVET institution, we are committed to playing a role in making socio-economic renaissance a reality in line with the government's Bottom-up model," said KIST principal Sammy Waititu.
Related Topics