With bags of cash in millions, a man drove from Kericho to Mombasa to buy two hearses and an apartment, and look for a school for son but landed in police custody. He told the court he was a registered herbalist who "gets herbs from forests and mountains or as directed by the angels."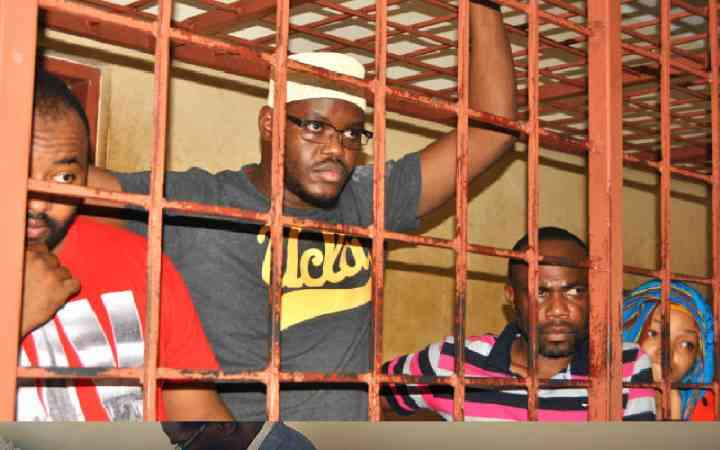 On Thursday, February 9, 2017, Stephens Vicker Mangira left Kericho for Mombasa accompanied by his 10-year-old son, spending nights at 3D in Nairobi, and at Voi before arriving at the Coastal town on February 11.
His declared mission was three-pronged; to look for a school for his son, buy an apartment and two hearses. And because the transactions were to be conducted on a Sunday when banks would be closed, he withdrew money in advance. And as he travelled, he had millions of shillings at the back of his Toyota Prado stashed in two bags.
On arrival in Mombasa at 11 am, he went straight to Ali Cars where he offloaded Sh1.5 million. He then proceeded to the Reef Hotel in North Coast, where a Tanzanian friend - Bakari K. Bakari - stayed.
His son loved swimming, and the hotel has such an impressive pool. Mangira booked Room No. 109 where he would spend in with his son. He would have some time to talk with his Tanzanian fiend as the young man enjoyed his swim.
At the Moonshine Club beneath, reggae tunes belted as revellers gathered to celebrate the 72nd birthday of reggae king Bob Marley. But because Mangira was not given unto such indulgences, and he was tired of the long travel, he took time to relax in his room.
He ventured out for supper around 7pm and unfortunately, he was confronted with a situation which turned his life upside down.
"I called my friend Bakari and he was not picking up. After 30 minutes, he picked the phone and told me that there was a problem. I went and found him with police officers who also arrested me," Mangira said in a statement recounting the events of the day.
Intelligence colleagues
Anti-Narcotic Police officers, supported by their intelligence colleagues, had zoomed in on Bakari and his friend Nabil Loo Mohamed, searched his car and room and made some discoveries.
In Nabil's Toyota Vitz car, they found 540.88 grams of substance suspected to be narcotics at the time, while in the room they seized Sh348, 000 and USD1500.
In Bakari's room, they found his girlfriend Lilian Martin who was also arrested.
Roped in, Mangira told the police upfront that he had money in his car, which the police confirmed to be true. The officers found Sh18, 500, 000 at the back of his car. They also found on him three phones, two iPhones and a Blackberry.
The officers found fee structures for Braeburn Mombasa International School, and Lukenya Academy- both premier institutions. Mangira had been looking for a school for his son. He had with him assorted bank slips, letterheads for his company and other personal effects.
Mangira, his friends and several other persons were arrested and booked in different police stations in Mombasa. They were later charged in court in Criminal Cause No. 257 of 2017 with several counts of trafficking in narcotics and money laundering.
Freezing and forfeiture
Separately, through civil application No. 269 of 2017, the Assets Recovery Agency applied for freezing and forfeiture of the money and properties seized from Mangira and his comrades.
In the criminal case, investigators questioned Mangira's source of wealth, linking it to the powdery seizures found on the car belonging to his friend Bakari. In the evidence tabled before the court, Mangira bought seven high-end cars within a few months, between August 24, 2016, and December 30, 2016. The value of the cars ranged from a Sh1 million Toyota Station Wagon on the lowest side, to a Sh8.3 million Toyota Land Cruiser on the highest side.
In the original statement recorded at Bamburi Police Station on February 16, 2017, Mangira had indicated the source of his money to be the proceeds of the sale of land.
In the statement, he said sometime in 2013, he bought 1.5 acres at Kabinga in Kericho County for Sh8.2 million. Before travelling to Mombasa, he sold the parcel for Sh38 million through an advocate only described as Momanyi and based at Mwalimu Plaza in Kericho town.
Brokerage dealings
A few days before making the Mombasa trip, the lawyer had called him and handed him Sh20.5 million as part of the Sh38 million. Besides the land deal, he was also engaged in other brokerage dealings in Kericho. He was running a taxi business entailing two cars and which was cashing in Sh12, 000 a day, as well as a thriving car dealership.
In court, however, the story changed when Mangira said he was a witch doctor and herbalist, and that an Indian he had helped gave him Sh55 million in cash as payment for healing services rendered.
Hamisi Massa, an assistant Inspector General of Police who led the arrest operation, confirmed the witch doctor theory, saying a phone confiscated from him indeed had evidence of the same.
"In one of his phones, there were photos taken together with witch paraphernalia and a lot of money," he told the court.
Given vehicles
Bakari introduced himself to the court as a Tanzanian "Muslim Prophet" who earned his money as a prophet and who would sometimes be given vehicles in lieu of payments.
Mangira had further evidence to prove his claims. He told the court he was a registered herbalist who "gets herbs from forests and mountains or as directed by the angels." He said he had clients in Kenya and across the world.
He produced a certificate from the National Traditional Health Practitioners Association showing he was a member of good standing. Just like Bakari, Mangira got his wealth from his clients who gave him money and vehicles for payment.
In her judgement, Chief Magistrate Florence Macharia said investigators had done little to rebut the evidence the pair produced on the source of their wealth.
Mangira's vehicles had been acquired through trade-ins and all that police complained of was the speed with which he paid the instalments.
"I cannot shut my eyes from such realities which we live within the society today. Some of these so-called prophets are very rich. Their sources of riches can only be impeached if complainants lodge their complaints through police," the magistrate said.
She further said that witchcraft is not an offence as long as no fear or injury is caused or threatened. The Witchcraft Act Cap 67 is only meant to curb those acts which are injurious to people, the magistrate said, while also taking note that the Act predates Kenya's independence.
"This court is prepared to believe the narration by 3rd accused (Mangira) as to how he got his money," the magistrate ruled.
Powdery substance
Despite the Government Chemist confirming the powdery substance found in the car was Harvine, a banned narcotic with a street value of Sh1.6 million, the charges relating to the narcotics collapsed as well.
Trafficking in narcotics presupposed motion while the car was actually parked at the Reef Hotel. The link between the accused persons was also not properly established and there were material discrepancies in the manner of arrest and situation at the crime scene.
On May 12, 2021, the magistrate acquitted the four people but refused to make orders on the money and vehicles seized from them.
"They are subject to proceedings before the High Court. The parties can pursue their rights over the said exhibits in that other forum," the magistrate said.
The witch doctor, the prophet and their two friends had won round one of the troubles. At the civil court, however, shock awaited them.
Section 92 of the Proceeds of Crime and Anti-Money Laundering Act provides that validity of a forfeiture order is not affected by the outcome of criminal proceedings.
In the civil court, ARA dug in, painting the picture of the absurdity of Mangira's wealth. In one such demonstration, three of his cars, worth Sh16.9 million, had been traded in for one vehicle worth Sh900, 000 between October 21, 2016, and February 11, 2017, they said.
One of the investigators said they had found Bakari with eight active mobile phones, and that the "sheer number of phones on one individual leaves a reasonable belief that he uses them for criminal activities."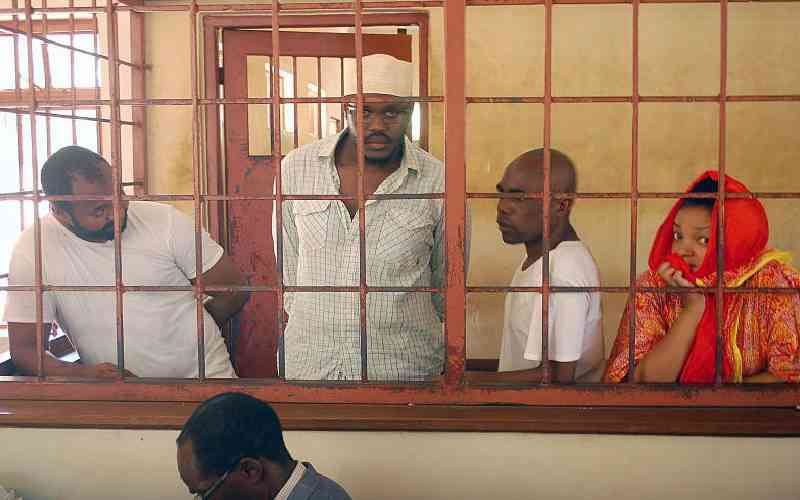 Mangira's passport also showed he was a frequent visitor to Tanzania for unknown reasons. His accounts in Kericho showed regular cash deposits of between Sh30, 000 and Sh1.5 million.
In pushing back, Mangira told the civil court that the criminal court had agreed with him that his line of work does not constitute crime.
He also stated that a no-guilty finding and acquittal in the criminal court should lead to automatic termination of the preservation and forfeiture proceedings.
Mangira was being tried afresh for what he had just been acquitted of, and by the same agencies, same investigators, he complained.
But this case was different from the criminal case, and Justice Njoki Mwangi apprised him of it.
She said it was one of the rare cases where the burden of proof shifts to the respondent. This is unlike criminal cases where the burden of proof lies with the prosecution and where in his matter, the prosecution had failed to rebut the evidence he gave on his source of money.
Beyond reasonable doubt
On this one, it was up to Mangira to prove he was not engaged in a criminal enterprise. Besides, the burden of proof in the criminal case for the prosecution had been that of "beyond reasonable doubts" but in the civil case, Mangira's inverse burden was hard to hit; balance of probability.
In analysing the evidence, the court took note of several things, among them the fact that his main and only known dealership company - Cerabafide Investments - had been registered just a few days before his arrest, meaning it could not have made him the wealth in question.
The court also noted that Mangira did not produce any title documents or sale agreements in respect of the land he allegedly sold in Kericho. The advocate through which he claimed he processed the sale did not exist and he did not produce any acknowledgement receipt for filing tax returns to prove that he was indeed a successful witch doctor or herbalist.
Sale agreements
He also failed to produce sale agreements for the apartments and the hearses he was going to purchase in Mombasa at the time of travelling to Mombasa.
More importantly, however, was the court's observation that Mangira's explanation of the source of his wealth had evolved. It had changed from proceeds of the sale of land to proceeds of witchdoctor's enterprise through an Indian client.
"The inconsistency in the explanation as to the source of his income validates the assertion by the applicant as to the illegitimacy of the money and assets in question," the judge said, adding that such variance could not be reconciled.
She said Mangira and his accomplices had failed to discharge the burden of proof on balance of probability, and that she had no choice but to draw the conclusion that motor vehicles and monies were indeed proceeds of crime.
On January 20, 2023, Justice Mwangi ordered the forfeiture of the eight cars to the state, as well as the Sh18.5 million found in possession of Mangira, Sh348, 000 and USD1500 found on Bakari, and Sh2.6 million in Mangira's Kericho based bank.
In the course of the proceedings, Mangira was found to have unlawfully accessed his Kericho-based account and withdrawn Sh1.4 million. He was also ordered by the court to deposit the amount he withdrew within 14 days of the judgement.
Casual labourer
Who is Mangira? He was born in 1975. He dropped out of Migori Secondary School in Form One. He worked in Migori as a casual labourer before relocating to Nairobi's Marikiti to sell oranges in 1992.
In 1995, Mangira relocated to Migori to sell radio cassettes. In 1997, he dabbled in rice business buying and selling rice from Sirare. In 1998, he sold Bibles brought from the Bible Society in Kericho, as well as secondhand clothes.
Mangira, in 1999, got married and opened a salon business for his wife. In 2000, he bought a taxi vehicle operating it in Kericho until 2004, when he moved to Tala, in Machakos to buy and sell trees before moving back to Kericho. In 2006, Mangira started buying used cars and selling them.
Related Topics