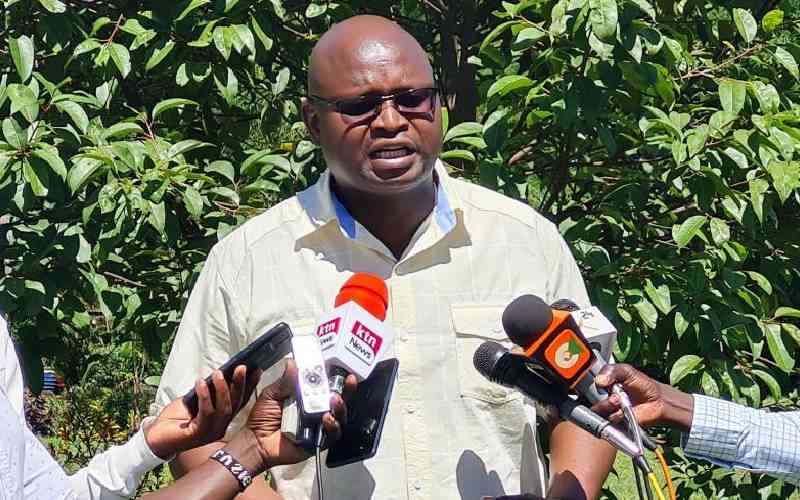 Kenya National Union of Nurses (Knun) Secretary General Seth Panyako has said President William Ruto forced him to quit the ruling party, United Democratic Alliance (UDA).
Panyako, who served as UDA's national vice chairperson, revealed that Dr Ruto was unhappy with him after he vehemently opposed the 3 per cent housing levy contained in the Finance Bill, 2023.
"I received a phone call from Ruto who told me to leave his party and I obliged," said Panyako, adding his stepping down was not voluntary.
"The president demanded that I get out of his party for disagreeing with him on the housing levy. As a leader, I cannot keep quiet when the ship is sinking," Panyako said during a presser in Kakamega town on Tuesday.
This comes barely three days after Panyako announced his resignation during the burial of Amisi Omukanda, the elder brother of Higher Education Principal Secretary Dr Beatrice Inyangala in Navakholo constituency.
Panyako said Ruto did not give him a chance to be heard or be subjected to disciplinary process as stipulated by the UDA constitution.
"If I have disagreed or wronged the party, there is the disciplinary process. I should have been called and told I have opposed the party and the government stands on a certain issue and therefore we feel you are undermining the party agenda and we feel you should go through the disciplinary process," said Panyako.
He said he did not refuse to subject himself to the disciplinary committee as required but he was intimidated since political parties are owned by individuals.
However, on his next move, Panyako said he is forming a political party called Partyless Peoples Movement.
Panyako further dismissed claims linking his fallout with Ruto to failure to earn any appointment as he expected, stating that he has declined two offers from the president.
Related Topics