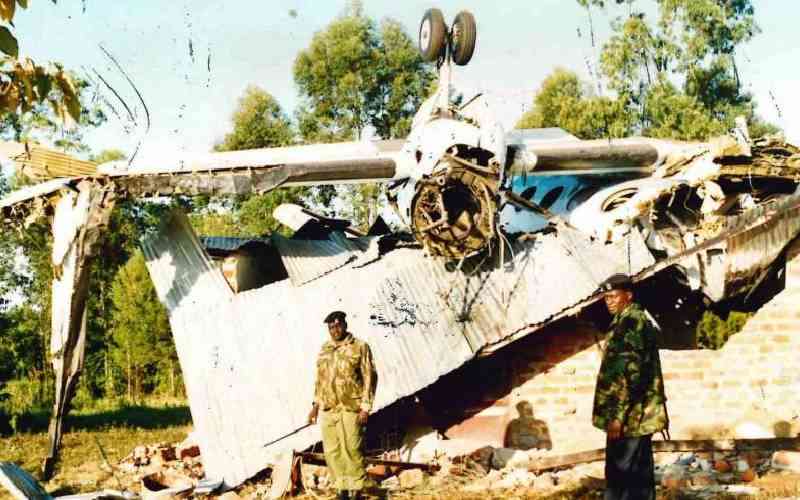 While the Supreme Court sealed the case pitting Kenya Civil Aviation Authority (KCAA) and African Commuter Services, the matter did not end at the highest court.
In 2020, a former senior employee of the airline sued the employer, seeking compensation for unfair termination.
Johnson Michael Obiero Kówino was hired as a financial controller by the firm on July 1, 2002. His salary was about $2,500 (now Sh350,000) per month.
According to his court papers filed before the Employment and Labour Relations Court, Obiero explained that he was also entitled to other benefits.
Obiero's case painted a picture of a gallant employee who stood by his employer through thick and thin, only for him to be unceremoniously kicked out when victory smelt.
Obiero told the court why he played an instrumental role in leading to the firm winning the Sh2.6 billion award.
In the case, Obiero demonstrated that when KCAA cancelled his former employer's licence on January 24, 2003, the firm entered into losses.
Despite the financial situation, the firm decided to keep him. He testified that he stuck with his boss in spite of not being paid. He was loyal.
"In as much as the claimant was loyal and still working for the first respondent, the first respondent stopped paying him his salary and other benefits in September 2005. The claimant was patient and persevered all through and never declined any assignment given to him by the first respondent though he was not being paid," he argued.
Obiero told the court that he remained optimistic that once African Commuter Services was out of the financial quagmire, he would get back his dues.
He stated that he was central to the aviation firm winning the case by meticulously tabulating the losses it incurred after its licence was illegally cancelled.
Obiero testified both as an employee and as a financial expert during the case.
"Despite the claimant's efforts, dedication, selflessness, patience and loyalty to the first respondent, he totally ignored," claimed Obiero in court papers adding that Jibril had orally promised him a 10 per cent share in any recoverable amount, over and above his salary and benefits.
Jibril's estate
Obiero was rendered redundant in 2019 after Jibril ventured into other businesses. Jibril died on March 1, 2023. Jibril's death brought a new twist to the case. Obiero had to amend his case to rope in Jibril's estate.
Meanwhile, the businessman's brother Ahmed Rashid was allowed to manage his estate.
Rashid then filed a reply. He argued that the contract and the agreements between Obiero and African Commuter Services were signed by his late brother, therefore, the case could only proceed between the deceased and his former employee.
Rashid argued that his late brother had indicated in an affidavit that Obiero's contract had lapsed in 2003 and not in 2019.
"By dint of doctrine of privity of contract, it is only person and or entities who are parties to the contract can sue and be sued in respect to the rights and obligations. Neither myself nor the third respondent (Jibril's wife Shukri Ismael) employed the claimant as such is not in a position to litigate on a purported employment dispute and the first respondent," replied Rashid.
He asserted that Obiero ought to have sued African Commuter and not his late brother.
Obiero filed a further reply to Rashid's argument. He argued that Rashid and Shukri wanted to escape liability. According to him, they ought to have protested their inclusion in the case.
On May 17 this year, African Commuter Services lawyer Ahmednasir Abdullahi Advocates filed an application before the court arguing that it is seeking to stop acting for the firm.
Asli Osman swore an affidavit on behalf of the law firm. He claimed that since Jibril's death, African Commuter Service has not communicated or given instructions on if the law firm should continue representing it in court.
Deceased estate
Osman claimed that the African Commuter Services shares were not part of his wealth during succession.
"The legal representative of the estate of the deceased has confirmed that the shares in the first respondent company did not form part of the estate of the deceased," stated Osman.
"I swear an affidavit in support of the application filed herein and verily believe that it is in the interest of justice that the firm of Ahmednasir Abdullahi Advocates LLP be allowed to withdraw from acting for the said first respondent (African Commuter Services)."
The law firm also notified the court that Rashid was in the United Kingdom and would testify during a virtual session.
Obiero sought 166 months' pay amounting to $464,800 (Sh65 million). He also urged the court to compel his former employer to pay his $47,600 (Sh6.7 million) as compensation for the 17 years he had worked.
He further prayed for $23,800 (Sh3.34 million) compensation package offered by an employer to an employee upon termination of employment and $47,600 (Sh6.6 million) transport and medical allowance.
He is also seeking a 10 per cent share of the Sh2.6 billion that was paid by the government to the firm as he had been allegedly orally promised by Jibril.
Related Topics