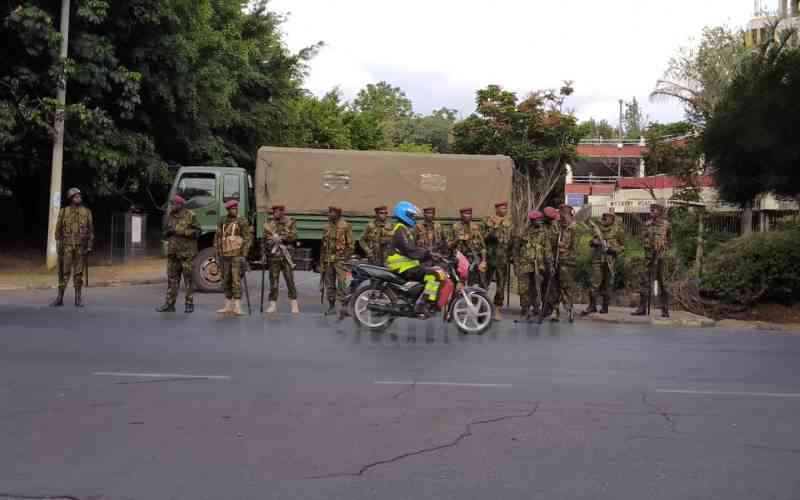 Security has been tight around State House, Nairobi for most of Monday, March 20, as police officers stayed put to keep off protesters that are planning to storm the official residence of President William Ruto.
Heavily armed security officers inspected all vehicles using roads near State House.
There was heavy security along State House Road and Dennis Pritt Road where security personnel mounted several barriers to secure President William Ruto's official residence.
Several armoured vehicles were stationed in strategic positions around State House from 6am. The officers did not want to take chances, especially after opposition leader Raila Odinga threatened to lead a grand march to State House "to claim his election victory".
Businesses closed
Several businesses near State House remained shut with fears that goons would take advantage of the situation to loot.
Raila, and other opposition chiefs, Narc Kenya leader Martha Karua and Wiper's Kalonzo Musyoka, among others, claim the demonstrations are meant to push the government to lower the cost of living. They are also uncomfortable with the ongoing process to pick commissioners to the electoral commission, among other grievances.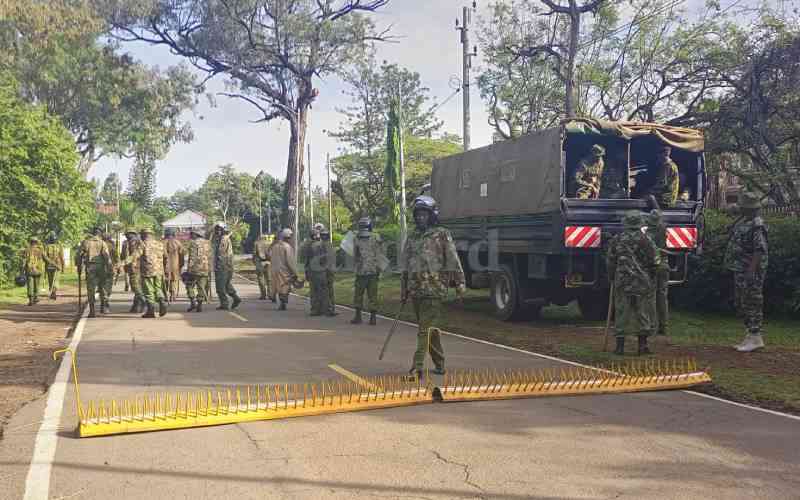 Vincent Kolunja who sells juice and fruits near State House told The Standard that business was very low for many since the day started due to uncertainty over how the day will end. "On a good day by 10am I would have made at least Sh2,000 from selling juice. Today by that time I had only made Sh200, if this continues we are going to suffer, we hope President William Ruto and former Prime Minister Raila Odinga will sit down and reach some agreement," said Kolunja.
Security officers could be seen stationed at all State House gates while the home of former President Uhuru Kenyatta which is nearby was also guarded with the gates locked.
The security officers arrested some youths who were carrying some bottles of water insisting that they were preparing to join the demonstration which had been declared illegal by Nairobi Regional Police Commander Adamson Bungei.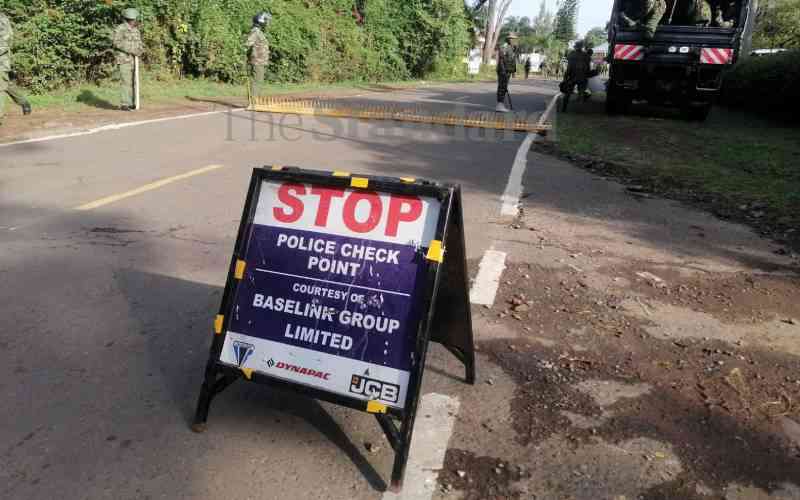 Some vehicles belonging to Opposition legislators could be seen entering the Serena Hotel and leaving although it could not be confirmed whether they were in the facility or not with some heightened activities as security personnel kept a close eye on all the people using the route.
James Musyoka who has a kiosk along Ring Road said he had opened his shop because they were assured of their security but marauding youths invaded it and took away everything as they participated in the demonstration before they were repulsed by the police.
"I had opened my shop because the government had assured us of our security, now I have lost everything despite being a poor Kenyan just like those who stole from me," said Musyoka.
The police teargassed and dispersed a section of youths who had regrouped and planned to enter the Nairobi Central Business District to carry out demonstrations as they engaged the police in a game of wits.
Related Topics