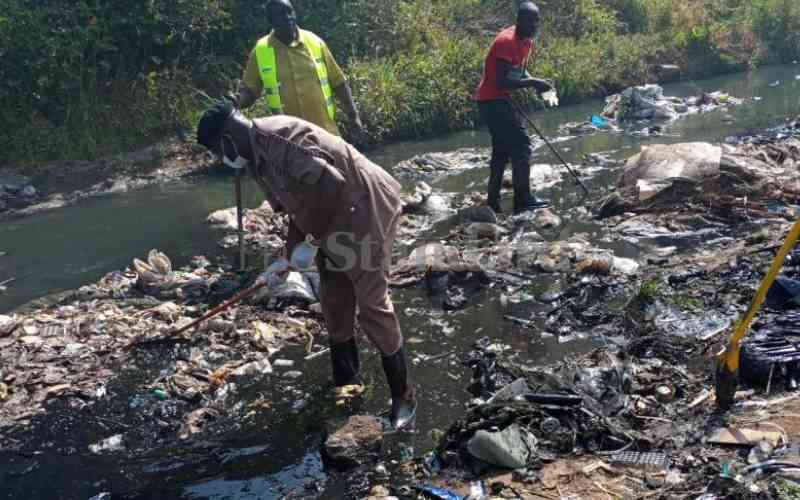 The Nairobi River rejuvenation campaign has received a shot in the arm with the government and stakeholders conducting a clean-up and tree planting in Starehe Sub-County.
Starehe Sub-County Deputy County Commissioner John Kisang led the exercise on Wednesday behind Kamukunji police station where riparian land has been reclaimed. He said their main agenda is to plant trees to achieve the 15 billion trees target President William Ruto promised.
Mr Kisang said the tree planting will be complemented with the clean-up of the river adding that the major challenge has been dumping of waste into the river, especially at night.
"We are sending a stern warning to all those polluting the Nairobi River that we will take legal action if they don't stop," warned Kisang.
"We have identified the banks of Nairobi River as one of the places where we will plant trees and take care of them so that in 10 years there will be a beautiful environment for all to enjoy," said Kisang.
He added that some people wanted to grab the riparian land behind Kamukunji police station and put it into commercial use but as government they stood firm and protected it.
"We are going to open up the areas along the river five metres on each side all the way up to Michuki park which will go a long way in ensuring Nairobi River is rejuvenated to its former glory," said Kisang.
According to Kisang, they have identified other tree planting sites like school compounds, dispensaries and other health facilities, National police band land and other government institutions where they can plant trees and they will continue planting more trees to ensure that Nairobi has the number of trees that is required to reach 30 percent of tree cover.
He said they will use any space available including road reserves.
"We are working with Lynns foundation, a local NGO whom we will give this land to establish seedbeds then they will supply tree seedlings to Nairobi and surrounding counties," said Kisang.
He said as Starehe Sub-County this is their second month since they started planting trees and so far, they have planted more than 2,000 trees and they are watered by youth and women groups.
Lynns Foundation Executive Director Wanjiku Mutero said they have so far planted over 1.3 million trees which are being taken care of.
Ms Mutero said in Nairobi they are working with 17 Community Based Organisations (CBOs) from each of the 17 sub-counties to cover the whole county.
"We are going to establish seedbeds along Nairobi river which will be used to provide seedlings for the Nairobi River regeneration," said Mutero.
She said they have so far planted 3,400 trees in Nairobi and an additional four acres planted with trees in the Nairobi National Park on the 16 kilometers land along the Standard Gauge Railway (SGR) which was allocated to them.
"We have planted around 800,000 tree seedlings in our various nurseries in the counties of Nairobi, Kajiado, Samburu, Turkana, Kilifi, Kiambu, Murang'a, Nyeri and Laikipia with plans to expand to all the 47 counties in the country," said Mutero.
She said that they are working with single mothers, bodaboda operators, street and bar hostesses, cultural and religious leaders in efforts to enlighten people on the need to plant and nurture trees.
"Currently, our funding is from members' contributions and we are calling on well-wishers and donors to support our noble cause," said Mutero.
Related Topics