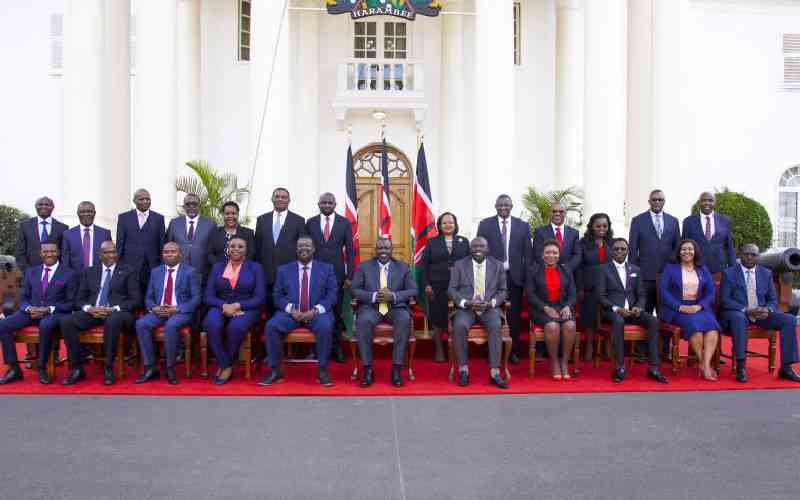 President William Ruto on Tuesday initiated a critical step in his government's digitisation drive after chairing his first paperless Cabinet meeting at State House in Nairobi.
In its inaugural meeting of 2023, the Cabinet approved the implementation of the Kenya Digital Superhighway project to enhance opportunities for the public to participate in economic development.
According to a Cabinet despatch issued last evening, the project will include the installation of more than 100,000km of fibre optic cable across the country, the establishment of 25,000 public Wi-Fi hotspots, and the establishment of Digital Village Smart hubs and studios in each of the country's 1,450 wards.
Cut costs
The meeting also discussed various policy proposals and programmes, such as the state of the economy, education, healthcare, drought assessment, the status of ongoing land reforms, technology, and the creative economy.
Agriculture, mining, trade, and investments were also discussed as key drivers of the productive sectors.
The meeting was conducted using tablets, a significant departure from tradition and a move aimed at saving millions of shillings in government expenditure.
There will be no traditional bulky folders or large briefcases. There were secure digital devices and a notebook inside the meeting venue to help participants take notes.
The move is expected to reduce printing costs while also improving the security of Cabinet records.
The transition to a paperless system at State House comes just days after the President announced plans to digitise 5,000 government services over the next six months.
During Tuesday's meeting, it was noted that more than 1,200 services had already been added to e-Citizen in the previous month.
Failed Huduma Namba
Ruto has previously stated that all Kenyans should be digitally registered - through an initiative similar to former President Uhuru Kenyatta's failed Huduma Namba - to facilitate access to e-services.
He has also made it clear that principal secretaries and Cabinet secretaries must make it their business to work with the Ministry of ICT so that government services in their departments and areas of jurisdiction are digitised in the next six months.
In order to showcase the progress Kenya is making in embracing technology, the Cabinet yesterday approved the hosting of the International Association of Science Parks (IASP) World Conference next year.
The Cabinet also approved the consolidation of existing state-sponsored health insurance schemes into a single pool with standardised benefits and a provider-payment mechanism.
A Health Insurance Subsidy Programme (HISP) for orphans and vulnerable children, the elderly, and people with severe disabilities will be included in the consolidated programme. The 2022/23 financial year supplementary estimates were also approved by Cabinet.
Related Topics