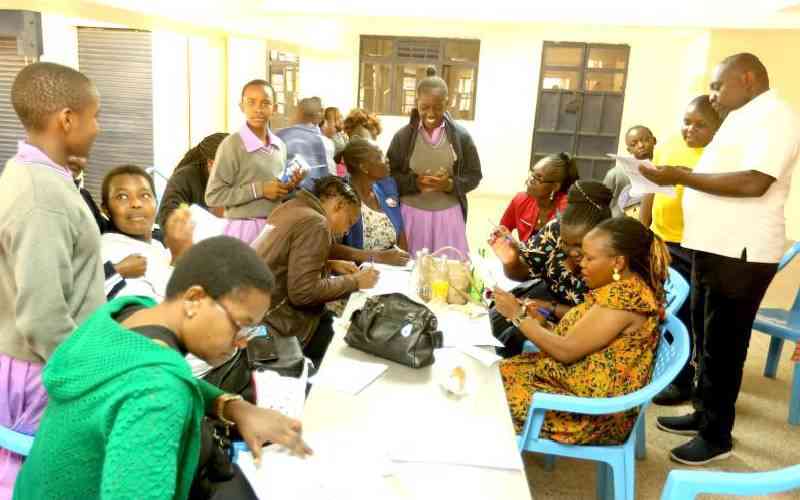 As Junior Secondary Schools (JSS) open for the first term of 2023 this week, parents are in a rush to buy various items for their children.
While some schools are ready to receive the pioneer class of the Competency-Based Curriculum (CBC), some institutions are yet to give parents clear directions on the requirements.
A section of parents and learners who spoke to The Standard said they were still in the dark as to whether learning will take off as earlier planned in the absence of requisite logistical arrangements.
Richard Magutu told The Standard that he had been asked to accompany his son to school, where he sat for his grade six examination. "We have been asked to accompany our children to a meeting at the school. We are expected to be briefed on what is required for our children," said Magutu.
The uniforms for the junior secondary learners are among the items that school management is expected to brief the parents on.
Linet Apiyo, a parent whose daughter sat for the grade six examination from Maziwa Primary School, said she had been directed to attend a school meeting today.
"We are in darkness. We are waiting for the school to give us directions," said Apiyo. Kenya Parents Association Bomet Branch Chairman Dr Stephen Koskei said the government should not have changed the uniforms for JSS as a cost-cutting measure due to harsh economic time.
"Sadly, many parents will have to dig deeper to meet the extra cost for their kids joining JSS while it was possible to retain the same uniform," said Dr Koskei.
He said there is uncertainty among parents about the centres where their children will be admitted. He said it was sad that up to now, the centres where JSS will be based were yet to be made public to the parents.
"There are some schools who are yet to be cleared to host JSS and yet parents are not aware where their kids will go. This is the biggest headache and it would be chaotic when schools open," said Koskei.
In Migori County, Eunice Aketch whose child is learning at Yago Primary School also said they are yet to be informed about school uniforms. "We are also not aware of the number of books that will be needed in school. Generally, we are not prepared for day one," Aketch said.
Mary John, whose son is going to join Shauri Yako Primary school in Homa Bay town, thanked the government for agreeing to support learners in public JSS. "I am no longer worried because the government is going to pay school fees for my son in junior secondary school," Mary said.
Private school
Another parent, Eunice Nafula said she has to relocate her daughter from a private school in Homa Bay town to Shauri Yako Primary school.
"The government has lessened the burden of paying for school, hence my daughter is now going to learn in a public school," Nafula said.
Jacinta Okumu from Shilongo village in Kakamega County said she visited the school where her grandchild has been a pupil, only to be told to return on Monday for proper guidance.
"We are confused because the government had indicated that learning will begin today for the JSS pupils but up to now, we have not received any communication concerning what we are supposed to buy for the learners and whether they will require new uniforms," said Okumu.
She urged schools to come up with a cost-sharing plan that will see parents pay half price of the uniform due to the current economic difficulties.
"Parents should also pay just 50 per cent of school fees and schools cater for the balance. If it is not possible, the government should consider shelving JSS plans and revert to the old system." Her sentiments were echoed by Charles Luka and Ernest Masingo from Isanjiro and Emakuche villages respectively.
"We are in the dark, but I will take my child to school tomorrow as instructed so that the head teacher can advise us on what to do next," said Mr Luka. Kyla Mudanya, who is expected to join JSS at Keveye Primary School, said she was looking forward to reporting today. "I have no problem provided I am taught well and that I learn what is required," said Mudanya.
However, the chair of the Private Schools Association in Migori County Tobias Range, who is also the Director of Momokoro Academy in Isebania, noted that they had already notified parents of the need to purchase new school uniforms.
"We are ready with laboratories already built on most of the schools and uniforms for the JSS learners already designed and available," Range said.
David Luganda, the head of Kitale School in Trans Nzoia County said all necessary arrangements had been made to receive the learners.
He said all the 275 pupils, who sat the Grade Six examination, are expected to report to the school today.
"We held a meeting with parents and agreed on the colour of the uniform and other boarding items. We are ready to receive the learners," said Luganda. He said the school has received over 300 parents seeking to transfer their children to junior secondary slots at the school. He said the institution requires two more classrooms to ease congestion.
Migori Primary School's head teacher Moses Maranda noted that they were in support of the government's guidelines, saying that they had set a board for the junior secondary. He noted that they had not informed parents of the new uniform, as that will be done on the reporting day. "The learners will come with their old uniforms as much will be discussed with parents on Monday when they report," Mr Maranda said.
Sending funds
According to the head teacher, parents have also not been informed of the number of books they should buy, as they are also waiting for the government to fulfil their part of sending funds for books to schools.
"We will be registering learners in the National Education Management Information System (NEMIS) which the government will use to disburse funds to schools," he said.
Several schools in Migori which include public primary schools have announced they would provide school uniforms at the schools' premises at a fee.
In Nyeri town, various bookshops were crowded as parents flocked in to buy books and other stationery. A majority inquired about prices promising to purchase later.
Lucy Mukami, a parent buying books for Grade Two said the cost was high. "It is a very tough economic time, life is too expensive and prices have gone up. The prices of exercise books have increased by Sh5 to Sh10 and I have to buy several, it's tough," Mukami said.
She added that she has another child joining JSS who also needs some stationery and books.
Reporting by Osinde Obare, Phares Mutembei, Purity Mwangi, Anne Atieno, Eric Abuga, James Omoro, Brian Kisanji, Jackline Iyanji and Gilbert Kimutai
Related Topics