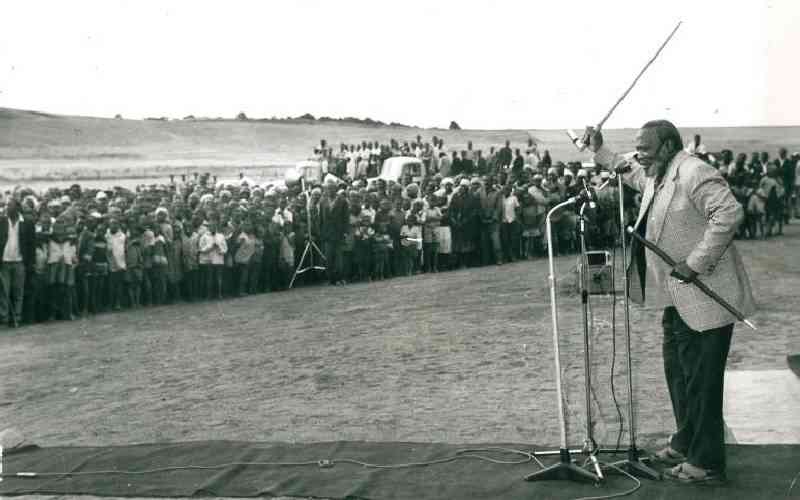 The look in his eyes could spark an inferno. He was almost foaming at the mouth and his lips were trembling. He shook his head repeatedly as a government administrator whispered something into his ear.
We had just finished entertaining him with our Luhyia Esikuti dance. We were about to file past him when he shot up from his seat. Mzee Jomo Kenyatta rarely left his seat as dancing troupes entertained him.
He would sit still, covered in warm clothing, shaking his head to the tempo of the music or waving his flywhisk in appreciation. But, on this cold night, he stood up with urgency, almost screaming.
We were hurriedly huddled together and pushed out of the dance floor. Police officers formed a ring around us and quickly pushed us towards the exit. A huge lorry, normally used by the Nakuru Municipal Council to collect garbage was waiting for us.
About 30 of us, school children, were picked up one by one and thrown onto the back of the lorry. I landed on my back with a thud. Decades later, I can still feel the searing pain tearing through my backside and tiny body.
The floor of the lorry was cold. Some children landed on their heads and necks. We were all terrified by the turn of events. Normally, after singing and dancing for the President of the Republic of Kenya, we would be taken to a secure place and be given bread and soda, a rare treat for children living in impoverished colonial estates.
We watched in horror as our music teacher, in handcuffs, was bundled into the lorry. Several police officers jumped in and we drove off into the chilly night. We were driven to Bondeni Police Station. The policemen alighted leaving us in the lorry freezing and in tears. After a long session inside the station, we were all ordered to alight. They led us into the cells where we spent the night. The following day, an officer from the office of the Provincial Commissioner (PC) came to our rescue.
It turned out that someone had told the president that our Esikuti performance was laden with political undertones. That we were demanding Mzee Jomo Kenyatta must release all political prisoners. That we were undermining his power and government while poking fun at his administration. Mzee was politically pricky those days and he had easily been misinformed. We were set free with no apology. We simply took our numb bodies and empty stomachs back home.
End-of-the-Year Party
Our torment fell on an end-of-year night, when the Head of State entertained guests at State House Nakuru. Jomo would literally end the year and usher in a new one with song and dance. He loved ushering in the new year either in Nakuru or State House Mombasa. It is no wonder that he breathed his last while at the State House Mombasa.
For us residents and students of Nakuru, we had the privilege of meeting Mzee on most weekends. We had countless opportunities to join him at the State House whenever he chose to usher in the new year there. He used the end-of-year parties and meetings to put his political house in order, rein in wayward ministers, deal with indiscipline and give directives on policy issues. His Cabinet would attend such functions with their spouses. Former Health Minister in the Jomo Government Dr Njoroge Mungai once told me that Jomo would at times surprise his ministers with both humorous and serious demands during State House parties.
"Mzee had a sharp eye. If he noticed a beautiful lady among the dancers, he would quickly summon bachelors in his Cabi, on 31. December 2019 net and create a match.
End-of-year parties were attended by leaders from all sectors, foreign dignitaries and a few chosen entertainment groups. The Nyakinyua women dancers were Jomo's favourite and were a must on every occasion. Former ambassador John Mwaura says that Jomo loved nyama choma and his guests would have a lot to eat and drink. Beer would flow freely.
In Came Moi
When Jomo died, his deputy, Daniel arap Moi vowed to follow in his footsteps after taking over. Moi made Nakuru State House his favourite abode. He would also regularly usher in the new year from State House Mombasa.
Being a born-again Christian, alcohol became a major casualty in all State House functions. Moi loved and appreciated Kenya's cultural diversity. Choirs and dancing troupes from all over the country thrived during his reign. We even had a thriving national choir that incorporated schools and colleges. It was later to be known as Muungano choir. All national events were turned into entertainment sessions.
End-of-year occasions under Moi were a mixture of business and pleasure. With the clergy taking the front seat, prayers would mark each and every event. People would feast.
Bungoma Governor Ken Lusaka, who served the Moi administration in various capacities including District Commissioner, says he has never met a man as generous as Moi. "It does not matter how many people turned up for a presidential event. Everyone would eat to their satisfaction. Moi was extraordinarily generous," he said.
When Moi took power, he passionately launched an initiative to promote the environment and improve the country's forest cover. He started a nationwide campaign to erect gabions to help fight soil erosion. Chiefs were mobilised to lead tree-planting campaigns in their locations. Panda Miti. Ukikata moja, panda mbili, became the motto.
Every year would come with a new theme. So, there would be, The Year of Discipline, Year of Development, etc. Bureaucrats would scramble to ensure policies were put in place to be in tandem with the annual theme. Newspapers would run with splashes such as; 1987, the Year of Discipline. Moi was in total control.
It was also during such functions, before the evening events set in, that Moi would summon some of his Cabinet ministers. Such meetings would make or break careers. Moi also used such occasions to reward a chosen few. It is such rewards that former Ukambani kingpin Mulu Mutisya cautioned his mentee Kalonzo Musyoka to be careful about.
"My son", he told Kalonzo. "There is nothing like free land in Kenya or anywhere. Avoid those free gifts. They will turn you into a slave and endanger your future."
Kalonzo, therefore, came up with some ingenious ways of avoiding these political rewards. Moi would call his favourite leaders for closed-door meetings where he would reward them with pieces of land, money and other property.
Kalonzo would feign sudden sickness, either a running stomach or a serious cold. "Since Moi was a health freak. He never wanted people with serious coughs or sneezes around him. He would order you to leave and come back when you are fully recovered," said Kalonzo, adding that he would use such chances to sneak away.
Moi played the political game of Don Vito Corleone, the main character in The Godfather. He would reward you handsomely and ensure you are beholden to him forever. Kalonzo remains forever grateful for the wisdom and foresight of Mulu Mutisya.
Kibaki's and Uhuru's styles
I recall one sunny afternoon, I found myself in an intense discussion with some very angry leaders from Central Kenya. We were having lunch at Parklands Sports Club when one of them, as if he had just recalled something very important, angrily stated: "I feel very insulted. How can the president invite us to State House just to give us plain rice and meat? Even if he is cutting costs, State functions should be run differently."
The businessman was among the Murang'a billionaires who consistently funded Kibaki's presidential campaigns. Kibaki's functions were described by some as plain and dry.
Kibaki would hold his end-of-the-year functions in Mombasa. They were open to select leaders and businessmen. Although there would be some entertainment troupes, Kibaki was one never moved by music. Some have described him as a man devoid of emotion. He rarely made any proclamations or declarations. He rarely smiled and just ushered in the year quietly.
Uhuru Kenyatta, just like father, loved meat and alcohol. His functions, therefore, were colourful and memorable. Those who attended had a ball. The year would be ushered in with dancing and partying. A few speeches would mark the event and of course, some deals would be cut.
President William Ruto follows in the footsteps of his political teacher Daniel arap Moi. He's a teetotaler and marks his events with prayers. Just like Moi, he seems to appreciate culture and loves entertainment through song and dance. Through him, several youth and women's music and dance groups might just find relevance.
I only hope that no one will be arrested, or harassed for singing political songs. I hope he won't be easily misled by his handlers' whispering lies into his ears.
Related Topics