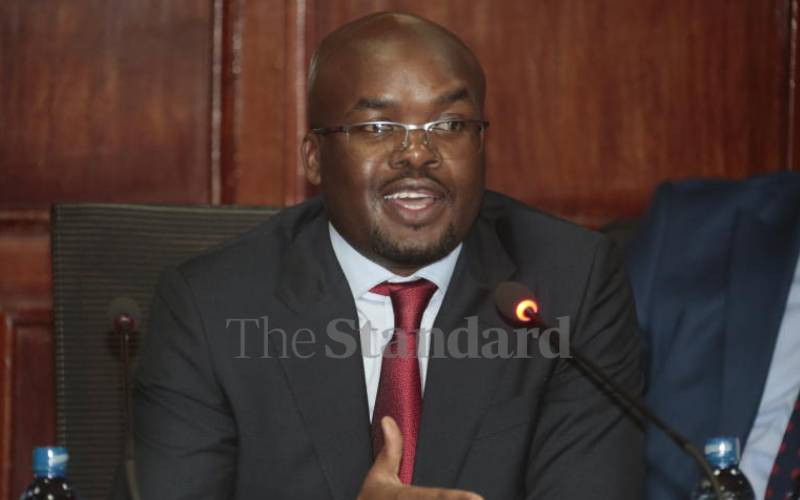 President William Ruto's Principal Secretary nominees Monday appeared before different committees of the National Assembly for vetting.
Dr Julius Korir who is the PS nominee for Cabinet Affairs was the first to appear before the National Assembly Committee on Administration and Internal Affairs at 9am.
He was put to task over the questionable procurement of Sh7 billion CT scanners when he served as Health PS.
In 2021, the National Assembly Public Accounts Committee (PAC) recommended that the DCI investigates the role of Korir for possible criminal culpability over the procurement.
The report by PAC found that government-to-government procurement used to obtain Medical Equipment Scheme (MES) equipment was not permitted by law.
But Korir who is currently the Devolution PS said he supported his decision in the MES scheme but acknowledged that there was a mistake in the process.
Negative publicity
He said despite the negative publicity the project received, "Kenyans got value for money".
"It was during my tenure that hospitals got the equipment. The lack of proper consultation was the only mistake. Laws were not clear so counties did not understand the money was part of their share of the revenue," Korir said.
MPs further queried the status of investigations into charges of misappropriation of Sh1.2 billion used for the purchase of relief food in 2021 and an assault case against his wife that was later finalised through an out-of-court settlement.
Korir told the committee the investigative agencies cleared him of the charges.
MPs asked the PS to explain how he would ensure his role does not clash with that of Prime CS Musalia Mudavadi and Secretary to Cabinet seeing as all three positions revolve around the Cabinet and the presidency.
The PS said his work will focus on delivery and implementation.
"This office will have a mechanism where each PS that has been given a directive has a feedback loop. I will receive this feedback and then give it to the Cabinet," he said.
On his net worth, Korir said he is worth Sh206 million and the wealth comprises houses, rental property, his salary and dairy farming.
Raymond Omollo, PS nominee for the State Department of Interior and National Administration, appeared before the same committee at 11.30am, where he was tasked to explain how he will address rising insecurity.
Poor state of economy
Omollo attributed the insecurity to the poor state of the economy, which has left millions of Kenyans with little or no income coupled with widespread unemployment.
"If we don't address issues around the state of the economy, unemployment and underemployment, then we will be lying to ourselves that the rate of crime would significantly go down," he said.
However, the PS nominee said the poor state of the economy is not an excuse for people to engage in crime and that the law would still apply to anyone who is found guilty of a criminal offence.
He also called for the strengthening of the National Police Service's intelligence service mechanism.
"We need to better equip our police officers in terms of intelligence gathering so that we don't have the wholesome condemnation of the youth and other cadres of people as being the cause of criminal acts," he said. Omollo further recommended the use of technology to combat cattle rustling in Rift Valley and Northern Kenya.
The PS nominee for Medical Services Peter Tum promised to push for the recruitment of more health personnel in hospitals across the country.
Tum said he will work with the county governments to ensure the doctor-to-patient ratio was improved and medics have good working conditions to improve efficiency. "We still have a problem in the provision of health services in public health facilities that needs to be fixed.
"One of the areas is on health services personnel. We need to strive to achieve the requirements of the health standards, including having enough doctors and nurses in our hospitals," he said.
Speaking during vetting before the Endebess MP Robert Pukose-led National Assembly Health committee, Tum, a former Chief Executive Officer of Kenya Medical Training College (KMTC) who was appointed Labour PS by former President Uhuru Kenyatta, promised to improve conditions of public hospitals.
Tum said he will institute changes at the Kenya Medical Supplies Authority (Kemsa) to ensure it is responsive to the needs of health institutions. "We need immediate reforms at Kemsa so that they become responsive to the needs of the national and county governments. We want an organisation that will ensure the supplies arrive at the institutions on time," said Tum.
NHIF contributions
The PS nominee said the enhancement of the National Health Insurance Fund (NHIF) contributions was key to ensuring universal health care for all Kenyans.
National Treasury PS nominee Chris Kiptoo said if approved by Parliament, he will tame wastage in government in support of President William Ruto's cost saving measures.
Dr Kiptoo appeared for vetting before the National Assembly Departmental Committee for Finance led by chairperson and Molo MP Kuria Kimani. He said they have firm instructions from the President to cut down wastage in government which has seen funds got to unnecessary projects.
"The President has made it clear that we have to take some austerity measures to stop over-reliance on borrowing. We have to cut our dependence on loans, and this can only be done if all government ministries and departments make prudent use of funds allocated to them," he said.
The outgoing Environment PS promised to fast-track efforts to widen the tax bracket in the country since there is a lot of evasion in VAT compliance with only 6.1 million people paying taxes in a country with 50 million Kenyans.
Tax obligations
"I will work closely with the Kenya Revenue Authority to ensure that as many Kenyans as possible perform their tax obligations. I will engage experts on compliance to ensure no businesses collapses because of it. We have to support our people even as we seek to ensure tax compliance," said Dr Kiptoo. The Treasury PS nominee told the committee he is worth Sh338 million with his wealth mostly in buildings and land which he has accumulated during the more than 25 years he has been in the public service.
He worked at the National Cereals and Produce Board and has risen to the position of PS.
Other nominees who were vetted Monday were James Muhati (Planning) and Harry Kimutai (Livestock Development). Dr Josephine Mburu (Health Standards and Professional Management) was also vetted.
[Reports by Judah Ben-Hur, Jacob Ng'etich, Edwin Nyarangi and Grace Ng'ang'a]
Related Topics