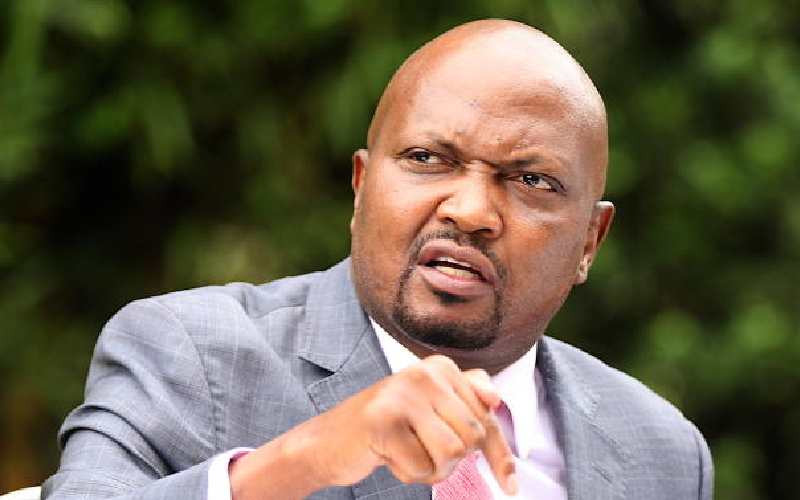 One month after his election as treasurer of the Students Organisation of the University of Nairobi, Moses Kuria was served with a letter of expulsion by the institution's senate. It took the intervention of opposition leader Jaramogi Oginga Odinga to save him. Odinga hired him a lawyer, Gerald Otieno Kajwang, who obtained a court injunction against the decision.
Long before, Kuria had been giving offence right from his childhood. The former altar server at Gatundu Catholic Church was expelled from Ituru Secondary School, where he claims to have been bullied, and sat his secondary school examination at Thika High School.
After graduating with a Bachelor of Commerce degree from the University of Nairobi in 1994, Kuria worked for Family Finance and Building Bank before joining Standard Chartered Bank as head of business process engineering for Africa. Things took a turn in 1995 when he landed a job as a Head of process re-engineering in Africa at the Stan Chart Bank. He fell off the radar before finding a position as chief operating officer of Wamad Info Services in Dubai in 2007. He subsequently worked for Al Rahji Bank in Saudi Arabia in a similar role before the political bug bit him again.
When Kuria returned to Kenya on the eve of the 2007 elections, he swiftly aligned himself with the Party of National Unity, which President Mwai Kibaki had crafted as his re-election vehicle. It is from this perch as a self-declared party spokesperson that Kuria began to develop his treasury of insults. Ever since, he has offended anyone who needed to take offence and has been variously described as loose cannon with a foot in the mouth.
His entry into parliamentary politics was something short of a miracle: The MP for Gatundu South died. Kuria muscled out his competition in the by-election and was declared elected unopposed in 2013. He was re-elected in 2017 on a Jubilee Party ticket, but emerged early as an opponent of the rapprochement between former President Uhuru Kenyatta and ODM leader Raila Odinga in the aftermath of the disputed 2017 election.
Kuria has given offence to everyone who could take it: An active social media user, Kuria claimed that members of the National Assembly received bribes of Sh100,000 to vote in favour of the Constitution of Kenya (Amendment) Bill, 2020, which many called the BBI Bill (Building Bridges Initiative). He told the British Broadcasting Corporation that he would be returning an Sh100,000 bribe he received to vote for Amos Kimunya as Leader of the Majority in Parliament.
Earlier, in 2015, a public uproar forced Kuria to apologise after publicly calling for the killing of people opposed to the National Youth Service programme, then in the eye of a corruption storm. Faced with the possibility of incitement-to-violence charges after he was caught on camera telling youth armed with machetes in Kiambu to take the law into their hands, Kuria maintained that his remarks were taken out of context.
The same year, he was forced to issue another apology for hate speech, attributing terrorism to certain communities, after the National Cohesion and Integration Commission summoned him. He has also apologised to the Kamba community for slurs against it, and yet again to opposition leader Raila Odinga for culturally insensitive slurs.
He apologised to Uhuru over remarks he made that the Central region had been neglected by the Jubilee administration, in terms of development, despite residents voting in large numbers for it in the 2017 elections. But before that, he had insinuated that he knew where an election official had been cavorting with a woman before it emerged that Chris Musando had been tortured and brutally killed days to the elections in 2017.
Kuria's deficiency in emotional intelligence has overshadowed his brilliance, evident in the swift rise through corporations before jumping back into politics. He has been charged with incitement and hate speech more than twice and was in 2017 condemned to pay Narc-Kenya leader Martha Karua Sh6.5 million for defamation.
Kuria was away from the public limelight for more than half a year after he suffered third-degree burns from a malfunctioning electric mat used to treat numbness in his feet. He received stem cell surgery at the American Hospital in Dubai.
Kuria has not bothered to conceal his ambition: He formed the Chama Cha Kazi party with the hope of having support from Uhuru, with which he went into an alliance with William Ruto's UDA. He contested for the governor's job in Kiambu County and came fifth, polling 25,512 out of 822,460 votes cast. As soon as he was nominated for the position of Cabinet Secretary for Trade and Industry, he announced that he would fold his party and merge it with UDA.
Related Topics