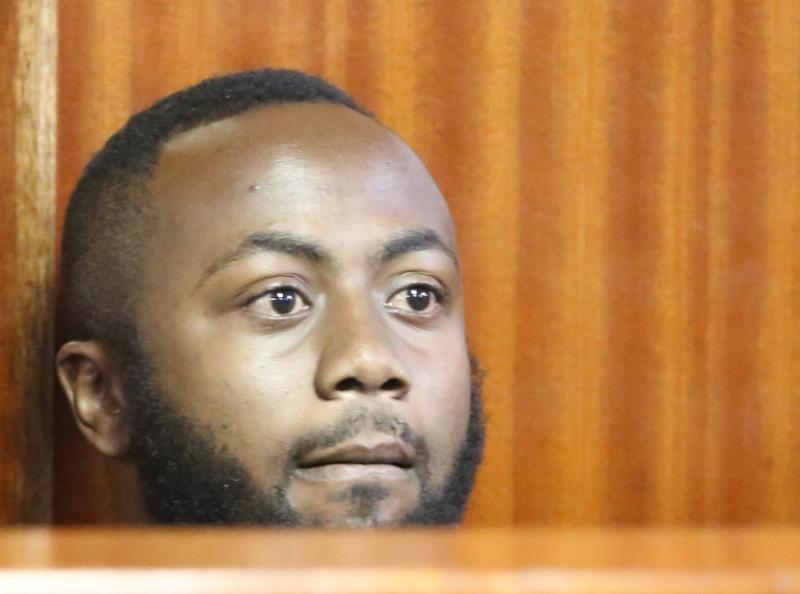 Joseph Irungu alias Jowie, the key suspect in the murder of businesswoman Monica Kimani, shot himself and lied that he was attacked by robbers, a court heard yesterday.
Jowie is said to have threatened to kill himself and be buried at Lang'ata Cemetery if her co-accused and then girlfriend Jacqueline Maribe betrayed him after the shooting at Royal Park Estate in Lang'ata, Nairobi.
Chief Inspector Eswari Njoki testified that the incident could have remained a mystery were it not for a neighbour of Jowie and Maribe who revealed what transpired a day after Kimani was killed.
"It was the neighbour who spilled the beans after Jowie and Maribe lied to us that they were attacked by three robbers outside their gate," said Njoki.
Jowie and Maribe are being prosecuted for the murder of Kimani on the night of September 19, 2018, at Lamuria Gardens Apartment in Kilimani, Nairobi.
Njoki testified that she got involved in investigations on September 21, 2018 when Jowie reported to Lang'ata Police Station where she was stationed that he been attacked by three men after picking Maribe from her workplace.
She told Justice Grace Nzioka that she also recorded Maribe's statement and that she confirmed they had been attacked by robbers who shot her lover on the chest and that they took him for treatment at Langata and Nairobi West hospital.
"We then summoned their neighbour Brian Kasaine who also narrated to us that Jowie and Maribe were attacked on the night of September 20, 2018, outside their gate and he had assisted in taking him to hospital," said Njoki.
However, Njoki testified that the cover-up on Jowie's shooting incident after Kimani's death came to an end on September 28, 2018, when Kasaine's wife, Catherine Kioni, decided to tell the investigating officers the truth regarding the shooting.
According to Njoki, Catherine told them that her husband was a licenced firearm holder and that Jowie would borrow the gun from time to time. Catherine said that on the night Kimani was killed, Jowie called Kasaine asking for paraffin but they dismissed him and went back to sleep.
"She told us they were woken up again on the night of September 21, 2018, by a bang on their gate. When they went to check, they discovered it was Jowie lying on the gate while bleeding. She said Maribe was following him and asking him why he did it," said Njoki. The hearing continues.
Related Topics