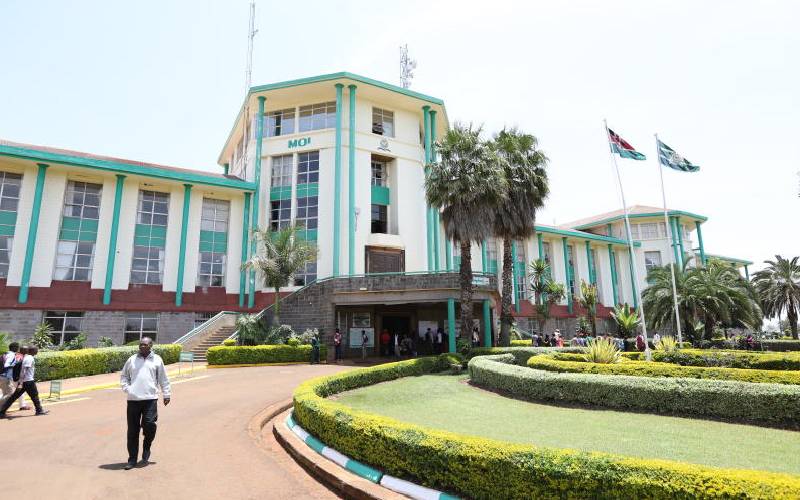 Moi University was once one of the most sought after universities in Kenya. Those who studied at the university in the 80 and 90s found pride in associating themselves with it.
It was the country's second public university, established by the second President Daniel arap Moi, with 'The Foundation of Knowledge' as its guiding motto.
Established in mid-1984 in Kesses, Uasin Gishu County, the institution slowly developed and was officially inaugurated on December 6, 1985 by then Chancellor, President Moi.
Its vision was to be a university of choice in nurturing innovation and talent in science, technology and development.
Its mission: To preserve, create and disseminate knowledge, conserve and develop scientific, technological and cultural heritage through quality teaching and research; to create conducive work and learning environment; and to work with stakeholders for the betterment of society.
While the university in the past expanded by leaps and bounds, recent events, however, depict a university that has lost its vision and mission.
They have also lifted a lid on the financial mess the university is stuck in, which is threatening its future.
Interviews with lecturers and students at the university paint a picture of an institution in distress facing mounting debts and struggling to meet its obligations in recent years and with no idea on how to fix it.
By June 30, 2020, an audit found the university technically insolvent with an accumulated deficit of Sh3.2 billion.
Seasoned university staff, who spoke to The Saturday Standard, claimed the university's decline has been witnessed for years and their pleas to administration fell on deaf ears.
Dr Richard Okero, a lecturer at the institution and also University Academic Staff Union (UASU) chairman, said with time, the university has changed for the worse.
"It was all good at first when employees' salaries were paid on time and our management listened to us. However, things changed and when we went to lecture in the satellite campuses, we were not facilitated. It advanced to a point that payment for supervising students, especially postgraduate students, stopped and we did not know why," recounted Dr Okero.
According to Dr Okero, there was a slight improvement during a short stint of Prof Laban Ayiro who was appointed acting vice-chancellor in 2016.
"Prof Ayiro left and we went back to initial troubles. With time, we lost many lecturers who felt they were not given a conducive environment and gave up. As of now, the management does not address our grievances and does not reply to us," claimed Dr Okero.
Nyabuta Ojuki, the union's organising secretary, says that as of 2016, the university had not remitted statutory, pension, provident and loan deductions for two months but four years later, they have incurred 16 months arrears.
"Our loans are not being serviced because the university does not remit deducted monies. Most of our staff have been listed by the CRB and cannot seek loans anywhere. Today, our staff retire without pension because no more payment is being made for our pensions. In cases of bereavement, we have to fundraise to help our colleagues since our group life cover does not receive money yet deductions are made from our salaries," said Ojuki.
Bob Odhiambo, for instance, says a Sh600,000 loan he had borrowed from a financial institution has ballooned to Sh1 million after the university failed to remit deductions from his salary.
"My payslip indicates that I completed my loan months ago, but the bank has not been receiving money from my deductions and I appear as a loan defaulter to them. Many of my colleagues have penalties worth millions since their loans have also not been serviced," said Odhiambo.
Auditor General Nancy Gathungu, in her 2019-20 audit report, said the university had not remitted Sh1.9 billion pension and provident deductions and a further Sh1.6 billion statutory deductions.
Another casual worker who sought anonymity, said he had not been paid for over 13 months.
"I come to work every day but our pay has never been effected for all those months. It is so difficult to provide for my young family. Sometimes I think of quitting but I know I will never be paid if I quit," said the casual worker.
The staff blame poor governance and misuse of funds as the main cause of the crisis.
Students now say they are frustrated as they face an uncertain future after the main campus was indefinitely closed.
"We have been facing too much interference since we joined the school in 2017. Strikes have become a norm whether it is students' or lecturers' strike. But we are tired and only want to complete our studies and move on with our lives," said a student who sought anonymity.
Omar Mohamed, Moi University Student Organisation (MUSO) Secretary-General, says it has become normal for students to stay in campus longer than expected due to frequent strikes.
"When we join the school, we expect to be done within a period of four years or five for the engineering students. But often, it is not the case. Most of the delays are attributed to the incessant strikes," said Mohammed.
He also says students have to grapple with other challenges such as the poor conditions of some of the hostels, which have broken windows, damaged or no lights as well as damaged floors and even washrooms.
At the Annex campus in Eldoret town, students have been forced to share resources after the relocation of the Schools of Tourism and Business.
"We have encountered a crisis in terms of accommodation with most students forced to live far from campus and thus incurring more transport costs due to lack of adequate housing within the campus," said Mohammed.
The institution hit headlines in 2016 when a section of North Rift leaders stormed the main campus in Kesses to protest the appointment of Prof Laban Ayiro as the acting Vice-Chancellor, terming him an outsider.
The then Education Cabinet Secretary Fred Matiang'i had appointed Ayiro to act for a period of three months, awaiting the replacement of former VC Prof Richard Mibey.
On March 22, 2018, Prof Isaac Kosgei was officially appointed as the new vice chancellor at Moi University.
Talking of growth, the university thrived from its initial one faculty in 1984, to a total of 15 schools, nine directorates and two institutes.
At some point, Moi University prided itself in its several campuses distributed around the country, with thousands of students.
Apart from the main campus, the institution had branches in Eldoret Town, Eldoret West (KPA), Odera Akang'o, Kitale, Kericho, Bomet, Rongo, Mombasa and Garissa.
However, the university has in the last few years been forced to shut down its satellite campuses citing financial challenges.
In 2016, it closed its Kericho and Nakuru campuses in response to a government directive on education standards in tertiary institutions.
In December 2017, the School of Law survived an attempt to have its doors shut after the Council of Legal Education once again barred the university from offering degree programmes.
The university had been engaged in legal battles with the council since 2015. On April 4, 2016, High Court Judge George Odunga invalidated the council order prohibiting the university from offering the courses.
But later in 2017, CLE chief executive officer Kulundu Bitonye issued a public list of 10 institutions permitted to offer law programmes, exempting Moi University.
Rongo, Kabianga, Chepkoilel (now University Of Eldoret), Garissa and Karatina universities which were once Moi's satellite campuses have over the years been elevated into full-fledged universities independent from the mother University.
In July, the university handed over the Odera Akang'o campus in Yala, Siaya County, to Maseno University. Kitale and Kericho campuses were closed due to lack of funds.
About two months ago, the university shut down its Eldoret West (KPA) and Eldoret town campuses and moved its programmes to the Annex campus, which now hosts the Schools of Law, Tourism and Business and Economics.
At Eldoret West campus, the ever-open gate, which students used to walk in and out of the institution, is now closed.
Shops and commercial facilities including rentals at the Pipeline, Mti Moja area which attracted thousands of students and were booming with activities have now lost customers.
Although the University Council said it has a rescue plan, there is no doubt that the institution needs more than financial support.
The council chairman Dr Humphrey Njuguna told the media that the debt crisis, which is the root cause of its challenges, was partly caused by a bloated workforce and a shrinking student population from 50,000 to fewer than 30,000.
He said the university had decided to take painful measures, including letting go of workers, closure of its campuses and outsourcing some of its services as part of cost-cutting measures.
"We have to discuss with parents and other stakeholders, including the ministry of Education, because there are facts we cannot avoid, like the need to increase fees," he said.
Dr Njuguna said the collapse of the parallel degree programme and the closure of some campuses saw the university lose Sh5 billion in internal revenue yet the number of staff remained the same.
Data in the Economic Survey published by the Kenya National Bureau of Statistics (KNBS) shows that Moi university population in 2015 was at 46,726 but has dropped to 28,605 in 2021.
According to Njuguna, the council has plans to revive all operations through income-generating activities to supplement dwindling state funding.
The plan includes venturing into apple farming, which was projected to generate Sh40 billion annually in the next four years.
"We have planted 50 acres. In November, we intend to plant another 50 acres. Our target is to plant at least 1,000 acres. Kenya imports 95 per cent of apples and we want to satisfy the local and international markets," added Dr Njuguna.
He noted that since 2015, Moi University had missed out on Sh12 billion in financial allocations from the Treasury, further straining its operations.
Prof Kosgey denied that the university is ignoring the plight of its workers, stating more than 110 staff have been promoted over the past two months and more are in the pipeline.
He said that issues of the Collective Bargaining Agreement (CBA), which is the reason staff downed their tools recently, are being addressed at the national level and that a meeting will be held soon to deliberate on the issue and come up with a solution.
"Other historical issues including the pension and non-remittance challenges are being addressed by the council and the National Treasury has been made aware. On the issue of promotions, we have had over 110 promotions ongoing recently and it is a matter of patience from the employees as we continue with more," said Prof Kosgey.
He said they have already started reducing accumulated statutory deductions and meeting obligations with financial institutions so that workers can begin to access the support they need.
Kosgey said the university has no backlogs in payments of salaries except wages for some casual workers, whom he asked to be patient as their grievances were being addressed.
"Everything is in the public domain and we are progressing well. We found the institution with challenges and I have tried doing a lot," Kosgei said.
Related Topics