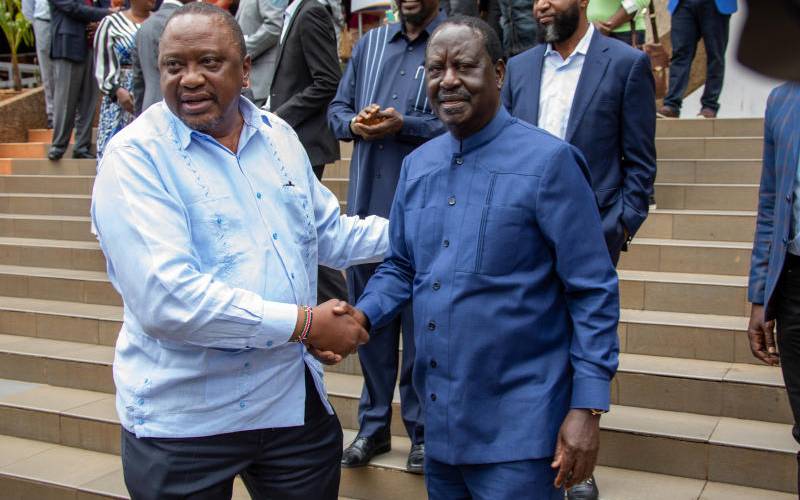 President Uhuru Kenyatta has done enough pacesetting for Raila Odinga. He must now retreat and watch Baba and Martha Karua finish the race for the presidency.
If Raila and Karua are to win the presidency, Uhuru must offload the Jubilee government baggage off Raila's bid for State House.
There is no better way of doing this than him getting his hands off Raila's campaign.
Can Raila pounce and showcase his tigritude? Yes, he can, if Uhuru supports him from behind the curtains.
The country celebrated when Raila chose Karua as his running mate. Truly, Raila made the best choice that has pushed him ahead of his main competitor—Deputy President William Ruto.
However, the race isn't over yet! Political excitement should not take Azimio away to slumber.
The writer of Ecclesiastes said, "The end of a matter is better than its beginning..." We know that Karua is now an Azimio political iron dome. Ruto's Kenya Kwanza must handle her delicately to avoid backlash from women.
Any attack directed at Karua will be misconstrued as violence against women, mothers and grannies.
Thus, Kenya Kwanza should purge the name of Karua from their lips and concentrate on hurting Raila. But why should Uhuru keep off?
If you want to know, go back to my October 29, 2021 column titled, "Whoever Uhuru endorses, will lose 2022 poll and here is why".
In the article, I explained why the President should refrain from endorsing any of the presidential candidates openly.
Of course, as a Kenyan, he has his freedom. But any freedom comes with consequences.
His open endorsement of Raila yielded the consequences I had warned about—the perception that the ODM leader was his project.
I am here to remind the president that he still has a chance to reverse this political damage.
Uhuru's keeping off will give Baba control of himself and 'freedom after speech'. It will provide Baba with more freedom and control of the Azimio superstructure.
He should be able to poke holes in the current state of affairs and leadership and promise change. Kenyans want to change, and Raila must have some space to list the things he wants to change for the better.
He can't do that in the presence of his boss. He must be given space to even point out one or two weaknesses of the Jubilee government without being guarded.
It will also erase the perception that Baba is a project.
Secondly, If Uhuru stays at bay, Azimio will emerge as independent, not dependent.
Dependency syndrome is a trap that catches the strong and the mighty, the high and the lowly, the learned and the not so learned.
That's why there is a perception that Raila needs help to be president. There has been 'political heresy' that previous presidents were helped and not elected into office.
That's sorry thinking—the presidency is won on the ballot first.
Let us tell Baba the truth—Uhuru is a liability to his bid for the house on the hill. The president will only help Raila by leaving him alone, taking a back seat, and giving Baba resources.
Raila should now concentrate on building a force to compete with Ruto's Kenya Kwanza. Do not think that Ruto's team is sleeping—I won't lie to Azimio that things have shifted.
Never celebrate until you get into the end zone because as long as it's not over, your competitor is working on catching up.
Finally, to the chagrin of many, especially Raila's diehards, I still hold that Uhuru should stay in the background of the Azimio la Umoja campaigns.
This is the oracle of the political heavens—and those who heed it eat the best of the 'political land', but those who resist could be devoured.
Dr Ndonye is a lecturer in the School of Music and Media at Kabarak University
Related Topics