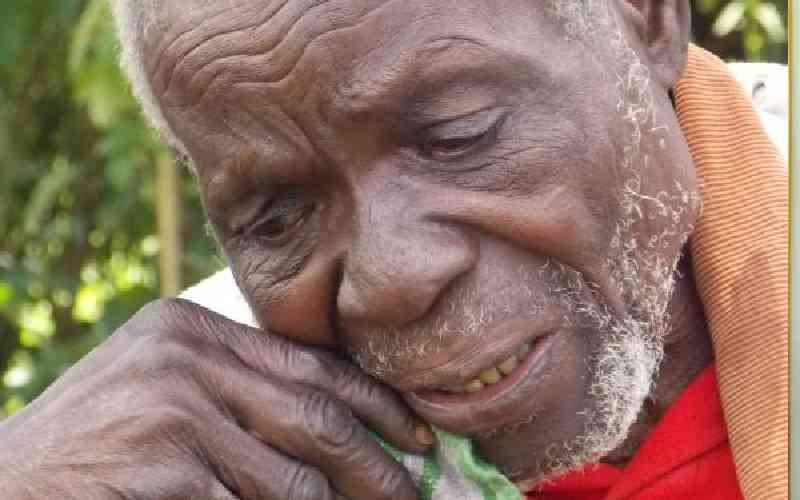 A couple of months ago I visited my parents on my regular forays into the village.
Until that weekend it had not occurred to me that most times that I got home, several elderly people would be paying a visit to my parents' house at lunchtime where, in true village hospitality, they would participate in the meals my parents were having.
For the record, these were not impecunious, destitute people. Many were relatively well off by village standards.
Their connecting theme was they were elderly and no longer able to take full care of themselves, especially on the basic issue of preparing their meals.
I also realised that many of these parents had adult children doing well in the city. From my casual investigation, these children were sending money to support their folks. This was not a case of absolute neglect.
I then became curious and did some informal research on the subject. I was horrified to learn many old folks in the village were dealing with regular physical hunger, unable to fend for themselves at this basic level.
When I enquired further as to why they did not have caregiving staff, who could fill this obvious gap, I also discovered that at this age, many octogenarians fired their support staff regularly for myriad reasons the most common being neglect and dishonesty.
It became clear to me that we have a "pandemic" of uncared-for old people in many villages.
I have continued to reflect on the matter and have a few thoughts for the many of us who have left our old folk in the village.
Firstly, we must be deliberate about our parents' care. Because many of our parents had multiple children, it is easy for siblings to assume someone among yourselves is looking out for the old folks.
But always remember the adage "what is everyone's no one's".
It will fall through the cracks if it is not planned and responsibilities are deliberately shared out.
Some families I know keep a formal timetable of who goes to see the folks and who gives what assistance.
Others have designated "carer siblings" who may have a more flexible programme, at a fee, to ensure accountability.
Whatever the arrangement, it needs to be deliberate.
Secondly, we need to know care is not solely about money. While it is essential that even the money issue be deliberately managed, the challenges of old age cannot be resolved by sending more Mpesa.
Ageing parents require regular personal attention.
A friend told me that their employed help used to physically abuse their ageing mother for a long time and this reality only became apparent when my friend spent more physical time with the parent.
A one-day pop will not disclose such incidents.
In any event, where such abuse is occurring, such parents recognise that you will leave them with the same person so they can only report it at their own peril.
It is our responsibility to ensure these folks have capable, reliable loving caregivers. And by the way, our parents appreciate our physical presence more they can dare let us know.
Thirdly, there is a self-serving element to this regular care. Many health problems in old age are about diet. The millions we end up spending on the treatment of our parents' ailments could have been resolved with a regular good diet.
In a sense, ensuring these people eat well is also an investment in lower medical costs.
There is a biblical self-serving element as well. The only "command with a promise" speaks about caring for parents so that our days on earth are added.
Finally, I want to revisit an old issue for our generation. We must prepare differently for old age, or the responsibilities we put on our children will be unmanageable.
Many of us cannot contemplate the idea of living in an old people's community, but for many of us, this will be an inevitability.
At least there, one will have a community, a good diet, and reliable health care. The time to invest in such is now.
In the meantime, please pay a visit to the folks this weekend.
The writer is an advocate of the High Court of Kenya
Related Topics