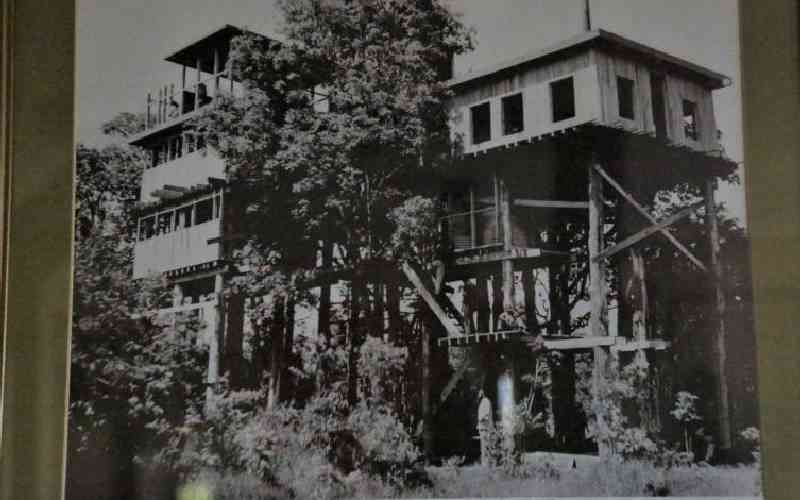 Queen Elizabeth II will be buried tomorrow. I first heard about the queen as a young boy when my neighbours talked of "thirikari ya Wangû" (Wangu's government).
Years later, I learnt Wangu wa Makeri was a local chief who once rained terror on men in central Kenya. Why did they call the British queen Wangu? Because she was a female leader?
I also heard it from Nduhiu Wangombe, a Mau Mau veteran who swept the roads when the queen, as a princess, visited Kenya in 1952. But he never saw her despite sweeping the road.
My third encounter with the queen was in high school when we were bused to the airport to wave her goodbye on her last visit to Kenya. Just like Wang'ombe, I never saw her despite waving a Union Jack.
The fourth was a visit to UK early this year and I visited Buckingham palace, which was closed, I guess for renovation.
Finally, through Queen's English. The typical British accent is very different from the queen's. We all strive to talk Queen's English, but the reality of our upbringing can't allow. Do we have King's English?
For 70 years the queen led UK and the Commonwealth, a conglomeration of former British colonies. Some are dominions like Canada or Australia where the queen is still the head of state. Others like Kenya are republics with their own heads of state.
One of the paradoxes of our time is how Britain under colonialism dismantled our kingdoms and chiefdoms but kept theirs. Who knows, I could be Prince Iraki!
We have been fighting over a written constitution, UK has none. Another paradox is how colonialism and Christianity co-existed with love and caring key themes in the Bible.
Enough digression. My head is spinning; should I mourn Queen Elizabeth or not?
To make a decision, I visited Treetops Hotel where she stayed in 1952. It's a well-preserved structure but is currently closed.
Last visit
I saw the report on her visits in 1952 and a list of those who accompanied her including the Duke of Edinburgh, Lady Pamela Mountbatten, Commander Michael Parker, Lady Bettie Walker and Sherbrooke Walker (founder of the Treetops Hotel) and Jim Corbett.
I saw the suite where she slept on her last visit to the hotel. From the hotel deck, one has a great view of the national park and game. In 1952, the place must have been teeming with animals. They counted 50 elephants and eight rhinos one afternoon.
The Treetops' deep historical connection with the British monarch left me wondering why it's not thriving, riding on history. The other jewels of Nyeri such as Outspan, Green Hills and White Rhino are suffering too. It's time to ride on post Covid-19 recovery.
This hotel should be preserved. Will King Charles III visit it? I noted President Moi had visited it, too.
Walking around the hotel, I had no doubt the Empire had enough playgrounds scattered all over the world.
As I drove back, a few questions raced through mind. On what basis should I mourn the queen, my parents' queen? Were they counted as British citizens? Should I mourn her based on her leadership of the Commonwealth or longest reign?
Should I mourn her because we talk English and through colonialism we got education, better health and government? Should I mourn her because she was gracious and exemplified the best of the United Kingdom? Or as the head of the Anglican Church?
In the condolence book at Treetops, I signed "You were the Queen to my parents, RIP."
I decided I will mourn with one eye for her graciousness and long reign. Here is why:
My parents were both active in Mau Mau. And so were my neighbours including two generals, Kiinie (Njuguna wa Gathogo) and Bahati (Kinyua wa Nganga). My dad spent three months in jail in 1957.
His brother fought for the Empire in Burma (Mynmar) but on his return was detained at Manyani for his Mau Mau involvement. My father-in-law did his time in Manyani and Mageta Island.
One neighbour that we have featured in this paper, Ndungu Mwikonyi, fought in Burma and then Mau Mau.
I know women whose husbands died in Mau Mau or Burma and other British territories. Check Commonwealth war graves abroad for Kenyan names. I found some in Mynmar.
But after 60 years, the next generation is far removed from this reality. So much that we could talk of "freedom is coming tomorrow" as we campaigned. What would Dedan Kimathi say about our "freedom"?
Queen Elizabeth II reigned long and was gracious. But underneath the throne, the Empire had its excesses. The Mau Mau compensation was a step in the right direction but lots of heroes missed or were long dead, and some pretenders took the money.
And the Empire has never apologised for its excesses.
The queen leaves behind a smaller empire, and it seems one day it will be run by someone born in the colonies. Maybe we should wait for natural justice to take its course. Remember the Roman and Ottoman Empires?
Related Topics