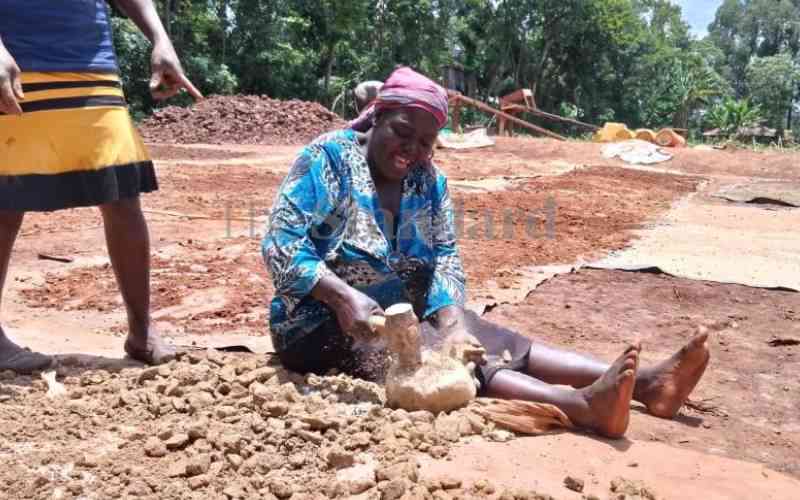 It is on a sunny afternoon and hundreds of residents at the Isulu-Bushiangala gold mining stretch are sitting in groups of about 10 and conversing in low tones.
A section of them are busy refining gold dust they extracted from a mine measuring over 100 kilometres deep. Here, unskilled miners dig deep into the earth in search of the precious gold proceeds as their daily routine.
However, over 8,000 families living around here are worried lot following plans to have them move elsewhere to pave the way for the exploration of gold worth Sh171 billion by a foreign investor.
Targeted families have vowed not to relinquish their ancestral land.
Edwin Shivachi, 51, who owns a two-acre parcel leading to the Isulu-Bushiangala gold mining stretch indicated that he was not ready to surrender his land rich in gold deposits to anyone.
"They should let me continue digging gold on my land because this is what I have been doing for over 20 years," said Shivachi.
"I will not move out and I don't think it is a good idea, I have lived here for over four decades, built a home, and educated my children through artisanal gold mining, it is unthinkable for someone to come and ask me to vacate my land," posed Shivachi.
His sentiments are echoed by other locals who will hear nothing to do with the multi-billion gold extraction project.
They want the investor to suspend any mining operations on their lands and create room for them to manage the available natural resources uninterrupted.
"It is our land and we welcomed the investors over 20 years ago but they have been reluctant to employ our children engaging in artisanal mining, the community has not benefited," claimed Francis Luseno.
Set up a factory
"It is not possible to allow them (investors) to set up their base here when they have a factory in Siaya County but their intention is to make our land open cast mines without defined benefits for locals. We shall not allow that to happen unless they agree to our terms including setting up a fully fledged factory around here and giving our children at least 70 per cent of the jobs," argued Luseno.
They claimed that the foreign investors have had a tendency to source for cheap labour outside Kakamega County "forgetting that we are the legal owners of the land on which they excavate gold," said Luseno.
He added: "If the investors have already exploited and disrespected us in the first place it means if we surrender our lands to them and they take full control, we shall become slaves, we must have structured talks and sign a deal on how we shall work if they want to do business here."
According to the locals, it would be an abomination to allow foreign investors to occupy the graves of their forefathers.
"I have lived on my five-acre parcel for over 50 years together with my five children, my parents died a long time ago, why would I abandon their graves, it is against our culture and beliefs, and the gods would never forgive me," said Rosemary Sideta.
James Sikabili, a father of three said he cannot surrender his four-acre parcel for whatever reason. "Compensation and being resettled elsewhere cannot be equated to the value of the graves of my ancestors," he said.
"Our ancestors will be unhappy if we run away from them just because an investor wants to extract gold on the land they gave to us. We must continue living with them and guarding their graves jealously," said Sikabili.
Isulu-Bushingala Gold Mining stretch chairman Bernard Ludeshi has challenged the investors to make public the amount of gold they have extracted from the area since they arrived many years ago.
Related Topics