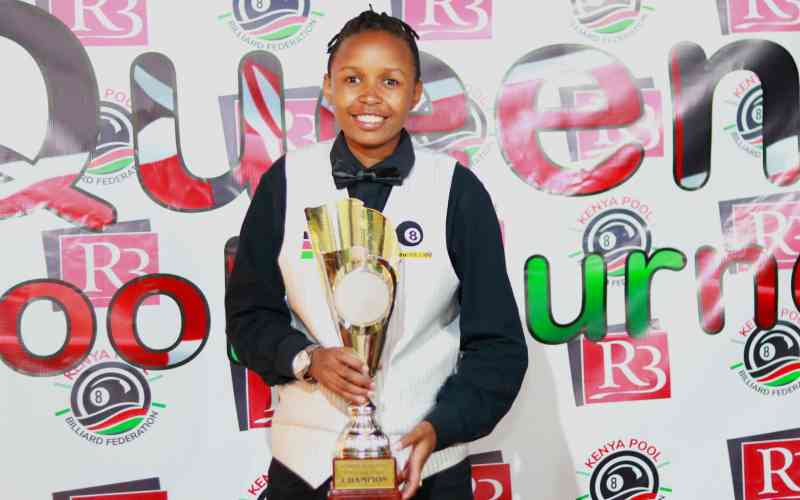 Jackline Githinji is the winner of the inaugural Queens Pool Tourney held at the Redbrick Hotel in Karen, Nairobi at the weekend.
The Kasarani Pool Club ace beat Grace Katinda 5-2 in a pulsating final to be crowned champion of the event that attracted 32 women players from across the country.
"I have played in so many tournaments and the best position I have ever been is fourth. I really don't know how to react but I am really excited and hoping for great things at the All Africa 8 Ball Pool Tournament in South Africa later this month," Githinji told Standard Sports.
The all-women tournament, a first in the country, targeted to raise funds for the Kenya women pool team slated to depart to South Africa on October 10. Kenya will also be represented by the men's team at the continental showpiece.
"We decided to hold a lady's tournament because this is the first time that we are sending a whole women's side to any major championship," tournament organizer Mike Kiragu underlined.
"We have had men's teams compete before but never a ladies' team and we felt that it would be unfair for us not to try support them and ensure that we get them there. We are yet to get the funds required with less than a week to go, but our hope is that we will get well-wishers to come on board or even the ministry," he added.
Kenya Pool and Billiards Federation Secretary General, Doreen Wandia said they have selected a strong squad of eight men and eight women for the African tourney.
But the national team has been unable to get into residential camp due to lack of funds which has forced the players to train on their own.
"We haven't received any funding from the government, this has forced us to look for finances elsewhere. We actually need Sh 9.2 million to comfortably travel to South Africa," says Wandia who also doubles as women's national team captain.
Wandia warned that Kenya risks missing the world championship next year as the African showpiece will also act as a qualifier to the world.
"So far, the teams have worked on their accuracy and whiteball management. What we are working on right now ahead of our departure to South Africa are the defence and the attack."
"Despite the low spirit among the players, Wandia is optimistic that the Sports Ministry will come through for the Kenya pool team.
"We have had some really positive exchanges with the Ministry that has requested that we send an appeal. We are very hopeful that all the 16 players will be fully assisted to travel to South Africa," stated Wandia.
Related Topics