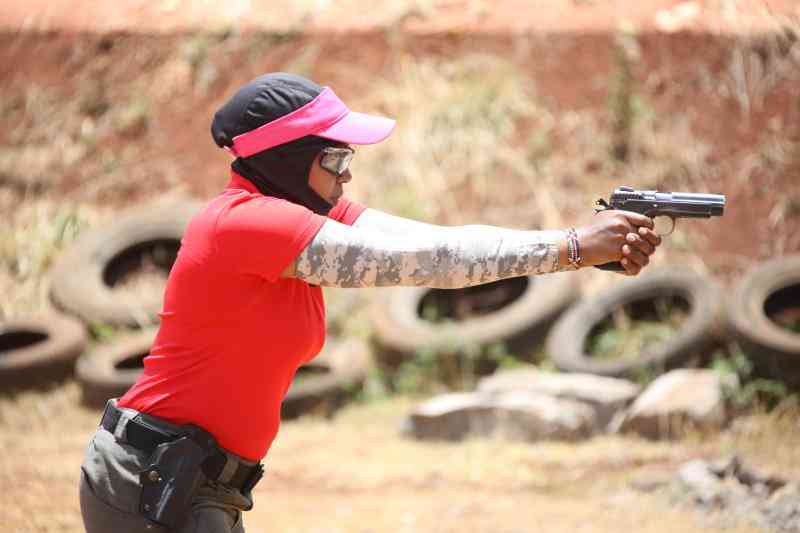 Priscilla Mburu in action during launch of the Pink Target Initiative to commemorate the international women's day at Kirigiti shooting range. [Photo: Wilberforce Okwiri,Standard]
Organizers are not leaving anything to chance as the 2023 International Defensive Pistol Association (IDPA) Africa championships fast approaches.
It is for this reason that NGAO-K has organized a series of trainings in preparation for the continental tourney dubbed IDPA Founders shoot, which will be held at the Kirigiti shooting range on April 4-9th this year.
On Saturday a total of 14 lady shooters were taken through the fundamentals of shooting which included aiming, breath control, hold control, trigger control, and follow through.
The instructor Eng. Sammy Onyango emphasized on the importance of the all shooters understanding what each of the fundamentals means, adding that to be a good shooter one must harmonize all the five fundamentals.
Onyango went ahead to say that proper aiming consists of sight alignment and sight picture, which are key in making a perfect shot.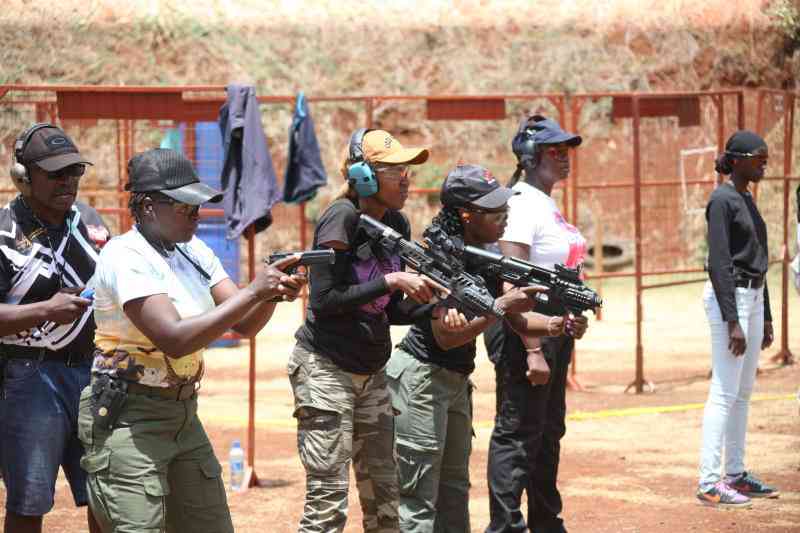 Shooters take instructions from instructor Sammy Onyango during launch of the Pink Target Initiative. [Photo: Wilberforce Okwiri,Standard]
The ladies training comprised of civilians who are Licensed Firearm Holders and members of the disciplined forces;
The event was organized to commemorate the International Womens Day and in line with that, guest ladies were invited to come watch, learn and experience what it takes to be a sports shooter.
The ladies also had an opportunity to shoot in support of the lady sports shooters and also for the newly launched Pink Target initiative, which is a CSR project run by the lady shooters in the country.
Noting that It is the second time Kenya is hosting the African Champs, which has traditionally been held in South Africa, NGAO-Kenya Secretary General Ahmed Shamsuddin said a good number of International teams from Russia, Slovakia, Romania and USA are expected to take part in the event.
"6 times IDPA Africa Champion Ian van der Bank from South Africa who has been away for the last 2 Championships will be back to defend his title," he said.
Related Topics