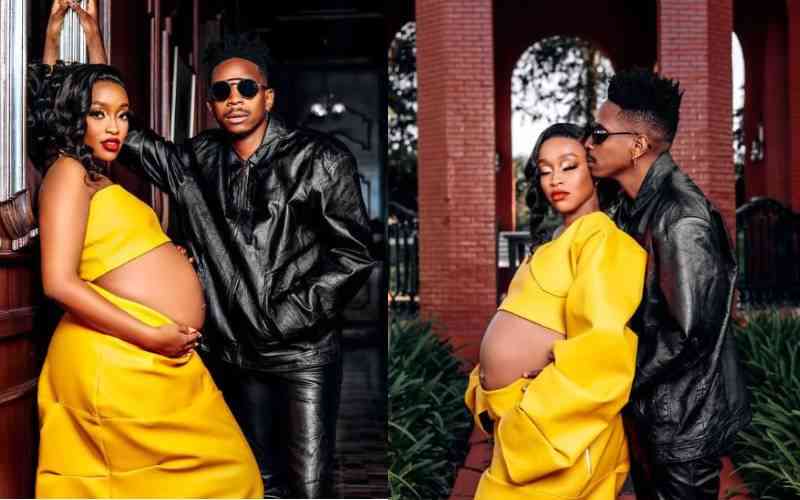 Comedian Eric Omondi has shared that he is expecting his first child with his girlfriend Lynne.
Through social media, Eric shared that even though it has taken him 41 years to have a child of his own, he is looking forward to the parenthood journey.
"It has taken me 41 years but finally God has blessed me with my own. The Fruit of my loins. I feel like Sarah of Abraham of the Bible, she waited all her life for a child of her own. Thank you, baby, for making me a father❤❤????. And to God thank you for returning our baby to us," he wrote.
Sharing the news on social media, Lynne revealed that her phone has been blowing up with good wishes messages from friends who found out about the pregnancy today. She added that she had been deliberately hiding the pregnancy.
"My phone blowing up after I announced my pregnancy because I have been hiding in plain sight," she wrote.
Fans and local celebrities have camped at the comment section with congratulatory messages;
@Akotheekenya: Omondi marwa ❤️❤️❤️❤️❤️ Sharp shooter,mii Omondi tips ??? Congratulations
@iam_amberay: Congratulations guys ?
@Chepchumbacherus: Congratulations Fam?? @l.y.nn.e you look so Gorg??❤️
@Mishi_dorah: Congratulations fam?
@khaligraph_jones: Congratulations Erica
@Catherinekimondo: Erico with you , we usually ready for anything. Till proven a aint buying your Abraham story.
Last year in November, Eric announced that Lynne suffered a miscarriage on November 7, 2022.
Through social media, Eric shared that they lost their unborn child after being in the hospital for over five hours.
"Last night was one of the longest nights in my life?? We fought for over 5 hours to try and save our little Angel but God had other plans," he wrote in part.
Mourning the demise of the unborn child, Eric shared a heartbreaking video of him and Lynne while still in the hospital.
"We never met you but we sure felt you and will Forever Love you????. Respect to all the Women, no man on earth has that kind of strength. @l.y.nn.e stay strong...It is well," he shared.
Related Topics