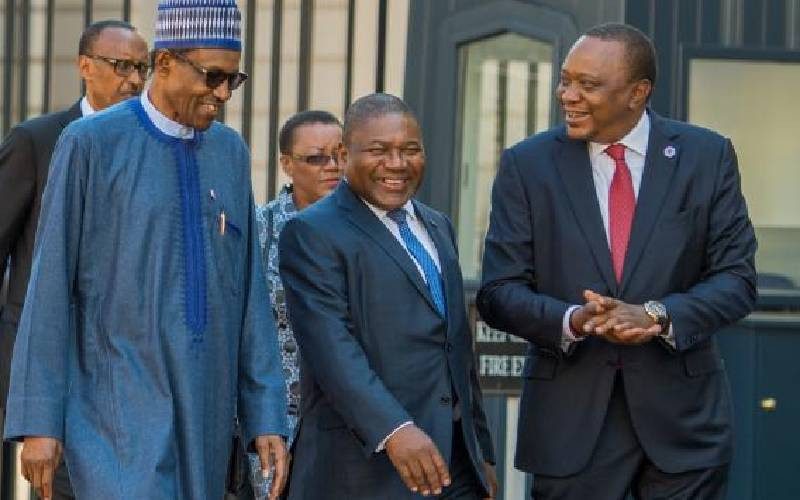 Former President Uhuru Kenyatta has called on African leaders to embrace the spirit of the handshake, noting the winner-takes-it-all attitude was not sustainable in the long run in any country in the continent.
Uhuru, who was the keynote speaker during the inauguration lecture for Nigeria's Seventh Democratic Transition held at the Abuja International Conference Centre in Nigeria, yesterday said most conflicts in Africa are due to propagating narratives that have sectarian interests.
Uhuru told African leaders that victory is not about numbers but how they will reach out to all citizens to feel included in their victory.
This, he noted, will help them see the governments as their own with the hard work of running the country starting after the elections.
"The presidents coming to power should learn to lead those who supported them and those who did not vote for them since once they come to power, they become the symbols of unity. They will lose nothing and gain everything by reaching out to those who feel aggrieved by their election victories," said Uhuru.
The former president termed negative ethnicity, religious discrimination and economic greed as issues that can be easily weaponised to affect democratic growth in most countries in Africa, with ethnic bigotry being a convenient cover for graft.
Uhuru told those present including outgoing President Muhammadu Buhari that his getting into a handshake with former Prime Minister Raila Odinga was not about a weakness on his side but about the millions of people that the opposition leader represented that felt left out of government.
Mr Kenyatta told the gathering that the March 2018 handshake between Raila and him brought fresh air to the country's political atmosphere with the intention of making Kenyans from large and small communities feel that the government belonged to them.
"I wanted to end all the wrong political moves in the country since independence where the country experienced uncertainty after every election cycle," said Uhuru.
He said Kenya experienced the darkest moment in its history during the 2007 contested presidential poll where more than 1,300 Kenyans lost their lives while more than 600,000 citizens were displaced. He vowed not to allow such an experience during his time in power.
The former Head of State said the 2008 post-poll conflict involved supporters of late President Mwai Kibaki, former Prime Minister Raila Odinga, him and President William Ruto which resulted in him being among those who found themselves before the International Criminal Court.
Uhuru lauded outgoing Nigerian President Muhammadu Buhari for steering the most populous African country peacefully for the last eight years, and asked the incoming President Bola Tinubu to walk in the footsteps of his predecessor.
Uhuru said he remained true to the cause despite not having achieved all he wanted during his 10 years in power and peacefully handed over power to his successor President William Ruto on September 6, 2022.
Buhari is expected to hand over power to Tinubu during an inauguration ceremony to be held in Abuja today with various dignitaries expected to attend.
Related Topics